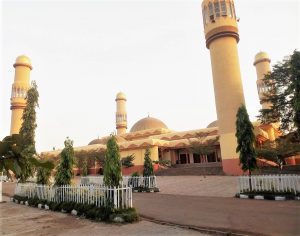 Terrorists KILL 16 CHRISTIANS in Nigeria's Kaduna state. Daniel Whyte III, President of Gospel Light Society International, says to pray for our dear Christian brothers being PERSECUTED in Nigeria.
ABUJA, Nigeria (Morning Star News) – Fulani herdsmen and other terrorists this week killed 15 Christians in Kaduna state, Nigeria, following the slaying of another one last week, sources said.
The assailants on Wednesday (Sept. 27) attacked predominantly Christian Angwan Magaji village, Kauru County, killing three Christians, after attacking Kigam village on Tuesday, where three others were slain, said Abel Habila Adamu, an area community leader.
The terrorists also wounded four others in the two villages, he said.
"We are saddened to inform you with a heavy heart about a resurgence of attacks on Christians by the armed Fulani herdsmen and terrorists," Adamu said in a text message to Morning Star News. "Indeed, our land is bleeding, and the blood of innocent Christians cries profusely for justice."
Adamu, president of the Chawai Development Association, identified the slain in the two villages as Martina Ishaya, 55; Sunday Gizindi, 55; Danjuma Alah, 35; Joseph Baza Dauda, 23; Danladi Yakubu, 57; and Simon Chibi, 33.
He identified those wounded by gunshot as Yohanna Anoh Ishaya, 27; Gado Monday Kiri, 53; Victor Timothy, 23; and John Auta.
"This has clearly shown that our land is indeed under siege by our enemies, terrorists and herdsmen," Adamu said.
He appealed to the Nigerian government to urgently end incessant attacks on Christians in Kaduna state as well as in other parts of the country where terrorist acts have become endemic.
"Considering how sacrosanct life is to any human society, we condemn these killings and hereby reiterate the fact that the attacks are quite detestable to our peaceful society and people," Adamu said. "We call on government at all levels to approach security matters with utmost sincerity and honesty as well as charge security heads to be more proactive in dealing with security matters concerning our land."
Assailants on Tuesday (Sept. 26) also attacked predominantly Christian Takkanai village, Zangon Kataf County, killing six Christians and wounding four others, area residents said.
"The herdsmen, who were well armed with guns and other deadly weapons, attacked the village at about 7 p.m. as the villagers were getting ready to go to sleep. Among those killed are two children," Samson Markus, a community leader in Zangon Kataf, told Morning Star News in a text message.
Samuel Achi, president of the Atyap Community Development Association, also identified the assailants as "Fulani herdsmen bandits" and said they set fire to two houses.
"The bandits operated for over an hour before leaving the community," Achi said in a text message.
In Kauru County, herdsmen on Monday (Sept. 25) attacked Kigam village, killing three Christians and wounding three others, an area resident said. Robert Dodo said the attack occurred at about 9 p.m.
"The bandits shot at anyone they sighted as the villagers fled from their homes to escape being killed," Dodo told Morning Star News in a text message.
In Chikun County, terrorists on Sept. 19 invaded predominantly Christian Mararaban Rido village, kidnapping six persons and later killing another Christian on Saturday (Sept. 23), said area resident Alheri Magaji.
She said the Sept. 19 attack took place at about 1 a.m.
"The house of a member of the Christian community of Mararaban Rido was invaded by bandits, and two members of the that family were kidnapped and are being held captive," Magaji told Morning Star News in a text message.
The assailants also kidnapped another woman and her three children, and on Saturday (Sept. 23) at about 8:30 p.m. returned and killed another villager, unidentified, she said.
"My heart is broken into a thousand pieces; please pray for us," Magaji said.
Nigeria led the world in Christians killed for their faith in 2022, with 5,014, according to Open Doors' 2023 World Watch List (WWL) report. It also led the world in Christians abducted (4,726), sexually assaulted or harassed, forcibly married or physically or mentally abused, and it had the most homes and businesses attacked for faith-based reasons. As in the previous year, Nigeria had the second most church attacks and internally displaced people.
Source: Morning Star News
To read more, click here: https://morningstarnews.org/2023/09/terrorists-kill-16-christians-in-kaduna-state-nigeria/