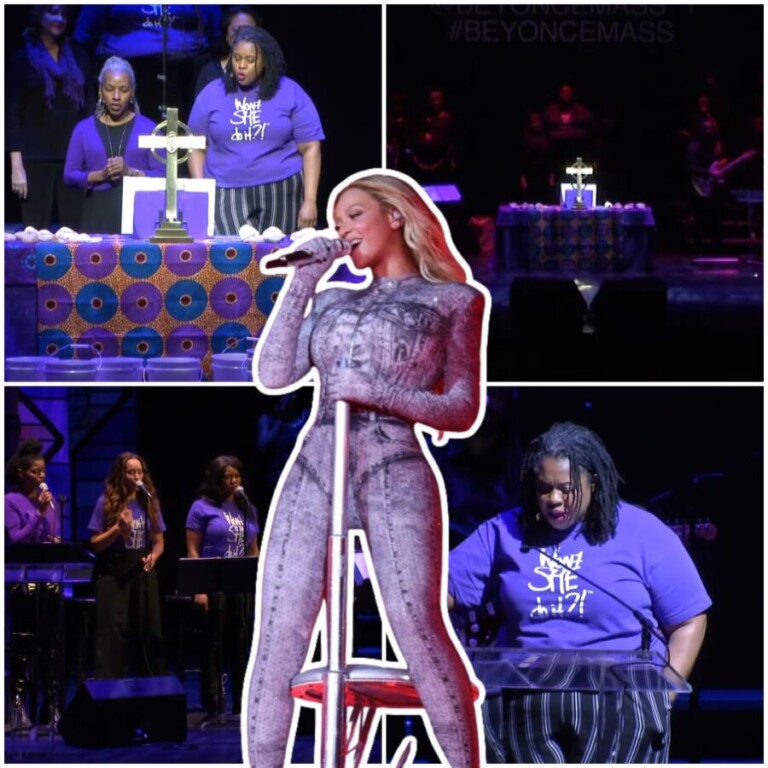 The United Theological Seminary and the Luther Seminary in conjunction with the Plymouth Congregational Church in South Minneapolis, Minnesota, Host the Blasphemous "BEYONCE MASS." This is just as evil and blasphemous as if a bunch of white girls had a "TAYLOR SWIFT MASS." This is more demonic WOKE insanity.
Daniel Whyte III, President of Gospel Light Society International, calls on Beyonce, who grew up in church singing for the God of Abraham, Isaac, and Jacob, and for the Lord Jesus Christ and who never thought of herself as equal with Jesus Christ, or as a goddess because she is from Houston, Texas, and if she did see herself that way her mother and the other black women in the neighborhood would have put her in her place by telling her "Just because you can sing a little bit, Girl, you're not all that." Whyte therefore calls on Beyonce, who claims to be a Christian, to DENOUNCE PUBLICLY THIS "BEYONCE MASS" FOOLISHNESS VERBALLY AND IN WRITING POST HASTE — PUT A STOP TO IT FOR THE GLORY OF GOD AND YOUR SAVIOUR JESUS CHRIST, and let them know if they continue to do this, you have nothing to do with it and to stop using your name before God kills you. And you have the legal power to stop them from using your name, songs, and likeness with this blasphemy. By the way, Beyonce, if you're letting this go on because you are still sore that Jennifer Hudson won an Oscar in a movie you both played in and you didn't and so the devil is fueling that so that you can say, she got the Oscar but she is not being "worshiped" and the center of a church MASS like me, you need to stop letting the devil make you think that way.
Whyte says for those of you who are still fighting for women to be pastors over men, just look around and see what women as pastors in the church and in theological seminaries over men are doing. In this video alone, they have changed the pronoun of God from "HE" to "SHE." And just like the female pastor who rewrote Psalm 51 to point out that Bathsheba was a "rape victim of King David," these women in this video below have changed the Lord's Prayer into a "Womanist Prayer."
Whyte calls on male preachers and pastors who believe the Bible but who are thinking about quitting and retiring to stay in the fight and to stand up for God and Jesus Christ against this satanic WOKE tide of Jezebel women who do not respect the Word of God and who do not mind even changing the Word of God to fit their womanist, feminist, hellish ideas. As we know from the Scriptures, women can be easily deceived by Satan, devilish men, and demon spirits. This is one of the main reasons women should not be pastors over men. Also, Whyte says if you study biblical history and world history, you will find that the devil from almost the beginning has tried to make a woman god or a goddess and to usurp the authority over the man who God created first. This is where we get the "goddess Diana," the "queen of heaven," "the mother of god," and "mother nature," etc. Satan is behind all of this because he opposes and disrespects God.
In May 2022, Luther Seminary helped to bring Beyoncé Mass at the Plymouth Congregational Church in South Minneapolis. Luther Seminary is the largest seminary of the heretical Evangelical Lutheran Church in America (ELCA), with 412 students, and is about as progressive an institution as they come.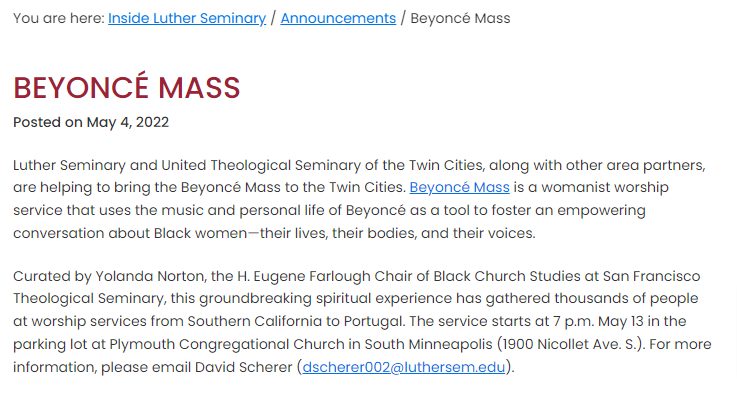 Beyoncé Mass is "a womanist worship service that uses the music and personal life of Beyoncé as a tool to foster an empowering conversation about Black women—their lives, their bodies, and their voices."
It was created and organized by theologian and 'reverend' Yolanda Norton, who, as the Chair of Black Church Studies at San Francisco Theological Seminary, teaches a class on Beyoncé and the Hebrew Bible where she "uses the pop idol's songs to interpret biblical scripture through a black feminist lens." Norton told the Star Tribune the decision to come to Minneapolis was an easy one:
We're having critical conversations about how Black women transform spaces and how we do God work and how we do justice work. Of course you have to be in Minneapolis. The city has been decimated over and over again by injustice.
We want to honor that work as holy and want to name, in particular, that George Floyd Square is sacred ground. The way that folks have continued to create and thrive and honor the legacy of a man who was killed, it's God's work. So that's how we got here."
The event includes a social justice sermon explicitly promoting liberation theology and radical feminist ideology, scripture reading, worshipping to Beyoncé songs, and a recital of bizarre womanist reinterpretations of the Lord's prayer.
Rev. DeWayne Davis, whose church hosted the event, lamented that people were suggesting the event was profane, arguing:
Beyoncé is very honest in what she's feeling. And sometimes I don't think church allows for that without the fear of being judged. But here's someone whose voice is lifted up because she's really wrestling with what it means to be a woman, to be in love, to be heard. To be imperfect. And she's bringing it out front. I'm sure church should be a place where people should feel comfortable doing that. The idea of grace means something.
While Lutheran Seminary's service was not recorded, here is an earlier one from the Kennedy Center, so you can get the drift.
Source: Protestia: https://protestia.com/2023/09/14/lutheran-seminary-hosts-beyonce-mass-yes-its-exactly-what-it-sounds-like/