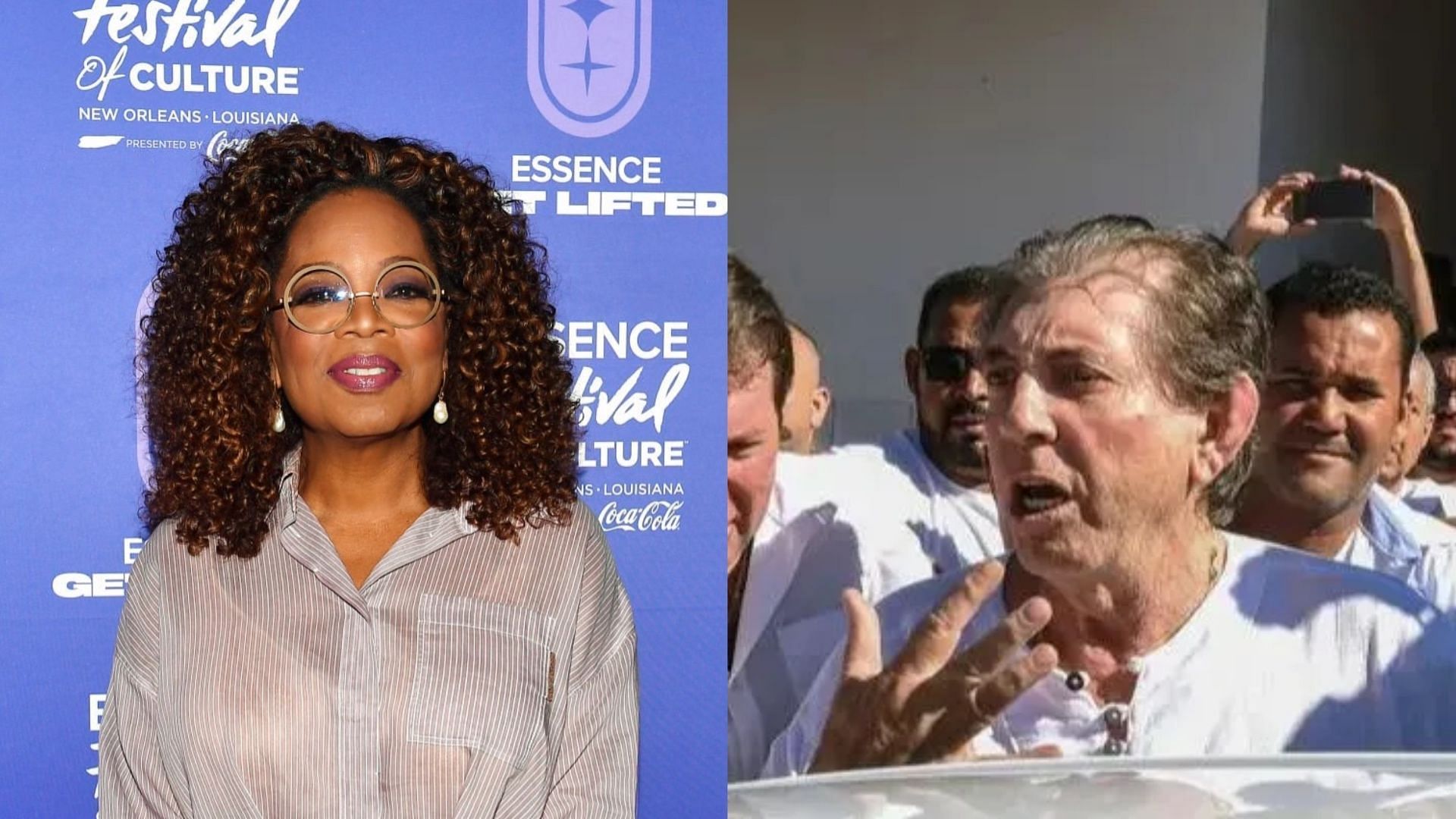 The Oprah-promoted "Faith Healer" the so-called "John of God" IS SENTENCED TO 118 YEARS FOR RAPING FOUR WOMEN. He is 81 years old and will die in jail. And Oprah, your billions cannot save him.
Daniel Whyte III, President of Gospel Light Society International, tells Oprah that he believes you think you mean well but the devil has used you and is using you because of your pride, arrogance, believing your own hype, money & power, and your IGNORANCE IN SPIRITUAL THINGS, and so you have become a Jezebel in the church that Jesus Christ talked about in the book of Revelation when He said, "Notwithstanding I have a few things against thee, because thou sufferest that woman Jezebel, which calleth herself a prophetess, to teach and to seduce my servants to commit fornication, and to eat things sacrificed unto idols." In your pride, arrogance, money & power, and sheer IGNORANCE of biblical truths, and because you think you have some secret connection to God, you have kissed and promoted demon-filled false prophets such as "John of God," Eckhart Tolle, and Rod Bell who says there is no hell. Also, your kiss has been the kiss of death for good-hearted preachers such as John Gray, a man who, after your kiss, almost committed suicide. Oprah, what you need to do is make sure you are saved by believing in Jesus Christ. You need to "examine yourself and see whether or not you be in the faith." From this point forward do not ever interview, endorse, hype, or promote another spiritual leader or pastor, and do not continue to try to influence good-hearted preachers such as T.D. Jakes and Joel Olsteen to do your evil bidding with your money and fame because quite frankly, YOU DO NOT KNOW WHAT IN THE WORLD YOU ARE DOING! Because of your pride, arrogance, and believing your own hype, money & power, you think you are doing the right thing, but you are totally ignorant of God, Jesus, and the Word of God, and the devil is using you to lead thousands away from Christ and the Church that you claim to love so much. You are a Jezebel High Priestess that is being used by the devil to damn souls to hell. And you don't even realize it because of your spiritual IGNORANCE. Whyte says he knows you have never had anybody to talk to you like this because most preachers and most people are in awe of you, but Whyte is not. And everything Whyte has ever said to you in writing over the past fourteen years, including his rebuking you for shacking up with Stedman Graham, he has said it out of God's love for you because if you had submitted to God's spirit and God's Word God wanted to use you for great good in the world, but you ignorantly submitted to the devil's spirit and the devil's word and you are doing great evil in the world and as Whyte said, you don't even know it because you are spiritually IGNORANT because of your pride. Now if you are saved as you say you are, and T.D. Jakes is your pastor, you need to find you a place in the church, sit down, shut up, and listen—seriously. Whyte says he knows you think you have an old soul, and you may, but T.D. Jakes has shown you he has an older soul than yours. So let your pastor guide you in your spiritual life going forward.
Oprah Winfrey is getting slammed for her affiliations with the spiritual healer "John of God." Winfrey had originally featured John of God on her show on November 10, 2010, in an episode titled Do You Believe in Miracles?. However, about eight years later, on December 17, João Teixeira de Faria aka John of God, was arrested in Abadiania in Brazil over s*xual assault charges. Over 600 accusations were reported by the victims of the "spiritual healer."
Media outlets and fans are now criticizing Oprah for giving the Brazillian man a platform to ruin more people's lives. John was sentenced for 370 years in jail and is currently incarcerated at the Aparecida de Goiania Complex, as per Bustle.
How did Oprah Winfrey help John of God increase his following?
Winfrey is a talk show host and television producer who is known for being generous and humble. Her talk show, The Oprah Winfrey Show, has featured a lot of well-known celebrities and public figures over the years. One such known face was Brazillian spiritual healer John of God.
On November 10, 2010, the billionaire artist covered an article by Susan Casey, titled "Leap of Faith: Meet John of God," and subsequently, the episode was named Do You Believe in Miracles?.
He later became known as Winfrey's spiritual healer and guide, earning hundreds of followers.
Many women reached out to João Teixeira de Faria for spiritual healing after he gained popularity. Later, one of the four women who first accused John appeared for s*xual violation on television talked about Winfrey. She told New York Times in 2018:
"I heard of John of God from a friend and had seen Oprah Winfrey's documentary."
The accusers also described the heinous crimes Faria committed over the years.
Source: sportskeeda
To read more, click here: https://www.sportskeeda.com/pop-culture/who-john-god-oprah-winfrey-fire-spiritual-healer-sentenced-lengthy-prison-sentence