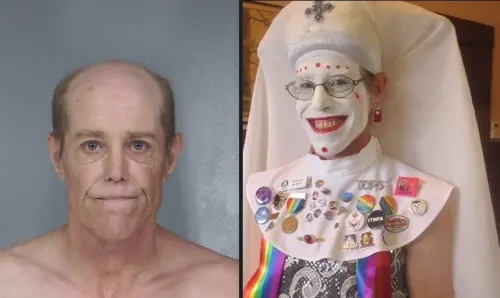 HERE WE GO, and THERE'S A DEVIL LOOSE! A national anti-Christian and anti-Catholic sodomite/homosexual "DRAG QUEEN" group says it "unreservedly condemns" the actions leading to the arrest of a former member who police say masturbated in public for over an hour.
Daniel Whyte III, President of Gospel Light Society International, who has warned the Church, America, and the world for over 14 years and with the last seven of those years preaching the Gospel and the Word of God nearly everyday live, about the satanic spirit of sodomy/homosexuality and its destruction, says some pastors and churches were deceived by the devil and the government to think they could contain these demonic sodomite/homosexual spirits that run through the lives of these people, which once these demonic spirits are unleashed they cannot be stopped by human beings. This is the reason God forbade it and condemned it. Thus, we have a demon-possessed man dressed up like a woman masturbating in front of people, including children, for over an hour. What do we hear from the so-called Evangelical, Protestant, Charismatic pastors and churches? Nothing. Because many of them harbor sodomites/homosexuals in their churches and on their staffs. We're not talking about God's "7,000 churches," God's "Remnant churches," and God's "faithful few churches."
A national anti-Catholic drag troupe says it "unreservedly condemns" the actions leading to the arrest of a former member who police say masturbated in public for over an hour.
The statement shared with The Christian Post from the Eureka House of The Sisters of Perpetual Indulgence (SPI) was the organization's first public comment since the arrest of Clinton Monroe Ellis-Gilmore, 53, of Eureka.
Gilmore was arrested Aug. 12 in Humboldt County for allegedly exposing himself in the driver's seat of a car parked where authorities say he was "reported by multiple witnesses to have been sitting in his truck with the door open, masturbating for approximately one hour."
In response to Gilmore's arrest, SPI said Gilmore was not yet an official member but was "in a probationary process to become a full member at one time," a process which the group says ended in October 2020.
The statement — which touted SPI as a "ministry" dating back to "the early days of the AIDS crisis in San Francisco" — apologized and added that the group uses a "long and complex process for admitting new members" in order to ensure they "will not bring dishonor to our order."
"We offer our most profound apologies to the community for what happened and specifically to any individuals impacted by this inexcusable behavior," the statement said. "It is not representative of our Order, our values, or the hundreds of individuals who serve as Sisters."
Since its start in 1979, SPI has hosted and/or participated in a number of blasphemous public events, including referring to Jesus Christ as the "Condom Savior," hosting an annual "Hunky Jesus" contest on Easter Sundays and reportedly carrying a 20-foot replica of a penis.
SPI is also known for mocking the crucifixion of Christ as a stripper-style pole dance.
Following Gilmore's arrest, it's unclear how or whether that will impact future SPI events, but at least one church in North Texas has invited the group and others to take part in a "drag Sunday" event this weekend.
The Cathedral of Hope United Church of Christ in Dallas says it will include in its Sept. 17 Sunday service a moment to "offer our blessings to the drag queens who have contributed to our community in such inspiring ways."
As part of that service, the Cathedral of Hope invited SPI along with the local LGBT groups Dallas Bears and the Royal Court to "be part of this remarkable blessing."
The church-hosted drag event is said to be a response to the enactment of Senate Bill 12, a new state law that prohibits children and youth younger than 18 from attending "sexually oriented performances."
Source: Christian Post
To read more, click here: https://www.christianpost.com/news/sisters-of-perpetual-indulgence-apologizes-after-ex-member-arrested.html