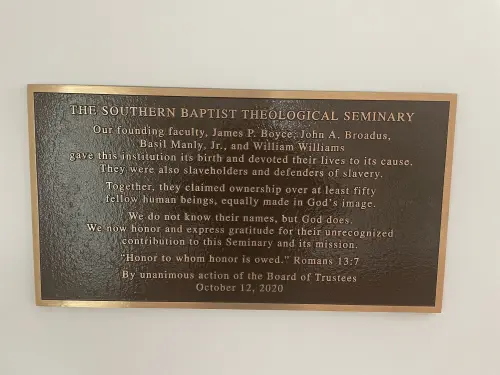 DWIGHT MCKISSIC GRACIOUSLY SLAMS SOUTHERN SEMINARY'S SLAVE MEMORIAL PLAQUE and says he was looking for something much more prominent. McKissic still gave $2000.00 for a plaque that looks like it cost $300.00 that people have to make phone calls to the campus police to find.
Daniel Whyte III, President of Gospel Light Society International, says this is a shame before God. Albert Mohler is a smart man, and he knows this was very dumb. He also knows that out of all the good things he has done, this will be a part of his legacy. Whyte says he needs to fix this with the quickness.
Whyte says on another subject THE CHRISTIAN POST NEEDS TO MAKE SURE THEY ARE SENDING THE EXTRAORDINARY WORK OF THE GIFTED AUTHOR OF THIS ARTICLE LEONARDO BLAIR TO THE PULITZER PRIZE FOUNDATION. He does a great job on every article.
A commemorative plaque placed in the lobby of the Broadus Chapel at the Southern Baptist Theological Seminary that President Al Mohler says is meant to serve as a "prominent" acknowledgment of the contributions enslaved people made in building the Louisville, Kentucky, institution is being challenged as a disappointing celebration by two outspoken black Southern Baptist ministers.
The controversy over the memorial erupted after Pastor Dwight McKissic, who founded and leads Cornerstone Baptist Church in Arlington, Texas, visited the seminary in June and noted that he did not "see a memorial erected to the slaves who built SBTS" that Mohler promised in 2020.
"I did see buildings & memorabilia honoring the four racist/sexist founders. However, I didn't see any memorial erected honoring the slaves who funded & physically constructed the original campus," McKissic remarked in a post on X, the social media platform formerly known as Twitter, after his visit.
"As [I] walked on old cobblestone bricks at one point, I couldn't help but wonder had slaves actually handled those bricks. President Mohler promised to build a memorial honoring the slaves, and I trust he'll keep his word before he retires," McKissic continued. "I promised to give toward helping toward that end, within my very limited financial capacity. I will keep my end of my commitment, by contributing a modest gift towards that project if he keeps his."
Source: Christian Post
To read more, click here: https://www.christianpost.com/news/so-baptist-seminarys-slave-memorial-disappoints-black-pastors.html?utm_source=flipboard&utm_content=ChristianPost1%2Fmagazine%2FThe+Christian+Post