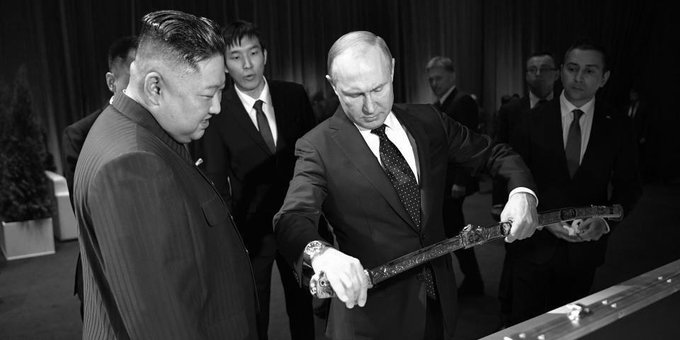 BREAKING WORLD WAR III NEWS: Kim Jong-un and Putin Plan to Meet in Russia to Discuss Weapons and Possibly Trade Nuclear Technology
Daniel Whyte III, President of Gospel Light Society International, says no one believed that World War I would take place, and they certainly did not believe World War II would take place, BUT THEY DID. Now World War III is afoot, and hardly anybody believes it will happen. But it is closer now than ever before. Whyte urges born-again-saved Christians to "Humble themselves, pray, seek God's face, turn from their wicked ways," repent of their sins, and get back to their first Love, the Lord Jesus Christ. Whyte urges all people who do not know the Lord Jesus Christ as their Saviour to believe in the Lord Jesus Christ who said the most loving words ever said, the most magnificent words ever said, and the most important words ever said in the history of the world: "For God so loved the world, that he gave his only begotten Son, that whosoever believeth in him should not perish, but have everlasting life."
North Korea may supply Russia with more weaponry for its war in Ukraine and other military cooperation, it has emerged.
Kim Jong-un plans to travel to Russia this month to hold a 'leader-level diplomatic engagement' with Vladimir Putin, the New York Times reported on Monday, citing US and allied sources.
Officials say Kim – who rarely travels outside his country – is likely to travel this month to Vladivostok, on Russia's Pacific coast not far from North Korea, to meet with Putin.
Moscow has also taken steps to strengthen its military ties with North Korea with Russian Defense Minister Sergei Shoigu claiming on Monday that the two countries may hold joint war games.
It comes after Shoigu travelled to Pyongyang last month in a bid to convince North Korea to sell artillery ammunition to the Kremlin.
Last week the White House said that Russia was already in secret, active talks with the North to acquire a range of munitions and supplies for Moscow's fight in Ukraine.
The US has reason to think Kim 'expects these discussions to continue' and 'to include leader-level diplomatic engagement in Russia', National Security Council (NSC) spokeswoman Adrienne Watson said said on Monday.
'As we have warned publicly, arms negotiations between Russia and the DPRK are actively advancing,' she said, using an acronym for the North.
'We have information that Kim Jong Un expects these discussions to continue, to include leader-level diplomatic engagement in Russia.'
Watson said Monday that the United States urged North Korea 'to cease its arms negotiations with Russia and abide by the public commitments that Pyongyang has made to not provide or sell arms to Russia.'
The White House also reported last week that it had intelligence indicating Putin and Kim swapped letters following Shoigu's visit.
NSC spokesman John Kirby said the letters were 'more at the surface level' but that Russian and North Korean talks on a weapons sale were advancing.
He also claimed that despite its denials, North Korea supplied infantry rockets and missiles to Russia last year for use by the privately controlled Wagner military group.
The US has previously warned that North Korea could provide more weapons to Russia, whose forces invaded Ukraine in February 2022, a war that the United States and its European allies vehemently oppose and that Moscow calls a 'special military operation.'
The White House did not immediately respond to a request for comment.
The planned meeting comes as Putin has said a landmark deal that allowed Ukraine to export grain safely through the Black Sea amid the war will not be restored until the West meets Moscow's demands on its own agricultural exports.
Ukraine and its western allies have dismissed the Kremlin's demands as a ploy to advance its own interests.
Still, Putin's remarks dashed hopes that his talks with Turkish President Recep Tayyip Erdogan could revive the agreement, seen as vital for global food supplies, especially in Africa, the Middle East and Asia.
Russia refused to extend the deal in July, complaining that a parallel agreement promising to remove obstacles to Russian exports of food and fertiliser had not been honoured.
It said restrictions on shipping and insurance hampered its agricultural trade, though it has shipped record amounts of wheat since last year.
Putin reiterated those complaints on Monday, while saying that if those commitments were honoured, Russia could return to the deal 'within days'.
Erdogan also expressed hope that a breakthrough could come soon. He said Turkey and the United Nations – which both brokered the original deal – have put together a new package of proposals to unblock the issue.
'I believe that we will reach a solution that will meet the expectations in a short time,' Erdogan told a news conference in the Russian resort of Sochi, where the leaders met.
Earlier, German foreign minister Annalena Baerbock lashed out, saying Putin's 'game with the grain agreement is cynical'.
'It's only because of Putin that the freighters don't have free passage again,' she told reporters in Berlin.
A lot is riding on the negotiation. Ukraine and Russia are major suppliers of wheat, barley, sunflower oil and other goods that developing nations rely on.
Data from the Joint Co-ordination Centre in Istanbul, which organised shipments under the deal, show that 57 per cent of the grain from Ukraine went to developing nations, with the top destination being China.
Grain prices shot up after Russia pulled out of the deal and have since fallen back, but experts allege the long-term picture is uncertain.
Ukraine and its allies have often noted that Russia's move left many developing nations in the lurch, since so many were recipients of the grain.
Source: Daily Mail Online