SODOM AND GOMORRAH HELL IS BURNING UP CANADA! Over 1,000 Active Fires Violently BURN up Canada, Causing a Capital City, Yellowknife, to be Completely Evacuated, and Now Portions of America That Normally Do Not Get Such Fires; Washington State, is Starting to Burn up, Not to Mention the Sodom and Gomorrah Burning up of Lahaina, Maui.
Daniel Whyte III, President of Gospel Light Society International, says again, "People, stop deceiving yourselves. This is not "Climate Change"; this is not "Mother Nature"; this is our extraordinarily LOVING GOD ALMIGHTY WHO IS OFFENDED AND ANGRY AT PASTORS, CHURCHES, AND GOVERNMENT OFFICIALS WHO HAVE COLLUDED TOGETHER AND SANCTIONED THE ABOMINATION OF SODOMY/HOMOSEXUALITY AND THE LGBTQQIPF2SSAA+ AGENDA IN CANADA, AMERICA, AND THE WEST. God is offended and angry because these people think they can do this and get away with it. AND HE IS SHOWING THEM THAT THEY CANNOT AND THAT THEY NEED TO REPENT, WHICH MEANS THEY NEED TO TAKE THESE NEW LAWS OFF THE BOOKS ALLOWING SODOMY/HOMOSEXUALITY, HOMOSEXUAL MARRIAGE, TRANSGENDERISM, AND ALL THE REST, OR GOD CAN AND WILL BURN CANADA BEYOND RECOGNITION AS WELL AS AMERICA. Daniel Whyte III says further that he did not know his prophetic message series he preached in June during so-called Pride Month titled "HISTORY REPEATS ITSELF–AMERICA AND THE WEST ARE NOW SODOM AND GOMORRAH AND WILL REAP SIMILAR CONSEQUENCES" would come to pass so soon, but here we are. Whyte calls on all pastors, churches, and government officials to humble themselves, pray, seek God's face, turn from their wicked ways, repent of their sins, and return to their first love–the Lord Jesus Christ. God's chastisement and wrath will continue until the Church and the governments of Canada, America, and the West repent. So the ball is in their court. Do the right thing!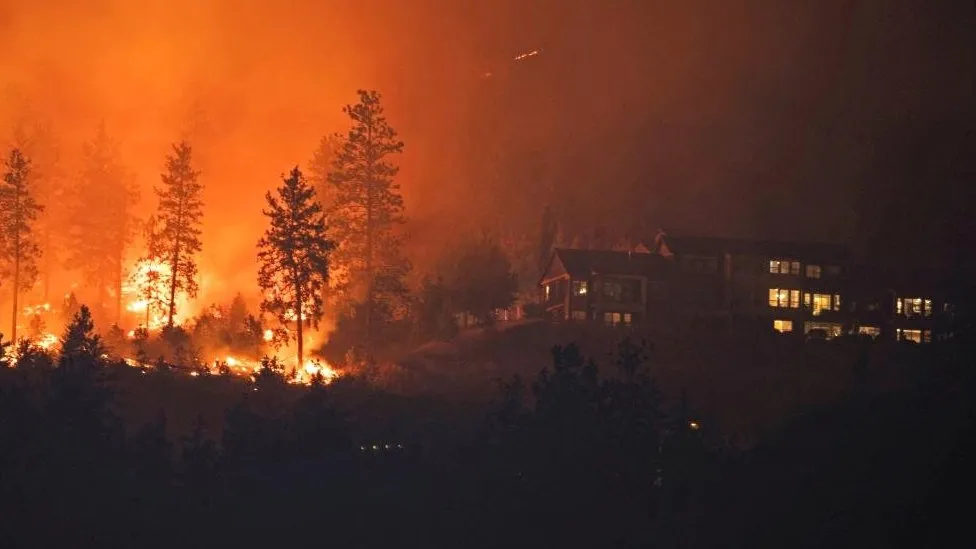 A CANADIAN town has been ravaged by a fast-moving wildfire that engulfed homes and buildings "within minutes", forcing 1,000 people to evacuate.
The devastating blaze has destroyed "most homes and structures" in the village of Lytton, British Columbia and several residents are currently missing, Public Safety Minister Mike Farnworth told reporters.
Spanning over 30 square miles, the fire is one of several burning in the region and comes after the area endured Canada's hottest ever temperatures for three consecutive days.
Lytton reached a sweltering 115 degrees on Sunday, 118.2 degrees on Monday, and 121.2 degrees on Tuesday.
Mayor Jan Polderman issued the evacuation order late Wednesday as the fire moved in, advising residents "to leave the community and go to a safe location," according to a news release.
"It's dire. The whole town is on fire," Polderman told CBC News. "It took, like, a whole 15 minutes from the first sign of smoke to, all of a sudden, there being fire everywhere."
"At the First Nation band office, the fire was a wall about three, four feet high coming up to the fence line. I drove through town, and it was just smoke, flames, the wires were down," Polderman added.
Video captured by residents scrambling out of town showed numerous structures ablaze in every direction, with a thick smog eclipsing the sky.
Local politician Brad Vis wrote in a post to Facebook on Thursday morning that 90 percent of the town is burned, including the town center.
"Neighbouring Telus and BC Hydro stations have suffered extensive damage. In addition, rail and highway infrastructure are affected," Vis added.
"There are reports of several injuries. The situation is ongoing."
Lytton, which is about 195 miles east of Vancouver, has a population of about 250 residents.
The community is grappling with a tremendous amount of "devastation and loss," John Haugen, a deputy chief with Lytton First Nation, told the National Post.
"It's incomprehensible, people are so anxious and worried about what comes next for them," he said.
The nation is currently trying to account for all its members, Haugen said.
He knows of some people who have suffered smoke inhalation and burns from the fire. So far, no deaths have been reported.
One resident, Rosanna Stamberg, told the outlet she's concerned as her children are among those currently unaccounted for.
"I don't know which direction they went. I don't know if they went down towards Chilliwack. I don't know if they went to Lillooet. I don't know if they went to Spencer's Bridge or Merritt or Kamloops. I have no idea," she said.
"Or if they stayed home. I'm very worried."
Source: the Sun
To read more, click here: https://www.the-sun.com/news/us-news/3203600/wildfire-destroys-canadian-town-thousands-evacuated-people-missing/
About 30,000 households have been ordered to evacuate in Canada's British Columbia province, where nearly 400 wildfires are raging.
Two huge fires in the Shuswap region merged overnight, destroying blocks of houses and other buildings.
To the south, travel to the waterside city of Kelowna has been restricted, and smoke from nearby fires hangs over Lake Okanagan.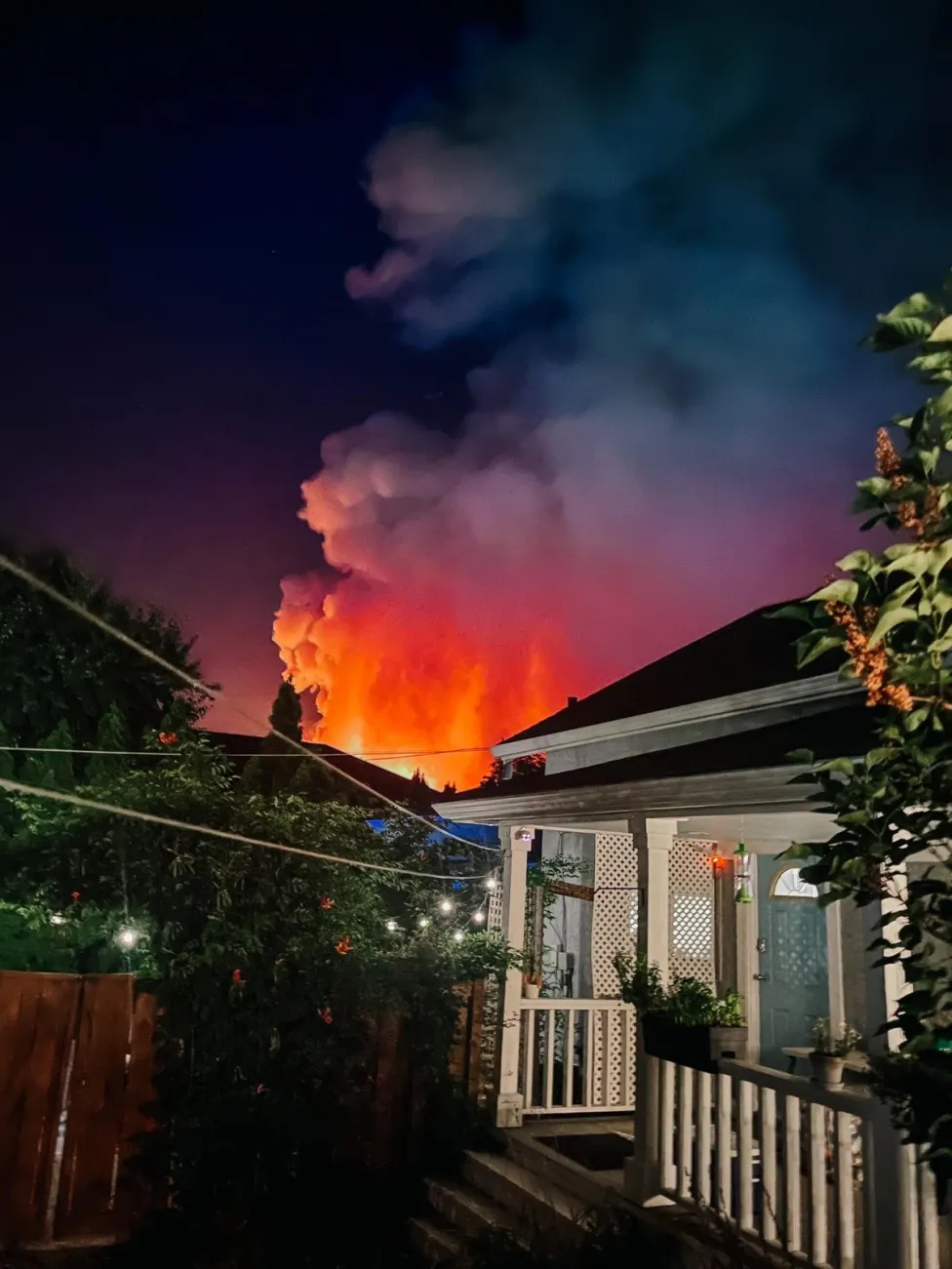 Fires have charred homes in West Kelowna, a nearby city of 36,000.
The travel restriction around Kelowna is designed to ensure enough accommodation for evacuees and emergency workers. It also applies to the towns of Kamloops, Oliver, Penticton and Vernon and Osoyoos.
Hundreds of miles north, in a different province, a huge fire continues to edge towards the city of Yellowknife.
An official deadline to evacuate the city – the capital of Canada's Northwest Territories – lapsed on Friday. A local official said later that day that nearly all residents had left, either by car or plane.
About 19,000 of the city's 20,000 inhabitants had evacuated. Authorities said 39 patients were moved out of a hospital to alternative facilities on Friday evening, making them the last people to be evacuated from the city.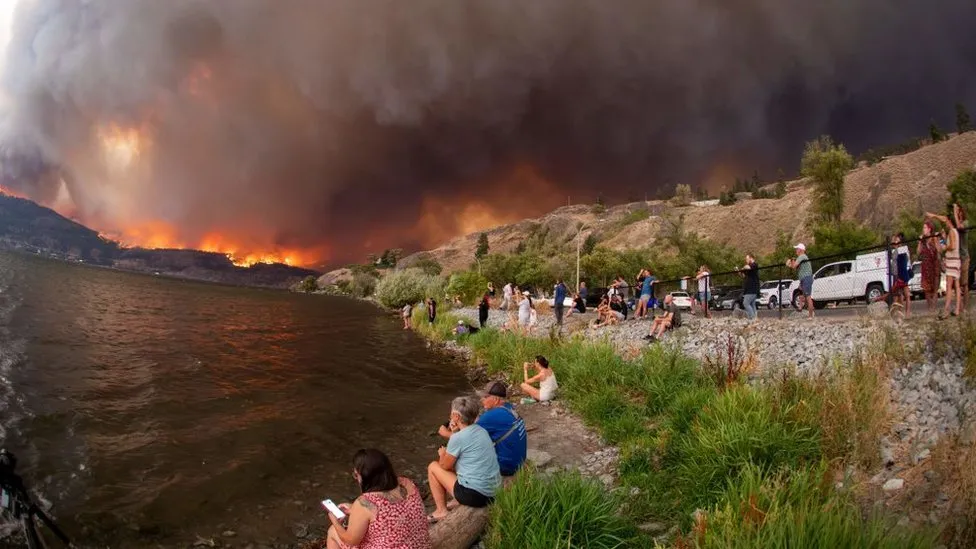 Environment and communities minister Shane Thompson said some people had chosen "to shelter in place", but urged locals to leave.
In British Columbia, evacuation orders grew from covering 15,000 homes on Friday to at least 30,000 by Saturday evening. Another 36,000 homes are under evacuation alert.
The province's emergency management minister said officials "cannot stress strongly enough how critical it is to follow evacuation orders".
Bowinn Ma added: "They are a matter of life and death not only for the people in those properties, but also for the first responders who will often go back to try to implore people to leave."
Premier of the province, David Eby, put the total number of people ordered to leave at 35,000, with 30,000 told to be prepared to evacuate.
Source: bbc.com
To read more, click here: https://www.bbc.com/news/world-us-canada-66562610