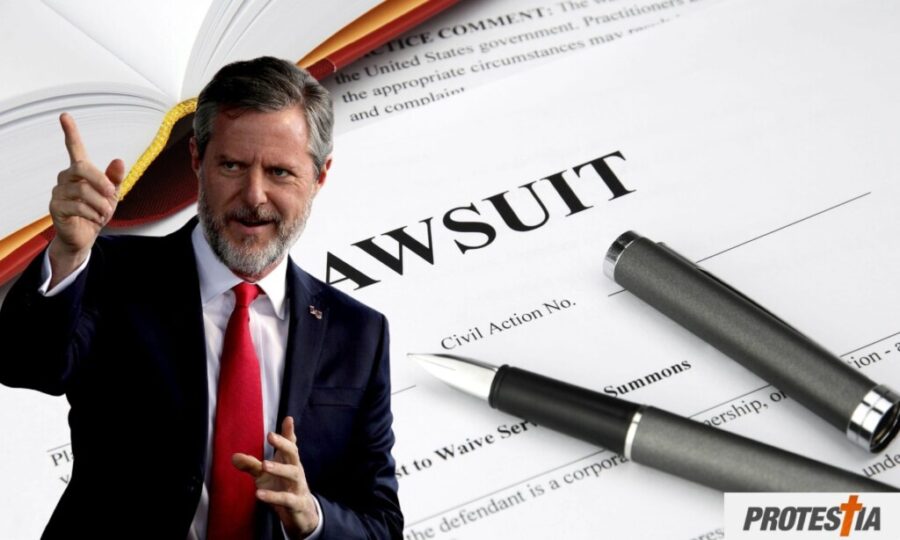 Jerry Falwell Jr. Foolishly Sues Liberty University Again This Time For the University Wanting to Honor His father, Jerry Falwell Sr. Daniel Whyte III, President of Gospel Light Society International and Editor-in-Chief of Blackchristiannews.com, Tells Jerry Falwell Jr. SOLOMON WAS GREAT. However, HE WAS NOT GREATER THAN HIS FATHER, DAVID. Whyte says further, your father, Jerry Falwell Sr., is DAVID, and you are SOLOMON. ". . . And Family Drama Just Won't Stop."
Jerry Falwell Sr. had the vision and the moral authority. As he has said before, Whyte says Jerry Falwell Jr. did something he believes Jerry Falwell Sr. could not have done, and that is build one of the most beautiful university campuses in America. The Alumni and the present student body are grateful to God for what Jerry Falwell Jr. did in the building up of the campus. However, the truth of the matter is that the hundreds of thousands of students who have graduated from Liberty University are because of his father, Jerry Falwell Sr. Great-grandparents, grandparents, parents, and taxpayers have sacrificed sweat, blood, and tears to have their great-grandchildren, grandchildren, and children go to Liberty University not because of Jerry Falwell Jr. but because of Jerry Falwell Sr. and what he stood for so many years ago. 
For the third time in writing, Whyte says that Jerry Falwell Jr. and his wife, Becki, have messed up badly. Whyte says they should take the millions that they already have and leave the Liberty University family alone. This every year or two lawsuit charade needs to cease. If Falwell would keep his mouth shut, go fishing somewhere, and leave the Liberty University family alone, who knows, maybe thirty or forty years from now, they might put up a statue honoring Jerry Falwell Jr. for what he accomplished in building up the beautiful Liberty University campus after his father Jerry Falwell Sr. died. 
No one can doubt that Fallwell Jr. did a great job building the campus. However, the sodomite/homosexual hostel in Florida that Jerry Falwell Jr. owned, the watching of his wife having sex with the pool boy, and the pants unbuttoned with the young female staffer beside him is a damn problem that we do not want to be reminded of every year or two. Everybody is trying to put that behind them and go on with the Liberty Way Jerry Falwell Sr. left for the Champions for Christ. The new president, Air Force Major-General Dr. Dondi E. Costin, is the right man to lead Liberty University into the future. Right now, Jerry Falwell Jr. is acting like a Judas against God, Jesus Christ, his late father Jerry Falwell Sr., the new president, a good man, his brother, Jonathan, whom he has put in a very difficult situation, and the entire Liberty University family.
Daniel Whyte III tells Jerry Falwell Jr. to do what the Beatles said, "LET IT BE! LET IT BE!" Whyte says further so that the Liberty University family does not have to go through this again; he is calling on Dr. Prevo, the new chancellor, Jonathan Falwell, all professors, all adjunct professors, all former staff, all Alumni, and all students presently studying at Liberty University around the world to write Jerry Falwell Jr. and lovingly tell him thank you for the good you did; no thank you for the bad you did, and we do not want to hear from you again about this foolishness for the next fifty years. No more lawsuits! No more accusations. Leave the new president alone. Leave your little brother alone, whom God gave the job you had to. Stay away from the campus you built. Stay away from the graduations. Who knows–Some of the leadership, staff, alums, and present students might be willing to give you a million dollars a year to keep your mouth shut because you are dragging great-grandchildren, grandchildren, and children through the mud with this constant foolishness. LEAVE THE LIBERTY UNIVERSITY FAMILY OF "CHAMPIONS FOR CHRIST" ALONE FROM NOW ON!
Let's take a stroll down the scandal-ridden path of Jerry Falwell Jr., the former president of Liberty University, who, in a predictable twist, has now decided to sue the very Christian college he once presided over for the unauthorized use of his late father's image. Yes, the same father who founded the school and whose legacy he tarnished by resigning amidst a sex scandal in 2020 following scandalous photos of him taken on a yacht 
Earlier this year, Falwell Jr., who steered the university's ship from 2007 until his ousting in 2020, slapped the school with a lawsuit for $8.5 million. His claim? Unpaid retirement benefits. He'd already drawn up defamation and breach of contract suits against the university. In a tit-for-tat move, the school responded with a breach of contract and fiduciary case of their own against Falwell.
Source: Protestia
To read more, click here: https://protestia.com/2023/08/02/jerry-falwell-jr-sues-liberty-over-plans-to-build-35m-shrine-to-his-dad-ft-hologram-tour/