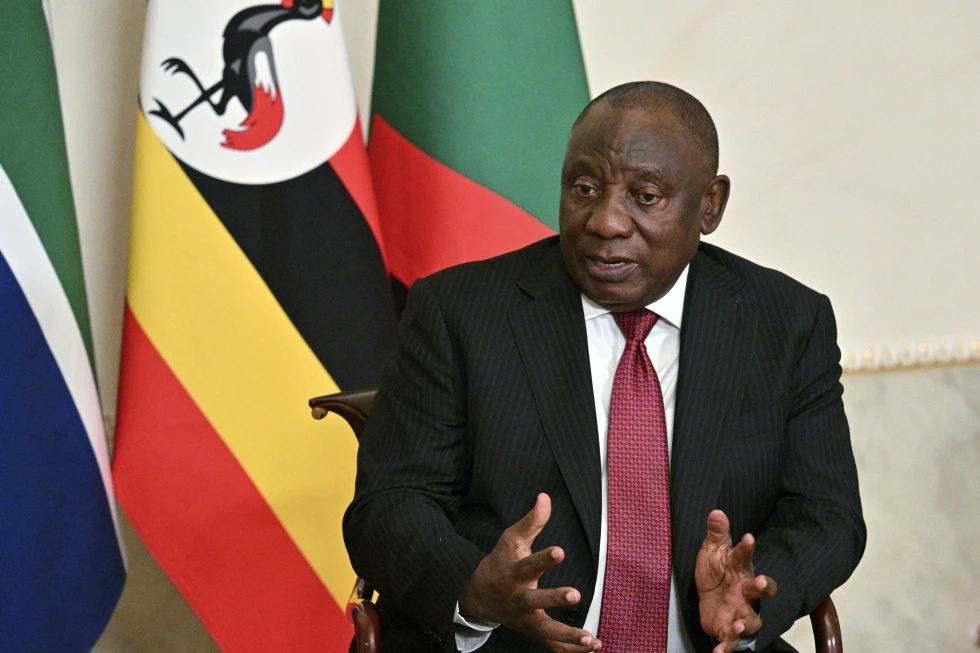 South African President Cyril Ramaphosa Says That Arresting Russian President Vladimir Putin if he Comes to Johannesburg Next Month Would be "WAR"
JOHANNESBURG (AP) — South Africa's president said Tuesday that arresting Russian President Vladimir Putin — should he show up at an economic summit next month in Johannesburg — would amount to a "declaration of war" by his country.
The August summit is bringing together Brazil, Russia, India, China and South Africa — a bloc of developing economies known as BRICS. Officials have said that Putin wants to attend the gathering but have been trying to persuade him to stay away to avoid the legal and diplomatic fallout over his international arrest warrant.
Putin is the subject of a warrant of arrest by the International Criminal Court related to alleged war crimes during Russia's invasion of Ukraine. As a signatory to the Rome Statute that established the ICC, South Africa would be obligated to arrest Putin if he visits the African nation.
South Africa's biggest political opposition party, the Democratic Alliance, has tried to compel President Cyril Ramaphosa's government to pledge to arrest Putin in an action before the High Court in Pretoria.
But in a strongly worded affidavit to the court, made public on Tuesday, Ramaphosa reiterated his past statement that such an action against Putin could also derail any efforts to end the war in Ukraine.
"I must highlight, for the sake of transparency, that South Africa has obvious problems with executing a request to arrest and surrender President Putin," he said. "Russia has made it clear that arresting its sitting president would be a declaration of war."
"It would be inconsistent with our Constitution to risk engaging in war with Russia," Ramaphosa added.
The dilemma on the ICC warrant for Putin follows diplomatic tensions with the West over South Africa's stance on Russia's invasion of Ukraine. South Africa has consistently abstained from voting at the United Nations to condemn Russia's aggression, calling instead for dialogue to end the war.
South Africa is also part of efforts by a group of at least six African nations who recently embarked on a peace mission to Kyiv and Moscow to meet with both Putin and Ukrainian President Volodymyr Zelenskyy.
Source: Associated Press, MOGOMOTSI MAGOME
To read more, click here: https://apnews.com/article/south-africa-ramaphosa-putin-arrest-warrant-c62b4be0fd177d827214199cb60db98f