HERE WE GO! THE DEVIL IS A LIE! Sodomite/homosexual LGBTQQIPF2SSAA+ So-called Transgender "FURRIES" go on Hacking Spree Starting in Fort Worth, Texas, and Going to 5 Other States Because of State Bans on Transgender Surgeries for Children. Daniel Whyte III, President of Gospel Light Society International, Says to the Judas-Laodicean Church — borrowing the words of Dr. David Jeremiah: "You never thought you'd see the day, did you?"
Over the weekend, a hacker cell targeted the city of Fort Worth, Texas, ostensibly over the state's restrictions on minors receiving irreversible transgender-related procedures and treatments.
The group, SiegedSec, claimed responsibility for the breach, which occurred around 4 p.m. Friday, according to the Daily Mail. Officials with Fort Worth said the message they received from the hackers condemned the U.S. government and Texas' ban on transgender operations for minors.
"We have decided to make a message toward the U.S. government," the alleged hackers wrote in a Facebook post. "It just happens to be one of the largest states banning gender affirming care and, for that, we have made Texas our target."
While the breach in government data is certainly concerning, officials said no sensitive information was disclosed in the hack, WFAA-TV reported.
Kevin Gunn, the IT solutions director for Fort Worth, said the data gathered in the cyberattack was "not sensitive in nature" and included the type of information the government would have released in a Freedom of Information Act request.
The hack in Fort Worth comes just a couple months after the city of Dallas dealt with a ransomware attack, which put Gunn's IT team on high alert.
"We block about a quarter million emails each day as potential threats to our computing systems," he said. "We see people trying to access our computer systems over the internet thousands of times each hour."
Despite the Facebook post, the alleged group behind the Fort Worth hack has not demanded a ransom.
"Other than what they've stated in their posting, their motivation for downloading this information and posting it on the internet … their posting eludes to basically embarrassing the city of Fort Worth and making a political statement," Gunn said. "So that's all I can really gather and surmise about what their motivation is."
On June 3, Texas Gov. Greg Abbott (R) ratified a law barring irreversible and body-damaging procedures and treatments for minors who identify as transgender. The law is set to take effect Sept. 1. The Lone Star State is now the 17th state to outlaw such surgeries and therapies for those under 18 years old.
Source: CBN, Tre Goins-Phillips
To read more, click here: https://www2.cbn.com/news/us/activists-hack-fort-worth-city-systems-over-texas-ban-transgender-surgeries-minors
Sodomite/homosexuals "Gay Furries" Hacking Spree Expands to 5 States
South Dakota, Nebraska, Texas, South Carolina, and Pennsylvania have been targeted.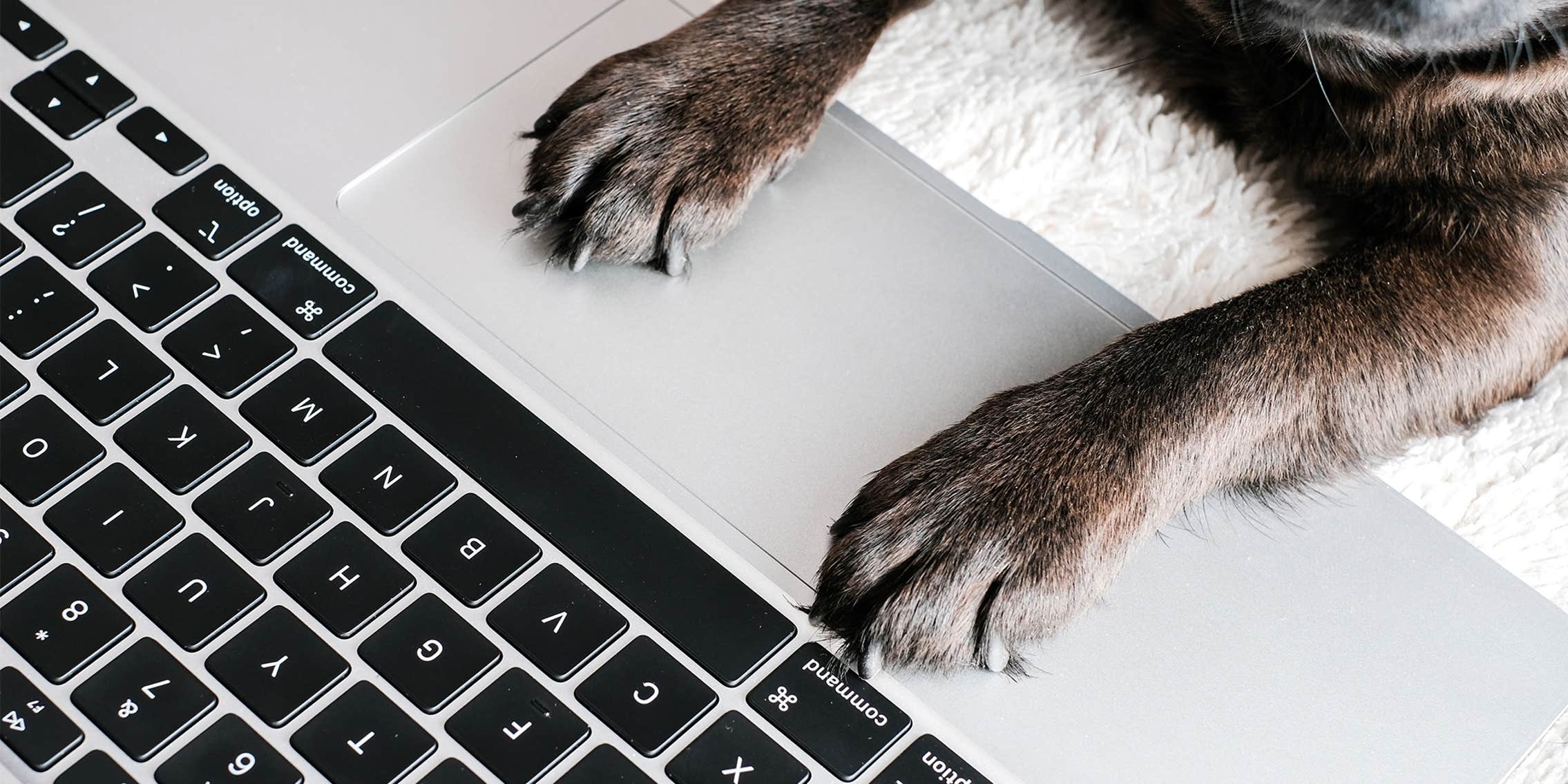 The self-described "gay furries" in the hacking group known as SiegedSec have expanded their campaign against five states for their stances on transgender issues.
The group, which earlier this month leaked data from the Texas city of Forth Worth, claimed on Wednesday that it had breached government websites belonging to the states of Nebraska, South Dakota, Pennsylvania, South Carolina, and once again Texas.
In an announcement on the breaches, which encourages readers to "be gay do crime," SiegedSec says it targeted the Nebraska Supreme Court Intranet, the website for the South Dakota Boards and Commissions, personal information from the Texas Behavioral Health Executive Council, Pennsylvania's Provider Self-Service website, as well as the website for the South Carolina Criminal Justice Information Services.
"We have proudly defaced the South Dakota Boards and Commissions website! We left little special messages across their site," the group wrote. "Unfortunately, they have now fixed the defacement. Since it seems South Dakota didn't appreciate our gift, we will offer gifts to someone else. We've hacked and leaked documents from the Nebraska Supreme Court Intranet and South Carolina Criminal Justice Information Services."
The hacking group also went on to state that it retrieved health-related information out of Texas and caused disruptions to systems in Pennsylvania. Most troubling, SiegedSec claimed it came across over 15,000 childcare records, although it has no intention of publishing them.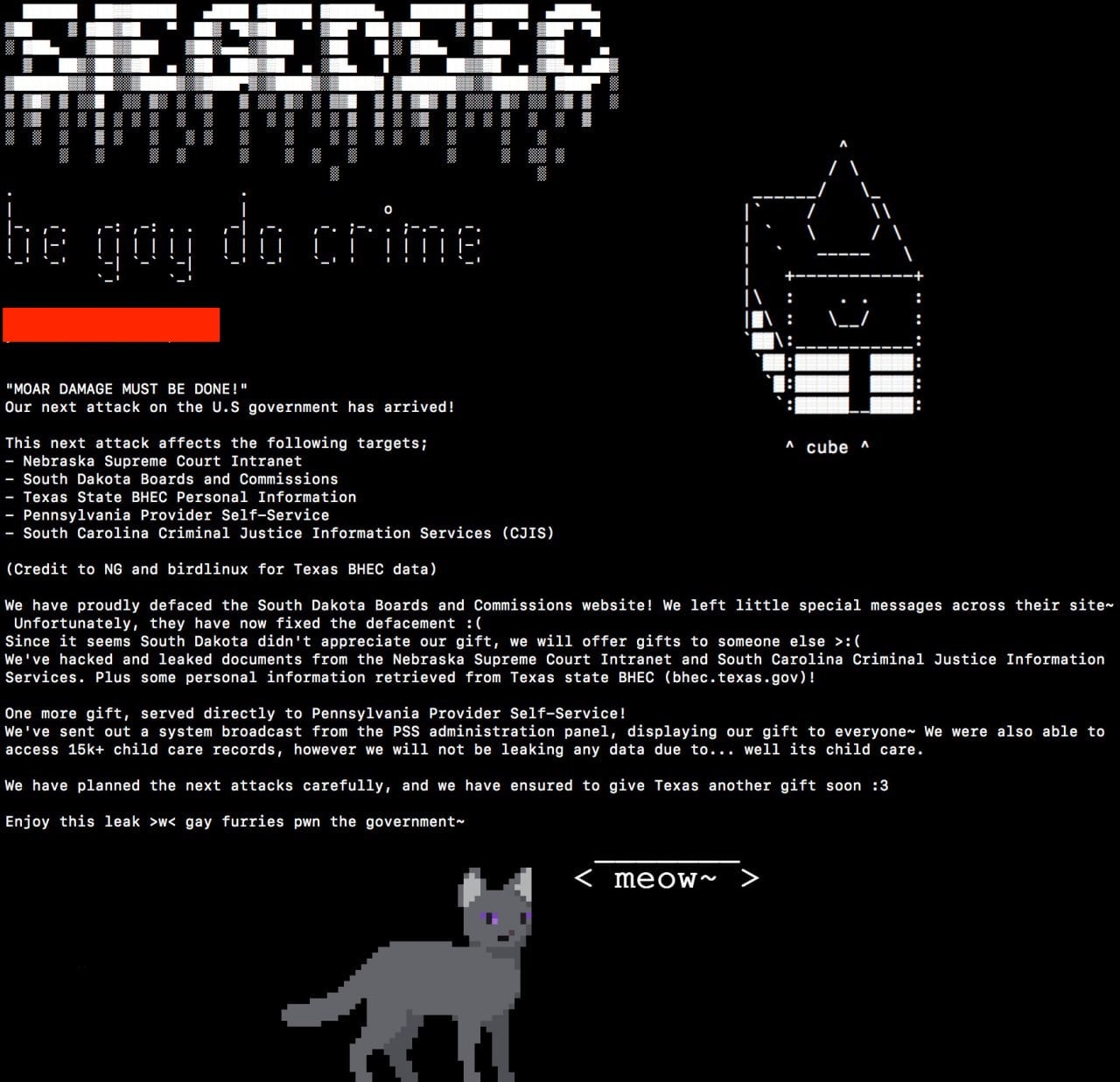 "We have planned the next attacks carefully, and we have ensured to give Texas another gift soon," their announcement said in closing. "Enjoy this leak >w< gay furries own the government."
The Daily Dot reached out to each of the affected state entities for comment, none of which replied by press time. The South Dakota Boards and Commissions, however, had an error message on its homepage at the time of writing. The website for the Texas Behavioral Health Executive Council was down completely when checked by the Daily Dot as well.
Source: dailydot.com, Mikael Thalen