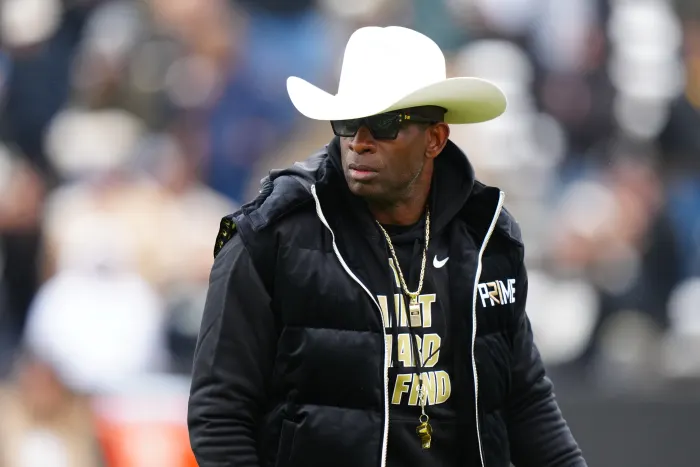 BREAKING NEWS! WATCH: DEION SANDERS' DOCTOR SAYS HE COULD LOSE HIS WHOLE FOOT DUE TO MEDICAL COMPLICATIONS. Daniel Whyte III, President of Gospel Light Society International, calls on people who know how to get a hold of God to pray for one of the greatest winners in American sports history, Deion Sanders (Coach Prime). Deion Sanders is a man who probably has more influence among young men than most national pastors. Whyte says he knows that Sanders and no one else is thinking about this; In fact, most pastors will not tell Deion Sanders this: but if Deion Sanders wants to help himself, he needs to leave Baby Face's wife Tracy Edmonds alone, reconcile with his wife, or stay single. It does not matter who it is, God does not like ugly, and God can and will chastise His children in ways they can never imagine. Take it from one of God's children whom God has lovingly chastised. Here's God's Word on it: 
5 And ye have forgotten the exhortation which speaketh unto you as unto children, My son, despise not thou the chastening of the Lord, nor faint when thou art rebuked of him:
6 For whom the Lord loveth he chasteneth, and scourgeth every son whom he receiveth.
7 If ye endure chastening, God dealeth with you as with sons; for what son is he whom the father chasteneth not?
8 But if ye be without chastisement, whereof all are partakers, then are ye bastards, and not sons.
9 Furthermore we have had fathers of our flesh which corrected us, and we gave them reverence: shall we not much rather be in subjection unto the Father of spirits, and live?
10 For they verily for a few days chastened us after their own pleasure; but he for our profit, that we might be partakers of his holiness.
11 Now no chastening for the present seemeth to be joyous, but grievous: nevertheless afterward it yieldeth the peaceable fruit of righteousness unto them which are exercised thereby.
12 Wherefore lift up the hands which hang down, and the feeble knees;
13 And make straight paths for your feet, lest that which is lame be turned out of the way; but let it rather be healed.
14 Follow peace with all men, and holiness, without which no man shall see the Lord:
–Hebrews 12:5-14 
Deion Sanders is in danger of having more toes – or possibly his entire foot – amputated due to ongoing medical complications.
Sanders, the head football coach at Colorado University, shared a video of a recent meeting with his doctors detailing the latest updates on his medical situation.
In the video, Sanders explains that he has no feeling left "at all" at the bottom of his foot. He also revealed he doesn't plan on running for the rest of his life.
Source: athlonsports: https://athlonsports.com/college-football/deion-sanders-doctor-says-he-could-lose-whole-foot-due-to-medical-complications