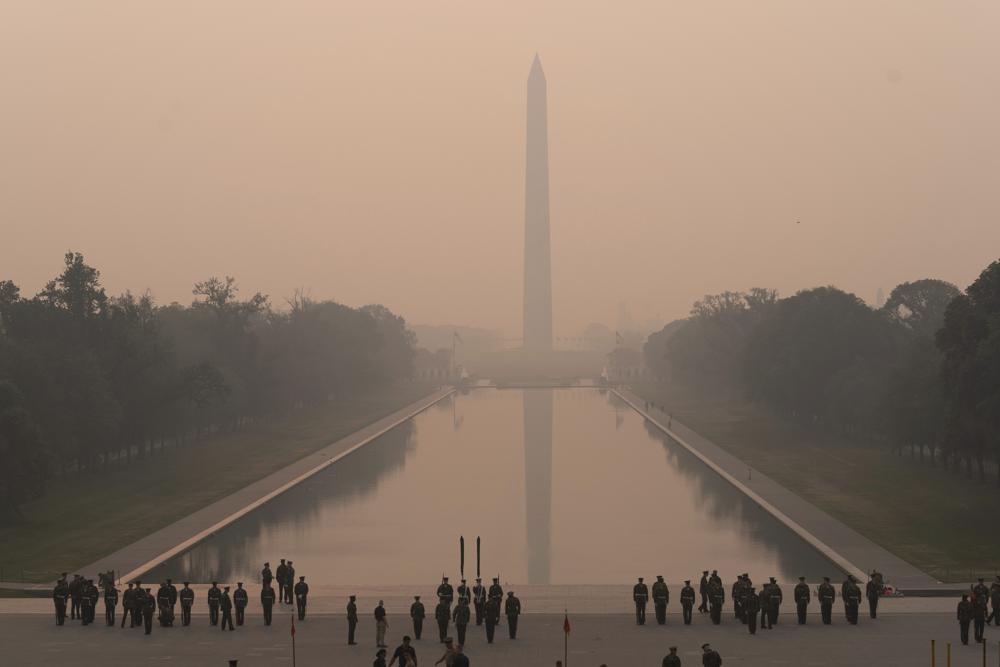 DANIEL WHYTE III TELLS AMERICANS, CANADIANS, AND THE WORLD TO STOP BEING SHOCKED AT THE SMOKEAGEDDON That Has Hit New York, Philadelphia, Washington, D.C., and Many of the Major Cities of the United States. "GOD IS LOVE." However, God Loves His "Believing" CHURCH PEOPLE so Much That He Will CHASTISE Them as He Did His CHOSEN PEOPLE, the ISRAELITES, For Their Disobedience to Him. And God Loves His Creation so Much That He Will Punish Them For Disrespecting Him and Disobeying His Commandments and Laws in the BIBLE and IN NATURE. Therefore, What You Are Continuing to Witness, As Whyte Has Told You Repeatedly For Over THIRTEEN YEARS, GOD IS STILL LOVINGLY, MERCIFULLY, AND SLOW-ROLLINGLY DESTROYING AND DISMANTLING AMERICA Piece-by-Piece Because the Church, in General, Has Turned Her Back on Him and, Has Become a Judas-Laodicean Church That is Now so Wicked, She Commits Adultery, Lives in Adultery Through Divorce and Remarriage (Including the pastors and the pastors' wives), Commits Fornication, and is Swinging so Much That They Have ASHLEY MADISON on Speed-dial, along with committing homosexuality in the Church. In addition to that, the Church Has Joined With the Government in Condoning and Sanctioning the Abomination of Sodomy/Homosexuality, Transgenderism, and all of the Evils of the Ever-expanding "LGBTQQIPF2SSAA+ Legions of Demons" Community. On Top of That, the Month of June is Recognized in America, Canada, and the West as the So-called Sodomite/Homosexual "PRIDE MONTH." God is not Pleased! Remember, the Holy Bible Says, "Pride cometh before a fall." One of the Tragedies of Our Sinful Human Nature is That We Deceive Ourselves Into Thinking That Things Happen For No Reason. We Foolishly Call Them Such Stupid Words as Coincidences, Happenstances, or Climate Change. These Words Are Designed as an Attempt to Do Away With God in the Minds and Hearts of People. NO! Everything That Happens in This World, God Either Causes it to Happen or He Allows it to Happen, All For His Reasons and Purposes.
GOD STARTED THE FIRE IN CANADA EARLIER THROUGH LIGHTNING STRIKES SO THAT THE HORRIFYING AND CRIPPLING SMOKE COULD HIT NEW YORK CITY AND AMERICA, A MODERN SODOM AND GOMORRAH, TO WARN THE CITIES OF AMERICA AND AMERICA HERSELF THAT IF THEY DO NOT REPENT, HE COULD BURN THE WHOLE COUNTRY DOWN AS HE DID SODOM AND GOMORRAH. By the Way, This Canada Fire is Nothing Compared to the Fires That Have Destroyed Much of America Already. This is Just a Continuation of God Destroying and Dismantling America Piece-by-Piece Because of our Gross Sins and Abominations in the Church and the Nation. Whyte also believes God Allowed the Timing of This SMOKEAGEDDON to Put a Damper on the Sodomite/Homosexual "PRIDE MONTH PARTY." CANADA'S WILDFIRES PLUNGE NEW YORK CITY AND THE EAST COAST INTO EERIE, SMOKY HELL. More East Coast Health Warnings — Hazardous Air Conditions Continue to Hit East Coast; Poor Air Quality From Wildfires in Canada Affect People as Far Away as North Carolina; U.S. Firefighters Rush to Help the People of Canada. AND THE MASKS GO BACK ON THE FACES OF THE PEOPLE OF AMERICA–THIS TIME VOLUNTARILY!
Areas of the East Coast and Midwest continue to face hazardous and unhealthy air early Thursday. In New York, officials warned it could get worse before it gets better, with a smokier afternoon expected before conditions begin to improve later in the day. Residents in the Washington and Baltimore regions woke up to their worst air quality in years, as did Philadelphia — with noxious haze from Canada's wildfires continuing to cross the border. In a statement, President Biden called the effects of the smoke "another stark reminder of the impacts of climate change" and said he directed the National Interagency Fire Center to respond to Canadian requests for additional firefighting support.
Here's what to know
Air quality alerts remain in effect in the United States in the Northeast and Midwest and might extend into Friday, when the smoke is expected to disperse. New York City is expected to be hit by a fresh batch of smoke, which is likely to move onward into northwest Pennsylvania and northern Ohio by the end of day.
Source: MSN
To read more, click here: https://www.msn.com/en-us/weather/topstories/live-updates-hazardous-air-conditions-continue-on-east-coast-as-us-rushes-firefighters-to-canada/ar-AA1chD6S
Poor air quality from Canadian wildfires affects people as far as away as North Carolina
NEW YORK (AP) — On air quality maps, purple signifies the worst of it. In reality, it's a thick, hazardous haze that's disrupting daily life for millions of people across the U.S. and Canada, blotting out skylines and turning skies orange.
With weather systems expected to barely budge, the smoky blanket billowing from wildfires in Quebec and Nova Scotia and sending plumes of fine particulate matter as far away as North Carolina and northern Europe should persist into Thursday and possibly the weekend.
That means at least another day of a dystopian-style detour that's chased players from ballfields, actors from Broadway stages, delayed thousands of flights and sparked a resurgence in mask wearing and remote work — all while raising concerns about the health effects of prolonged exposure to such bad air.