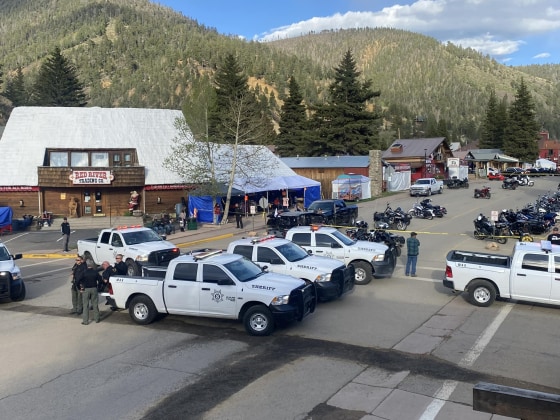 THERE'S A DEVIL LOOSE: At least 16 Dead, Dozens Injured at Shootings Across the U.S. Over Memorial Day Weekend; 1-Year-Old Among Nine Shot Near Beach in Hollywood, Florida; 11-Year-Old Aderrien Murry Shot by Police
Daniel Whyte III, President of Gospel Light Society International, Warned Parents and Grandparents on January 10th, 2023, in Writing on BCNN1.COM and From the Pulpit That Due to the Demonic Spirit of Wokeism in This Country, if You do Not Fast and Pray For Your Children and Grandchildren in a Real Sense "Pray What You Mean and Mean What You Pray" and Pull Them Out of These Hell-hole Public Schools and Protect Them From Woke People and the Wrong Crowd, You Will Bury Your Children and Grandchildren. This is Why God Led Whyte to Lead Others to Fast and Pray That God Would Cast Out the Demonic Spirit of Wokeism For a Total of 80 Days Since January 10th, 2023. God Has Also Led Him to Lead a 1-Day Fast Starting Midnight, Sunday, April 16th, Through Midnight, Monday, April 17th. We just finished our 7th Day of Fasting on This past Monday, May 29th, 2023, at midnight. Whyte is Asking All Born-Again Saved Christians to Fast Every Monday For 24 Hours Until Monday, September 18th, 2023. Please read About it on This Same Site, BCNN1.COM.
Whyte Says Nobody Can Protect You, Your Children, and Your Grandchildren From This Demonic Spirit of Wokeism But God. Sad to Say, Most Pastors and Churches Are Not Much Help Because They Are Largely Responsible For Causing This Situation to Come About in the First Place Through Compromise of the Word of God; the Preaching of False Gospels, Such as the Prosperity Gospel; Committing Sins in the Church Such as Adultery, Fornication, Divorce and Remarriage, and Homosexuality Without Repentance; Then Colluding With National, State, and Local Governments Regarding the Ordaining and Sanctioning of Homosexuality, Homosexual Marriage, and So-Called "Transgenderism" Which Has Opened the Flood Gates For Woke Demons to Come Through and Kill Our Children. Most Churches Today Are Judas-Laodicean Churches That Have Betrayed God, Jesus Christ, and the Word of God and Do Not Care For the People as They Should. Most Pastors and Pastors' Wives Only Care For Themselves; All They Want is Your Attendance and Your Money. You Mark my Words: You Will Not Hear an Outcry About What is Going on in This Country From Even the Most Prominent Pastors Because They Have Been Bought by the Proverbial 30 Pieces of Silver and Have Been Told by the Powers That be to Shut up! In the Words of Dr. David Jeremiah, "The Church of Today Has Fallen Away."
There Are Demon-Filled Woke People in This Country Who Want to Rip the Heart Out of Parents and Grandparents. They do This by Brainwashing Their Children, Even in the Public School System, Causing Them to Try to Change Their Gender Without Parental Knowledge or Consent or Killing Your Children or Grandchildren For Evil Sake so They Can Have Their Way. Some Will Tell You There Are Other Reasons, and That May Be the Case. However, the Demonic Spirit of Wokeism is Moving Across This Country, Causing Young People and Some Older People to go Through the Tragic Wokeism Process And That is: (1) Brainwashed by Woke Masters, and These Woke Masters May be Your Pastor and Pastor's Wife or Other Adults in Leadership in the Church; They May be in Your Child's School; They May be on the Job; Or, They May be in Your Family; (2) Overwhelming Sadness; (3) Overwhelming Depression; (4) Overwhelming Loneliness; (5) Overwhelming Feeling of Being Deceived Through the Brainwashing of Woke Masters Because Wokeism is Deceptionism, Demonism, and Deathism Which Leads to (6) Nihilism Which Causes People to Not Care About Anything Even Their Own Lives to the Point Where the Woke Mass Shooter Does Not Care About Their Own Life and Does Not Care About the People They kill, and Some Are Committing Suicide. Sadly, This Ongoing Tragedy Will Continue and Increase if God's People do Not Fast and Pray Without Ceasing and Humble Themselves, Seek God's Face, Turn From Their Wicked Ways, and Get Back to Their First Love — the Lord Jesus Christ.
Shootings across the U.S. left at least 16 people dead and dozens more injured over Memorial Day weekend.
The gun violence occurred at beaches, high schools and motorcycle rallies, among other locations, across at least eight states. The victims were teenagers to people in their 60s.
The weekend concluded as it began — with gunfire. Nine people were injured in a shooting in the Hollywood Beach area of Hollywood, Florida, on Monday evening as people enjoying the holiday amassed along the Atlantic coast north of Miami, police said.
Police said an altercation between two groups led to the violence, with all nine victims hospitalized in unknown conditions and the possibility that children were among the injured. A person of interest was detained, and a suspect was sought, Hollywood police spokesperson Deanna Bettineschi said at a nighttime news conference.
Among the first reports of gun violence over the holiday weekend happened Friday afternoon, when Telemundo Chicago cameras caught a confrontation between two groups of people on Chicago's North Avenue Beach, NBC Chicago reported. The altercation led to gunshots but no injuries.
Although Friday's shooting resulted in no injuries, more than eight people were killed and at least 32 others were injured in Chicago shootings over the long weekend, according to NBC Chicago.
Reports of shootings dotted the rest of the U.S., though the total number does not appear to be an outlier for a holiday weekend. The U.S. averages about 57 gun-related homicides per day, according to a Pew Research Center analysis.
In Baltimore around 3:30 p.m. Friday, an argument between two men led to gunfire, which injured five people, officials confirmed to NBC News.
The five who were struck have not been publicly identified. The victims had non-life-threatening injuries, Police Commissioner Michael Harrison said. Police are searching for the gunman, NBC affiliate WBAL reported.
In Mesa, Arizona, police took Iren Byers, 20, into custody in connection with multiple shootings from Friday afternoon to early Saturday, police said in a news release. Byers is accused of killing four people and injuring one person, police said. It was not immediately clear whether he had retained an attorney who could be asked for comment.
Source: nbcnews