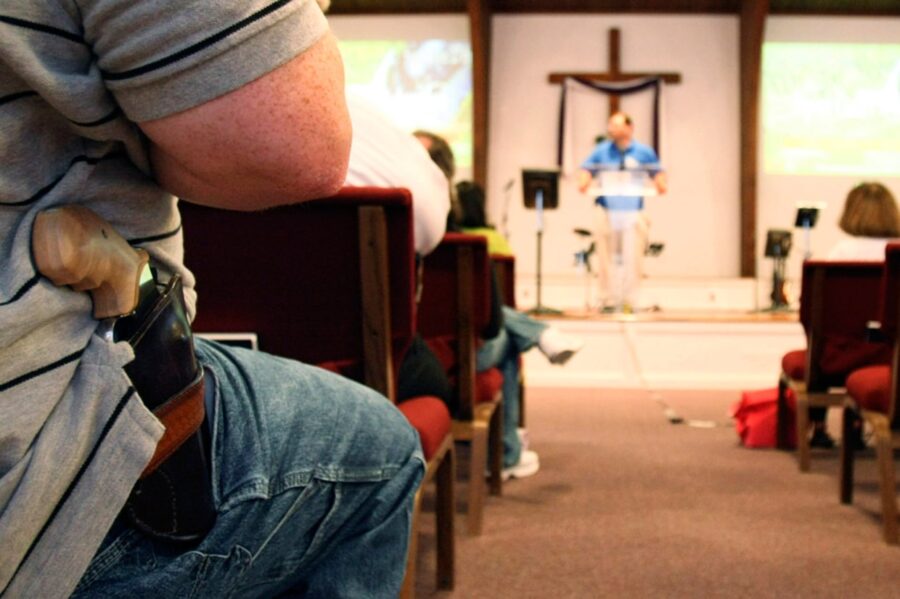 Pastors, Elders, and Deacons, if You Have Not Made a Serious Plan Regarding Security for Your Church, Your Christian School, Daycare Center, and the Pastor's Family, Including his House, You Need to do so Now Because There Are Devils and Demons Loose in This Country Primarily Because Much of the Church Has Chosen to Become a Judas-Laodicean Church That Has Allowed Sodomites to Gain Ground in This Country That Could Have Been Prevented
It's another sad day in America. A week ago, a Christian school was shot up, leaving six dead. Yesterday we reported another disturbed trans man was planning to shoot up a church, leaving a terror in his wake.
Violence in the church is really nothing new. In fact, about 10 percent of all mass shootings happen in church or on church-owned grounds.
Statistics (from 1999 to February of 2015) report 971 "deadly force incidents" in churches or faith-based operations. Of those, only about 200 incidents are from people who knew each other (friends or relatives) committing violence against each other. The rest are "outside-in" incidents. Approximately 47 of these incidents were religion-based (so-called "hate crimes"). 576 incidents included firearms. Of these incidents, 375 occurred during "service" hours and the rest during off-hours [link for info].
These incidents have been on the rise in America, beginning in 1980 when a gunman shouted, "This is war!" and began to shoot up First Baptist Church in Dangerfield, Texas – killing five and wounding ten more. Since then, on-grounds church violence has been a normal occurrence, although it doesn't make the international news in the same way as this seemingly race-motivated murder spree yesterday.
Facing the reality that church "sanctuaries" are apparently in name only and churches are as vulnerable to violence as any other public place (more vulnerable in states that prohibit conceal and/or open carry in houses of worship), pastors, elders, bishops and overseers must consider how to make church gatherings as safe as possible.
What can be done to help prevent violent people from succeeding in their efforts to carry out mass-violence in your congregation?
The video is raw, cutting, and spits reality. Pastors, in particular, need to watch this. What would it be like for your church to get shot up? Think about it. Then do something about it.
2. Create a church security team. Enlist current and former law-enforcement, current or former military personnel, or other naturally-observant people with a penchant for self-awareness. Some people are naturally prone to watching out for themselves and others. I call them "sheepdogs." They're naturally alert. They're intuitively thinking about safety. They see trouble coming before almost anyone. Enlist them. They don't need matching t-shirts or badges. My "security team" is a rather informal bunch comprising of former/current law enforcement and military, a former bar bouncer, and a few cattle-wrangling deacons. They can handle themselves and stay alert, and that's good enough.
3. Create a risk assessment. Your security team needs to look at each avenue for entry into the church and take things into consideration:
Are there unprotected entryways into the church, unstaffed by any greeters?
Are all doors open just because they can be? Or are certain doors locked to limit access and filter people through carefully selected entry ways so they can be more easily observed for trouble?
Are your greeters – the front line of defense – able to stop an assailant? Can they get "physical" if they need to? Are they or could they be discreetly armed? Your greeters need to be friendly and hospitable, and also need to be able to take someone to the ground if they have to. Likewise, your ushers inside the sanctuary need to be smiling, unofficial, security guards.
Who is on duty to observe guests for strange behavior and the regular visual cues that something is "not right"? Is there always someone who's in charge of observation?
Are there men in the congregation who know that they're the ones to head towards the attacker instead of away from an attacker? These men are the church's equivalent of airline passengers chosen to sit in the exit row of the airplane in the case of emergency. These men sit on the outside of the pew or row instead of on the inside, so that they can move quickly.
Often neglected, in the age of improvised explosive devices (yes, I realize this seems far-fetched) – not to mention property damage, petty theft and vandalism, is someone watching the church parking lot as well?
Are there certain, well-trained individuals that you've asked to never be at church without a firearm? In the typical "redneck" church, knowing who does and does not have a weapon may be a gamble, but there should be some that you can count on being armed. Know who they are.
Source: Protestia
To read more, click here: https://protestia.com/2023/04/08/op-ed-protecting-your-church-against-mass-violence/