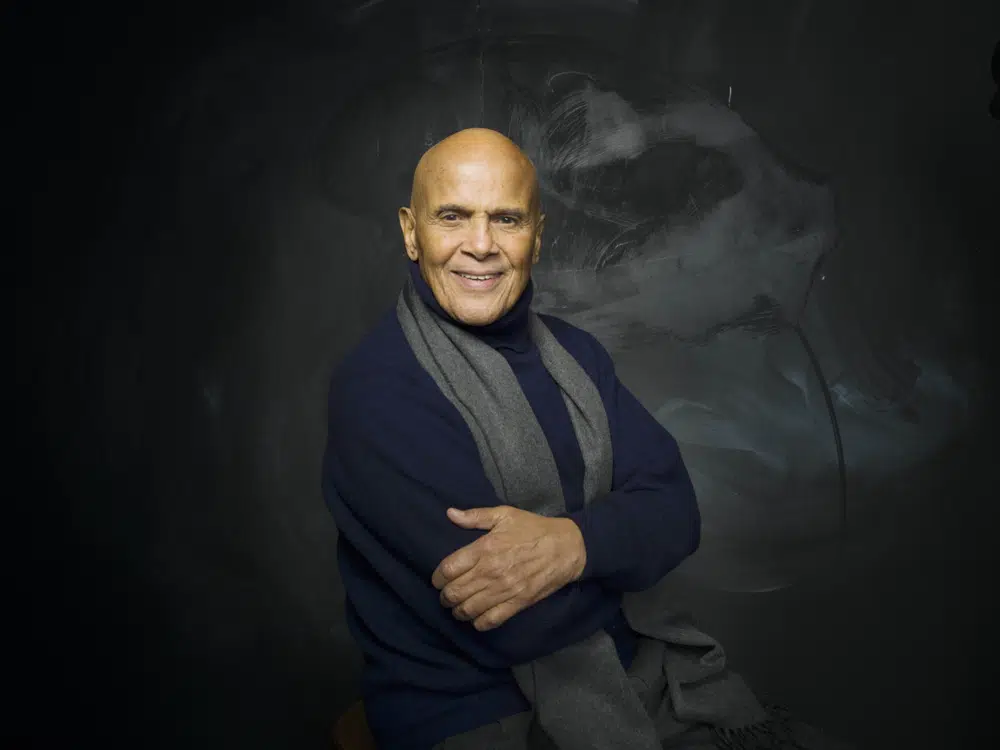 BREAKING NEWS — LITTLE KNOWN FACT: THE GREAT JAMAICAN SINGER AND CIVIL RIGHTS ACTIVIST HARRY BELAFONTE WAS ALSO A JEW. Harry Belafonte, Who Supported and Marched With Dr. Martin Luther King Jr. During the Civil Rights Movement and Who Was a Gifted Singer and Actor and a Dedicated Activist For Other Causes, Dies at 96. But What Truly Made Harry Belafonte Great and Successful Across the Board and Seemingly Always at the Right Place at the Right Time is the Little Known Fact That Harry Belafonte Was a Descendant of Abraham, Isaac, and Jacob. He Didn't Talk About It Much, But Harry Belafonte Was a Jew, and Whether You Like It or Not, God Has Blessed the Jews in a Very Unique and Special Way Above All Other People in the World. However, He Was Raised Catholic. We Pray and Hope That Harry Belafonte, in His Very Busy Life, Took The Time to Believe in the Greatest Jew of All Time, the Lord Jesus Christ, as His Saviour. And we Pray and Hope That You Will Believe in the Lord Jesus Christ as Your Saviour, For He Said the Most Loving Words Ever Said in the History of the World, He Said the Most Magnificent Words Ever Said in the History of the World, and He Said the Most Important Words Ever Said in the History of the World When He Preached the Gospel, the Good News, First and Best: "For God so loved the world, that he gave his only begotten Son, that whosoever believeth in him should not perish, but have everlasting life."
NEW YORK (AP) — Harry Belafonte, the civil rights and entertainment giant who began as a groundbreaking actor and singer and became an activist, humanitarian, and conscience of the world, has died. He was 96.
Belafonte died Tuesday of congestive heart failure at his New York home, his wife Pamela by his side, said publicist Ken Sunshine.
With his glowing, handsome face and silky-husky voice, Belafonte was one of the first Black performers to gain a wide following on film and to sell a million records as a singer; many still know him for his signature hit "Banana Boat Song (Day-O)," and its call of "Day-O! Daaaaay-O." But he forged a greater legacy once he scaled back his performing career in the 1960s and lived out his hero Paul Robeson's decree that artists are "gatekeepers of truth."
Belafonte stands as the model and the epitome of the celebrity activist. Few kept up with his time and commitment and none his stature as a meeting point among Hollywood, Washington and the civil rights movement.
Source: the Associated Press, HILLEL ITALIE: https://apnews.com/article/harry-belafonte-dead-2d8cbdf0043e4383a6c4a85c862cdbe1
More on Harry Belafonte
Belafonte was born Harold George Bellanfanti Jr. at Lying-in Hospital on March 1, 1927, in Harlem, New York, the son of Jamaican-born parents Harold George Bellanfanti Sr., who worked as a chef, and Melvine (née Love), a housekeeper. His mother was the child of a Scottish Jamaican mother and an Afro-Jamaican father, and his father was the child of a Black American mother and a Dutch-Jewish father of Sephardic Jewish descent. Harry, Jr. was raised Catholic.[15]
From 1932 to 1940, Belafonte lived with one of his grandmothers in her native country of Jamaica, where he attended Wolmer's Schools. Upon returning to New York City, he attended George Washington High School after which he joined the U.S. Navy and served during World War II. In the 1940s, he was working as a janitor's assistant when a tenant gave him, as a gratuity, two tickets to see the American Negro Theater. He fell in love with the art form and also became friends with Sidney Poitier. The financially struggling pair regularly purchased a single seat to local plays, trading places in between acts, after informing the other about the progression of the play. At the end of the 1940s, he took classes in acting at the Dramatic Workshop of The New School in New York City with the influential German director Erwin Piscator alongside Marlon Brando, Tony Curtis, Walter Matthau, Bea Arthur, and Poitier, while performing with the American Negro Theater. He subsequently received a Tony Award for his participation in the Broadway revue John Murray Anderson's Almanac (1954). He also starred in the 1955 Broadway revue 3 for Tonight with Gower Champion.
Harry Belafonte (born Harold George Bellanfanti Jr.; March 1, 1927 – April 25, 2023) was an American singer, activist, and actor. As arguably the most successful Jamaican-American pop star of his time, he popularized Jamaican mento folk songs which was marketed as Trinbagonian Calypso musical style with an international audience in the 1950s. His breakthrough album Calypso (1956) was the first million-selling LP by a single artist.[1]
Belafonte was best known for his recordings of "The Banana Boat Song", with its signature "Day-O" lyric, "Jump in the Line (Shake, Senora)", "Jamaica Farewell" and "Mary's Boy Child". He recorded and performed in many genres, including blues, folk, gospel, show tunes, and American standards. He also starred in several films, including Carmen Jones (1954), Island in the Sun (1957), and Odds Against Tomorrow (1959).
Belafonte considered the actor, singer and activist Paul Robeson a mentor, and he was a close confidant of Martin Luther King Jr. during the Civil Rights Movement of the 1950s and 1960s. As he later recalled, "Paul Robeson had been my first great formative influence; you might say he gave me my backbone. Martin King was the second; he nourished my soul. Throughout his career, Belafonte was an advocate for political and humanitarian causes, such as the Anti-Apartheid Movement and USA for Africa. From 1987 until his death, he was a UNICEF Goodwill Ambassador. He was a vocal critic of the policies of the George W. Bush presidential administrations. Belafonte acted as the American Civil Liberties Union celebrity ambassador for juvenile justice issues.
Belafonte won three Grammy Awards (including a Grammy Lifetime Achievement Award), an Emmy Award, and a Tony Award. In 1989, he received the Kennedy Center Honors. He was awarded the National Medal of Arts in 1994. In 2014, he received the Jean Hersholt Humanitarian Award at the Academy's 6th Annual Governors Awards and in 2022 was inducted into the Rock and Roll Hall of Fame in the Early Influence category.
Belafonte supported the Civil Rights Movement in the 1950s and 1960s and was one of Martin Luther King Jr.'s confidants. He provided for King's family since King made only $8,000 a year as a preacher. Like many other civil rights activists, Belafonte was blacklisted during the McCarthy era. During the 1963 Birmingham Campaign, he bailed King out of Birmingham City Jail and raised $50,000 to release other civil rights protesters. He contributed to the 1961 Freedom Rides, supported voter registration drives, and helped to organize the 1963 March on Washington.
During the "Mississippi Freedom Summer" of 1964, Belafonte bankrolled the Student Nonviolent Coordinating Committee, flying to Mississippi that August with Sidney Poitier and $60,000 in cash and entertaining crowds in Greenwood. In 1968, Belafonte appeared on a Petula Clark primetime television special on NBC. In the middle of a duet of On the Path of Glory, Clark smiled and briefly touched Belafonte's arm, which prompted complaints from Doyle Lott, the advertising manager of the show's sponsor, Plymouth Motors. Lott wanted to retape the segment, but Clark, who had ownership of the special, told NBC that the performance would be shown intact or she would not allow it to be aired at all. Newspapers reported the controversy, Lott was relieved of his responsibilities,[51] and when the special aired, it attracted high ratings.
In 2005, Belafonte founded The Gathering for Justice after he witnessed news reports of a 5-year-old Black girl, Jaiesha Scott, being handcuffed and arrested in her Florida classroom for "being unruly". After dedicating his life to the Civil Rights movement, and seeing so many gains, he was struck in that moment with the distance left to go. The mission of The Gathering for Justice is to end child incarceration and eliminate the racial inequities that permeate the justice system. The Gathering for Justice has two state-based task forces, Justice League NYC (established in 2013) and Justice League California (established in 2017), both of which bring together juvenile and criminal justice experts, advocates, artists and individuals who've experienced or been impacted by incarceration directly.
Belafonte taped an appearance on an episode of The Smothers Brothers Comedy Hour to be aired on September 29, 1968, performing a controversial "Mardi Gras" number intercut with footage from the 1968 Democratic National Convention riots. CBS censors deleted the segment. The full unedited content was broadcast in 1993 as part of a complete Smothers Brothers Hour syndication package.