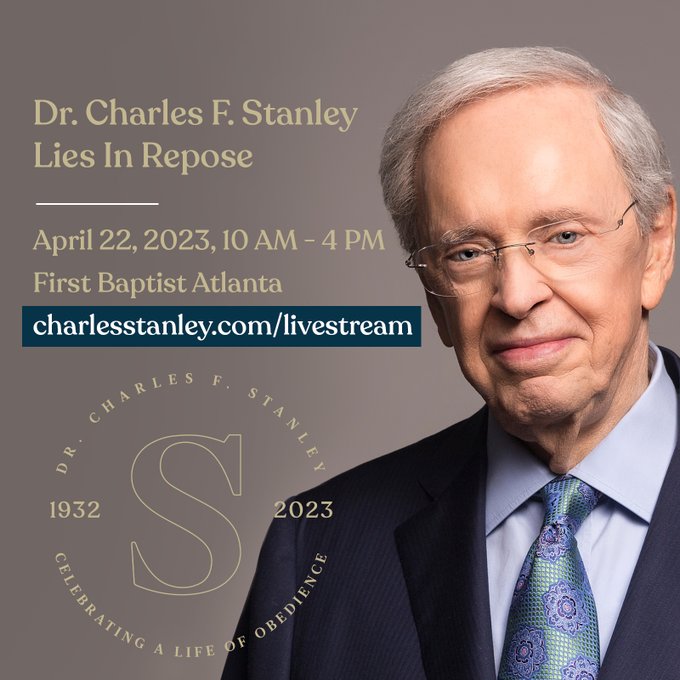 DR. CHARLES FRAZIER STANLEY LIES IN REPOSE HAPPENING NOW AT charlesstanley.com/livestream: Dr. Charles Frazier Stanley Will Lie in Repose at First Baptist Church in Atlanta, Georgia, This Saturday, April 22, 2023, From 10 AM – 4 PM. All Are Welcome. The Event Will Be Live-streamed on CharlesStanley.com. Daniel Whyte III, President of Gospel Light Society International, Who Had the Privilege of Meeting Dr. Charles Stanley in Baton Rouge, Louisiana, in the Early 1980s, Says the Best Way to Honor God's Humble, Obedient Servant, Charles Stanley, is:
(1) "Pray Without Ceasing."
(2) Read Joshua Chapter One Daily For Seven Days.
(3) "Obey God no Matter What and Leave the Consequences to Him," and Don't Worry About the Circumstances.
(4) Humble Yourself, Pray, Seek God's Face, Turn From Your Wicked Ways, Repent of Your Sins, and Get Back to Jesus Christ, Your First Love.
(5) Be Consumed With Jesus Christ and His Great Commission, and Witness to as Many People as Possible With the Gospel of Jesus Christ Before You Die.
(6) Stay Focused on What God Called You to do, and Don't Get Distracted When People Betray You and Leave You, That Includes Even Your Spouse and Your Children. Remember, People Who Live Godly in Christ Jesus Will Suffer Persecution. "Yea, and all that will live godly in Christ Jesus shall suffer persecution" (II Timothy 3:12). Remember What Jesus Christ Said About a Man Like Charles Stanley, Who Suffered Great Persecutions, Betrayals, and Attacks Throughout His Ministry, Not Because He Did Wrong But Because He Was Consumed With Christ and His Mission. The Bible Says, "And they were offended in him. But Jesus said unto them, A prophet is not without honour, save in his own country, and in his own house" (Matthew 13:57). "And a man's foes shall be they of his own household" (Matthew 10:36). "If any man come to me, and hate not his father, and mother, and wife, and children, and brethren, and sisters, yea, and his own life also, he cannot be my disciple" (Luke 14:26).
(7) Keep Going on For the Lord. In the Early 1980s, There Was a Popular Saying Among Christians: "Praise the Lord Anyhow!" Then the Great Dr. Raymond Hancock Preached a Popular Sermon and Wrote a Book Titled "I Think I'll Go On Anyhow" Based Upon the Life of Job. Well, That Was the Spirit and Mentality of Dr. Charles Stanley as Well. When Dr. Stanley Was Hit With Job-like Events in His Life Because God Was Using Him so Mightily, Such events as His Wife Leaving Him and Divorcing Him For no Reason After 45 Years of marriage, and His Son, Andy Stanley, Betraying Him and Forsaking Him, God Had Such a Hold on Charles Stanley That Charles Stanley Did Not Consider Quitting The Preaching of the Gospel and the Word of God. He Continued To Preach After Being Hit With the Most Painful Things Imaginable For a Pastor. What if Charles Stanley Had Given up and Quit When His Wife Left Him For no reason, and His Son Betrayed Him and Forsook Him and Joined His Enemies Against Him? Millions of Souls Around the World Would Have Never Heard the Gospel and the Plain Preaching of the Whole Counsel of God. Pray For His Family, Church Staff, and In Touch Ministries Staff.