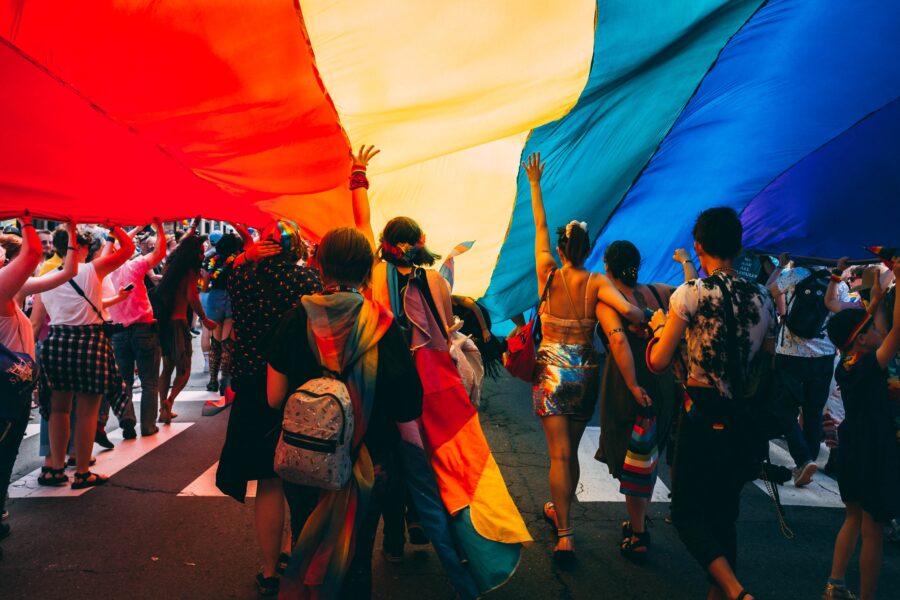 CENTERS FOR DISEASE CONTROL (CDC) SAYS A RECORD 1 IN 4 HIGH SCHOOL STUDENTS SAY THEY ARE HOMOSEXUALS, BISEXUALS, OR "QUESTIONING" THEIR SEXUALITY. This Number Has Doubled Since 2015. SO THE NUMBER OF HIGH SCHOOL STUDENTS WHO ARE HOMOSEXUALS, BISEXUALS, OR "QUESTIONING" THEIR SEXUALITY HAS DOUBLED IN LESS THAN 10 YEARS. Daniel Whyte III, President of Gospel Light Society International, Says God Has Not Failed These Young People, Jesus Christ Has Not Failed These Young People, and the Word of God Has Not Failed These Young People. IT IS THE JUDAS-LAODICEAN UNREPENTANT, UNEVANGELISTIC CHURCH THAT HAS FAILED THE YOUNG PEOPLE OF THIS COUNTRY, AND THUS THE CHILDREN OF THE WORLD, AND IF THE CHURCH DOES NOT HUMBLE HERSELF, PRAY, SEEK GOD'S FACE, TURN FROM HER WICKED WAYS, REPENT, GET BACK TO HER FIRST LOVE — THE LORD JESUS CHRIST — WITH THE QUICKNESS, AND REACH THIS GENERATION, AMERICA WILL BE DESTROYED, AND MILLIONS WILL DESCEND INTO HELL, AND THE BLOOD WILL BE REQUIRED AT THE HANDS OF THE PASTORS AND CHURCHES LIVING TODAY. The Word of God Says, "When I say unto the wicked, Thou shalt surely die; and thou givest him not warning, nor speakest to warn the wicked from his wicked way, to save his life; the same wicked man shall die in his iniquity; but his blood will I require at thine hand" (Ezekiel 3:18).
Nearly 25 percent of US high schoolers identify as something other than straight 
These students are more likely to attempt suicide and be victims of abuse
Around a quarter of high school students identify as gay, bisexual, or have a more fluid sexuality, official data suggests.
The Centers for Disease Control and Prevention's biannual youth report found that just 75.5 percent of 14 to 18-year-olds said they were heterosexual in 2021 – a new low.
The remainder said they were either bisexual (12.1 percent), gay or lesbian (3.2 percent), 'other' (3.9 percent), or said they 'questioned' their sexuality (5.2 percent).
The percentage of students who do not view themselves as straight has more than doubled in recent years — from 11 percent in 2015 to 24.5 percent in 2021.
Rates of alternate sexualities in school-aged children are much higher than the adult population – where about seven percent are gay, bisexual, or other.
Experts say the explosion in alternative sexualities among children can be partly attributed to increased acceptance.
Dr. Mollie Blackburn, who teaches sexuality studies at Ohio State University, told DailyMail.com: 'It's an increase in acceptance from both parents and society.
'[Accepting people] creates a context where a child will be more willing to say that they are gay.'
She does not think the actual number of children who are truly gay, lesbian or bisexual has changed in recent years, but that young people are more willing to admit it now.
But Jay Richard, a senior research fellow at the conservative think-tank the Heritage Foundation, said the US was an outlier.
In the UK, for example, eight percent of people 16 to 24 identify as LGBT, according to the Office for National Statistics (ONS).
He said the rise of gender studies in American schools in recent years was partly behind the rise. 'There is no doubt in my mind that schools are absolutely playing a role in this growth.'
In recent years, some schools have begun teaching sex education as young as second grade, which has prompted pushback from Conservative lawmakers.
Richard also claimed the increased political focus on social justice was incentivizing children to say they were not heterosexual, to seem 'less plain'.
'There are social incentives to declaring yourself a sexual minority,' he added. 'There is nothing you have to do to be bisexual. You [could] just wanna make yourself cooler.'
Richard also said the new survey style implemented in today's CDC report 'weakened the findings'.
The data comes from the CDC's biannual Youth Risk Behavior Surveillance Survey. It is the first report since the Covid pandemic.
The nationally representative survey included data from 17,232 children across 152 schools in 45 US states.
Teens are anonymously surveyed on a multitude of factors, from their mental health, sexual identity and whether they use drugs or carry weapons.
In this survey, students who answered that they were 'gay', 'lesbian', 'bisexual' or 'questioning' were considered in the 'non-heterosexual' group.
The CDC found that 25 percent of students fell into this group, a sharp rise from just 15 percent in 2017.
However, the CDC notes that changes to how the state the questions could be responsible for the sharp rise. The addition of 'questioning' as an answer may be increasing rates.
'Increases in the percentage of LGBQ+ students in YRBSS 2021 might be a result of changes in question wording to include students identifying as questioning, "I am not sure about my sexual identity (questioning)," or other, "I describe my sexual identity in some other way"' the agency wrote.
The report found that children who identify as part of the LGB community are significantly more likely to undergo serious mental health struggles.
Source: Daily Mail Online
To read more, click here: https://www.dailymail.co.uk/health/article-12017939/Record-one-FOUR-high-school-students-gay-bisexual.html
New CDC Report: 1 in 4 High School Students Now Identify as Homosexual, Bisexual or Are Currently Questioning Their Sexuality
According to Centers for Disease Control and Prevention's (CDC) annual report, a survey of 17,232 High School students between the ages of 14 and 18 found that 25% of them, or 1 in 4, identify as homosexual, bisexual, or is currently questioning their sexuality.
The numbers reflect results from 2021, which means that given the social contagion sweeping the youth over the last few years, current numbers would likely be higher.

Of the 25% of students who do not identify as heterosexual, 12% consider themselves bisexual, 3% gay or lesbian, and another 9% marked 'other.'
Source: Protestia
To read reader comments, click here: https://protestia.com/2023/04/28/new-cdc-report-1-in-4-high-school-students-now-identify-as-homosexual-bisexual-or-are-currently-questioning-their-sexuality/