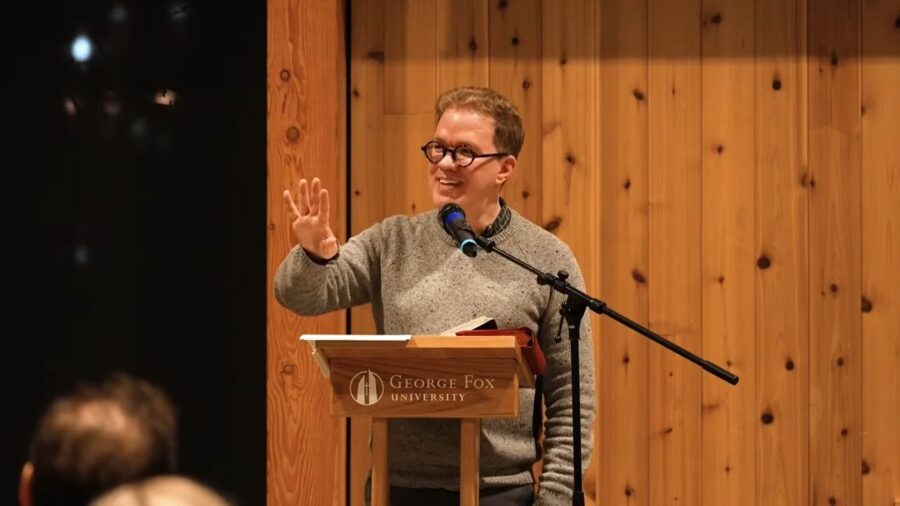 HERE WE GO, AND THE DEVIL IS A LIE: WOKE HOMOSEXUAL-AFFIRMING REVOICE SPEAKER WESLEY HILL SAYS HE FEELS NO NEED TO OPPOSE "A LOT OF WHAT I FIND IN QUEER THEORY"; HE SAID THIS AT THE SO-CALLED CONSERVATIVE EVANGELICAL GEORGE FOX UNIVERSITY. Daniel Whyte III, President of Gospel Light Society International, says the lost false prophets continue to pop up with this damnable, corrupt teaching, especially among our young people, seeking to rip them from the biblical foundation of the Christian faith and thus are raping their hearts, minds, souls, and spirits, and destroying their lives by leading them to a life of confusion, sadness, depression, nihilism, and in many cases death.
Wesley Hill, a celibate gay Episcopal priest and associate professor at Western Theological Seminary, endorses an undefined, but apparently majority, amount of the ideology in Queer Theory during a March 14, 2022 talk at George Fox University titled "The Trouble with Normal and the Order of Love."
TRANSCRIPT HIGHLIGHT:
Q: I have a question more about critical theory.
A: Sure.
Q: So my question is: Why should we focus on the motives behind people's arguments? Shouldn't we just solely focus on discerning which arguments are truthful?
A: Thank you. Yes. I think I'm in agreement with that. I apologize if I fail to live up to my own ideal on that. I mean, I think that a lot of what I find in queer theory is not something I feel the need to oppose as a Christian. And I certainly wouldn't want to say that, you know, if I feel able to discern the motives of a Michel Foucault or a Judith Butler, that that somehow obviates my need to engage their arguments. So yeah. I think i'm in agreement, and I apologize if anything I said was sort of out of step with that.
Source: Protestia: https://protestia.com/2023/03/18/revoice-star-wesley-hill-feels-no-need-to-oppose-a-lot-of-what-i-find-in-queer-theory/