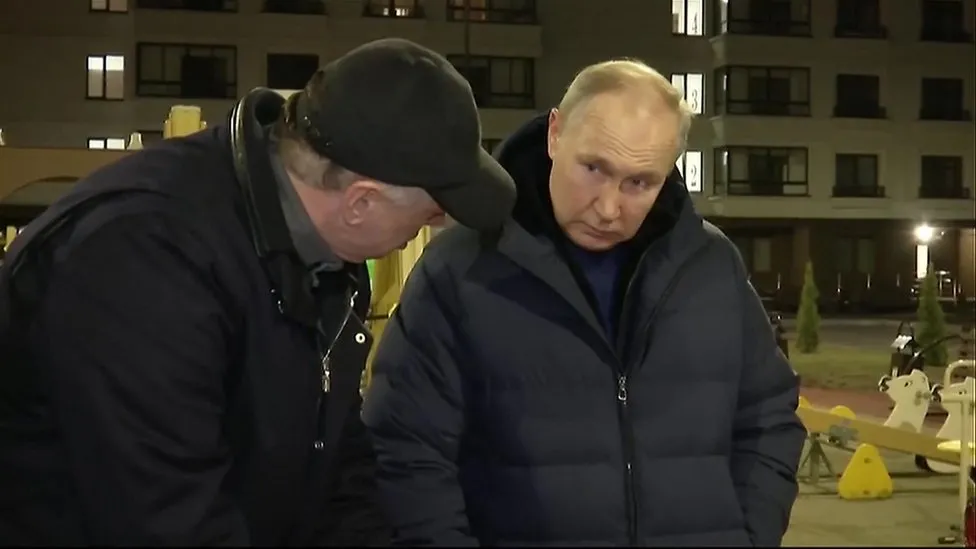 BREAKING WORLD WAR III NEWS: PRESIDENT PUTIN PAID A SURPRISE VISIT TO THE RUSSIAN-OCCUPIED CITY OF MARIUPOL, UKRAINE
Russian President Vladimir Putin has paid a surprise visit to Mariupol, a Ukrainian port captured by Russia after its forces pounded much of it to ruins.
It is believed to be his first trip to a newly-occupied Ukrainian territory.
Mariupol's exiled mayor told BBC News that Mr Putin was a "criminal" who had "returned to the scene of the crime".
"He has come in person to see what he has done," Vadym Boychenko said. "He's come to see what he will be punished for."
Other exiled Ukrainian city officials said Mr Putin had visited at night so he would not see the destroyed city in daylight.
Tass news agency says he travelled to Mariupol by helicopter. In the video he is in the car with Russia's Deputy Prime Minister Marat Khusnullin, who explains how the city is being rebuilt.
The Kremlin has said the decision to drive round the city was made spontaneously by the Russian leader.
Putin also visits the city's Philharmonic Hall, which had been due to be used for trials of captured Ukrainian forces before they were released in a prisoner swap instead.
The Russian leader is also reported to have met top military commanders in Rostov-on-Don, a Russian city just east of Mariupol.
UN analysis estimates that 90% of the buildings were damaged and around 350,000 people were forced to leave, out of a pre-war population of about 500,000.
Source: BBC News
To read more, click here: https://www.bbc.com/news/world-europe-65004610