HERE WE GO, AND THE DEVIL IS A LIE: KATHY LUECKERT, PRESIDENT OF PRESBYTERIAN CHURCH (U.S.A.), HAS CALLED ON KENTUCKY GOVERNOR ANDY BESHEAR TO VETO A BILL THAT BANS THE BODILY MUTILATION OF YOUTH EXPRESSING CONFUSION ABOUT THEIR SEX; REV. J. HERBERT NELSON II, STATED CLERK OF THE GENERAL ASSEMBLY FOR PRESBYTERIAN CHURCH (U.S.A.), RELEASED THE STATEMENT ON THURSDAY CALLING ON BESHEAR TO VETO BILL. Daniel Whyte III, President of Gospel Light Society International, says what a shame before God! Here is a state trying to protect children from the abomination of homosexuality and transgenderism, and here we have the church urging the state to let homosexuality have free course to the point of mutilating the bodies of children who do not even know what they are doing.
The head of the largest Presbyterian denomination in the United States has called on Kentucky Gov. Andy Beshear to veto a bill that would, among other things, ban the bodily mutilation of youth expressing confusion about their sex.
The Rev. J. Herbert Nelson II, stated clerk of the General Assembly for Presbyterian Church (USA), which is headquartered in Louisville, released a statement Thursday calling on Beshear to veto the recently passed legislation.
Nelson claimed that the legislation would "have an overwhelming negative impact on transgender youth across the state" and "deny the rights of transgender siblings of God."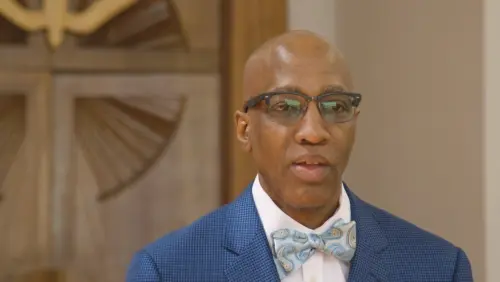 "The General Assembly of the Presbyterian Church (U.S.A.) strongly affirms the human rights of lesbian, gay, bisexual, queer, and transgender people," Nelson said. "The assembly affirms the full dignity and humanity of transgender people, their full inclusion in all human rights, and their giftedness for service. The assembly affirms the church's obligation to stand for the right of people of all gender identities to live free from discrimination, violence, and every form of injustice."
Earlier this month, the Republican-controlled state Legislature overwhelmingly passed Senate Bill 150, which includes multiple provisions regarding the experimental procedures being done on youth struggling with gender dysphoria. Such practices include prescribing puberty blockers, high opposite-sex hormones, chemical castration, physical castration and elective double mastectomies on young girls. Other surgeries entail removing skin and tissue from a girl's thigh or forearm to create a fake, flaccid penis that doesn't function.
Regarding education, the bill prohibits the Kentucky Department of Education from requiring school faculty to have to use the chosen pronouns of trans-identified youth, a ban on the studying of "gender identity, gender expression or sexual orientation," and requiring students to use restrooms and locker rooms designated for their biological sex rather than their chosen sexual identity.
Additionally, SB 150 bans healthcare providers from performing sex-change surgeries or prescribing puberty blockers to minors with the intention of stunting their natural development in an attempt to look more like the opposite sex.
The legislation exempts from this ban situations such as treating a "minor born with a medically verifiable disorder of sex development, including external biological sex characteristics that are irresolvably ambiguous" or "minor needing treatment for an infection, injury, disease or disorder that has been caused or exacerbated by any action or procedure prohibited" by the law.
Source: CP, Michael Gryboski
To read more, click here: https://www.christianpost.com/news/pcusa-demands-kentucky-gov-andy-beshear-veto-anti-trans-bill.html