DANIEL WHYTE III, PRESIDENT OF GOSPEL LIGHT SOCIETY INTERNATIONAL, SAYS GLORY BE TO GOD! THE BILLY GRAHAM FAMILY HOMESTEAD IN NORTH CAROLINA IS NOW OFF THE "FOR SALE" LIST AND PRESERVED TO PERPETUATE THE GOSPEL OF THE LORD JESUS CHRIST BY HELPING THE WORTHY BIBLE-BASED PREACHERS OF THE GOSPEL TO DO WHAT JESUS CHRIST TOLD HIS TRUE GOSPEL PREACHERS TO DO: "And he said unto them, Come ye yourselves apart into a desert place, and rest a while: for there were many coming and going, and they had no leisure." Taking a sabbatical at the original home of Dr. Billy Graham, the greatest evangelist and prophet since the Apostle Paul is a magnificent privilege, honor, and blessing. The Billy Graham Evangelistic Association says it is a "place for ministry leaders to rest, reflect, and recharge." 
Whyte says this is a huge answer to prayer as he has written two articles where he has encouraged the Billy Graham family, the Billy Graham Evangelistic Association, and others to keep the family homestead in the family and the ministry because of the greatness and faithfulness of this man of God who had a huge impact not only in America but around the world. Both articles appeared in Blackchristiannews.com (BCNN1.COM) after the Graham family shockingly placed the home on the market. Sad to say, Whyte believes Billy Graham is the last great evangelist and prophet this world will ever see. 
Whyte also has been fighting for Billy Graham to get a monument on the National Mall near Dr. Martin Luther King Jr.'s monument for over twelve years because God used both of them like twin prophets at the same time to turn the page on a very dark history during the civil rights movement, and then to do the most important thing and that is, to preach the Gospel to the lost, both white and black. Whyte is pleased that the U.S. government has honored Dr. Billy Graham by placing a statue in Statutory Hall. However, looking at the impact Graham had at a pivotal time in our history when he had to stand alone and rebuke white people from segregating black people in his Gospel-preaching meetings, his role as a prophet to presidents, and his impact upon kings, queens, presidents, and in every country in the world with the Gospel, Whyte believes the world should remember Dr. Graham by placing his statue on the National Mall along with Dr. Martin Luther King Jr. Whyte believes that his dad, Bishop Daniel White Jr., is in Heaven today because of the faithful preaching of Dr. Billy Graham. Here are the two articles Whyte wrote encouraging the Billy Graham family, the Billy Graham Evangelistic Association, and others to do what is necessary to keep the homestead of Dr. Billy Graham in the family and the ministry because it is a historic American home:
FIRST ARTICLE PUBLISHED BY DANIEL WHYTE III JULY 2021:
FOR SOME STRANGE REASON, BILLY GRAHAM'S FAMILY HOME IN MONTREAT, NORTH CAROLINA, IS LISTED FOR SALE AT $600,000 – DANIEL WHYTE III, WHO HAS PUSHED FOR YEARS FOR A STATUE OF DR. BILLY GRAHAM TO JOIN MARTIN LUTHER KING, JR. ON THE NATIONAL MALL, ENCOURAGES FRANKLIN GRAHAM, ANNE GRAHAM LOTZ, AND THE GRAHAM FAMILY NOT TO SELL THE FAMILY HOME OF THE GREATEST PROPHET AND EVANGELIST IN THE HISTORY OF THE WORLD SINCE THE APOSTLE PAUL
(RNS) — If you want to buy a piece of American religious history, then — as Billy Graham might have said — the time is now.
A North Carolina cottage that the famed evangelist and his wife, Ruth Bell Graham, once called home is for sale. The Grahams bought the four-bedroom house at 198 Mississippi Road in the 1940s to be close to Ruth's parents.
"I was born during the time my family lived in the house," the Grahams' daughter Ruth said in a press release announcing the house being for sale. "The Los Angeles Crusades and (my father's) tour of England happened during those years … it is where it all began."
________________________
SECOND ARTICLE PUBLISHED BY DANIEL WHYTE III REGARDING THE POSSIBLE SALE OF THE BILLY GRAHAM HOMESTEAD A FEW WEEKS AFTER THE JULY 2021 ARTICLE. PUBLISHED ON BLACKCHRISTIANNEWS.COM (BCNN1.COM)  
IT IS REVEALED WHY BILLY GRAHAM'S HOUSE IS UP FOR SALE: TO HELP PAY MEDICAL COSTS FOR GRANDDAUGHTER'S ILLNESS
Daniel Whyte III says this is a noble reason for selling the home but if someone who is thankful to God for the Billy Graham ministry could donate $1 million dollars to take care of Billy Graham's granddaughter so the house can stay in the family and the ministry, that would be greatly appreciated. Contact Franklin Graham, Anne Graham Lotz, or the Billy Graham Evangelistic Association.
The home of the late "pastor to presidents" is for sale.
The late evangelist Billy Graham and his wife, Ruth Bell Graham, who died in 2007, bought the Montreat, North Carolina, house in the 1940s because it was "right across the street from my grandparents," a press release from their daughter, Ruth Graham, stated.
"I was born during the time my family lived in the house," she said. "The Los Angeles Crusades and [my father's] tour of England happened during those years. It is where it all began."
The 1940s home of the late evangelist Billy Graham is for sale https://t.co/unCZLzYtzg pic.twitter.com/3Zcbe8ECLu

— Tré Goins-Phillips (@tregp) July 9, 2021
The home, which has four bedrooms and two bathrooms, is listed for $599,000 and has been used in recent years as a vacation rental, "allowing guests to experience the Grahams' young family life through a collection of original furnishings, books, photos, and mementos," the release states.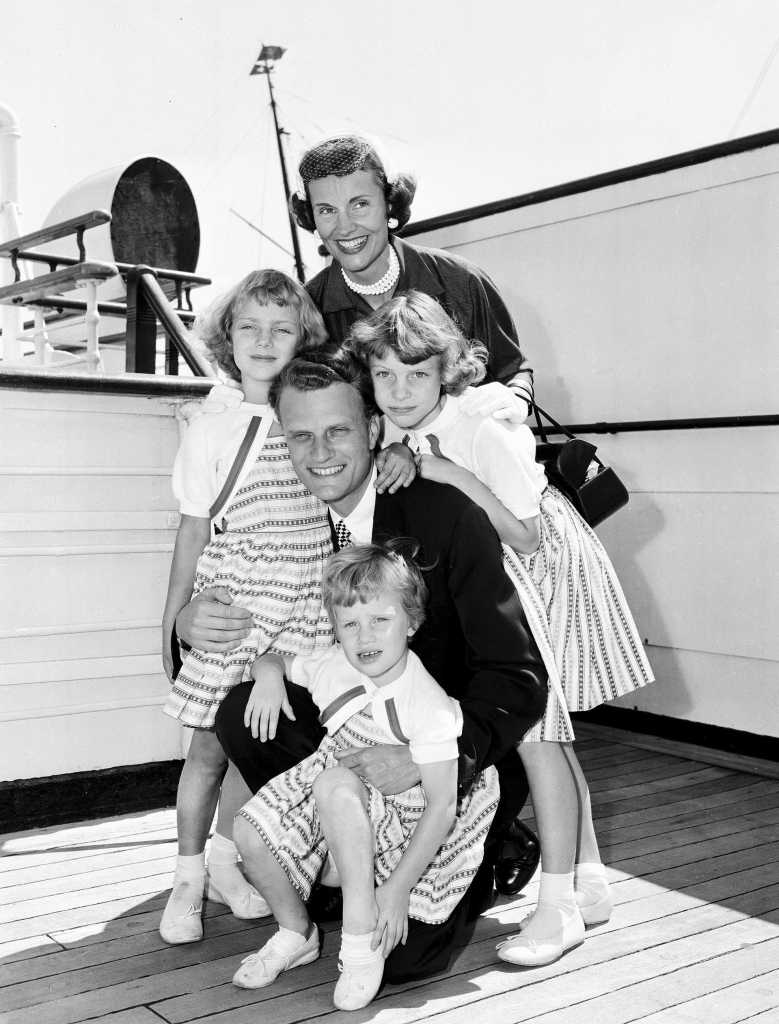 "With two levels of living," it continues, "the comfortable and well-maintained home is within walking distance to Montreat Conference Center and close to several picturesque walking trails and streams."
Located at 198 Mississippi Road in Montreat, the former Graham residence is owned by The Original Place, LLC. Ruth Graham serves as its president and has said she is the property's sole owner, according to the Asheville Citizen Times.
Click here to read more.
SOURCE: CBN News; Faithwire, Tré Goins-Phillips
The Montreat, North Carolina home where world-renowned evangelist Billy Graham penned some of his greatest sermons will carry on with his mission legacy by giving weary pastors and missionaries a place for much-needed rest and reflection.
Billy's Home Place Ministry has come to fruition with the help of partners like Charlotte, N.C. businessman Stephen L. Thomas, actor Kirk Cameron, and writer/speaker Ruth Graham who is the third daughter of Billy and Ruth Graham. They're now offering Graham's original family home as a retreat for men, women, and families who have been involved in vocational ministry for 15 years or more.
The Grahams bought the house in the late 1940s and it's where they raised their children, including Franklin, Anne, Gigi, Ned, and Ruth.
There is no charge for pastors or missionaries who want to take a sabbatical at Billy's Home Place.
The ministry was established to preserve the home while providing a place for respite and restoration for those in full-time ministry, according to the home place's website. It serves as a continuation of Graham's legacy as "America's Pastor."
The ministry also explains on its website that its goal is a simple one:
"To help everyone who steps into Billy and Ruth's original home apply the same truths of God's word to each of our lives. So, like Billy, we can change the world around us!"
The ministry offers several experiences designed to rejuvenate pastors and help believers discover God's will by diving deep into four areas:  Understanding God's Word, Leadership Calling On Our Lives, Pastor Restoration, and Ministry Leadership Opportunities.
Source: CBN, Steve Warren
To read more, click here: https://www1.cbn.com/cbnnews/us/2023/march/billy-and-ruth-grahams-original-nc-home-now-a-place-for-ministry-leaders-to-rest-reflect-recharge