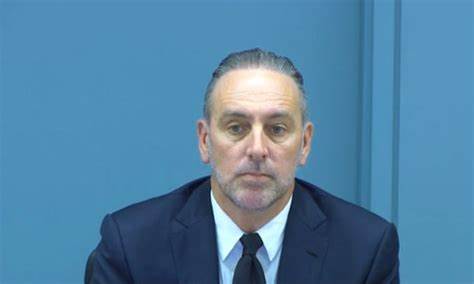 BRIAN HOUSTON WAS ARRESTED FOR DRIVING UNDER THE INFLUENCE (DUI) BEFORE RESIGNING AS GLOBAL PASTOR OF HILLSONG CHURCH. Daniel Whyte III, President of Gospel Light Society International, says two things are happening here: 1. If you are the most recognized pastor on the planet because you are the global pastor of Hillsong church not only in America but in many countries of the world and you are drinking and driving, you are out of control, and you're not only drunk on alcohol, you're drunk on money, power, and fame and you have entered that level of pride that David and many other great men have entered into called HUBRIS. HUBRIS falsely makes you think you can do what you want to and get away with what you do. At this point, you do not need to be pastoring anybody; you need to sit under a pastor for a while. 
2. God has Brian Houston in His "EXPOSURE PHASE" of His CHASTISEMENT PROGRAM. Many good saints do not understand this because they believe in the FALSE PROSPERITY GOSPEL DOCTRINE that you can do whatever you want, and God is going to let you get away with it and still bless you. And that is not taught anywhere in the Bible. In fact, as Whyte has said many times, God has never blessed disobedience, God does not bless disobedience now, and God will never bless disobedience. God will give you space to repent. God wants you to judge yourself so that you will not be judged. But if you do not humble yourself, check yourself, and repent of your sins, God will lay the boom down on you and expose you to the whole world for the evil you have been doing behind the scenes in His sight for so many years, for you will not spurn the grace, mercy, and love of God. And there is nothing you can do to stop it. Believe God when He says He is no respecter of persons. 
Brian Houston, because you refused to take advantage of God's space to repent and God's opportunity that He gave you to judge yourself so that you will not be judged, you are now exposed around the world as a drunkard, a womanizer, a thief of God's money, a waster of God's' money, a keeper of evil secrets for family sake, and a failed pastor. Whyte tells other pastors and preachers everywhere from the Word of God: "Be not deceived; God is not mocked: for whatsoever a man soweth, that shall he also reap." "Do not err, my beloved brethren." "Them that sin rebuke before all, that others also may fear."
In March 2022, Houston resigned from Hillsong after being accused by the leadership of committing indiscretions with two women and having a drinking problem, including getting drunk and spending nearly an hour in a woman's hotel room in 2019. In a message bemoaning the way the board treated him in their public statements, he rebuffed claims their claims that he abused alcohol, saying:
"I spoke about alcohol has having not proven itself to be my friend. But sadly, that has built a narrative out there that I'm an alcoholic, and the stories about my alcoholism that are the result of gossip and whispering and innuendo.
Source: Protestia
To read more, click here: https://protestia.com/2023/03/28/brian-houston-arrested-for-dui/