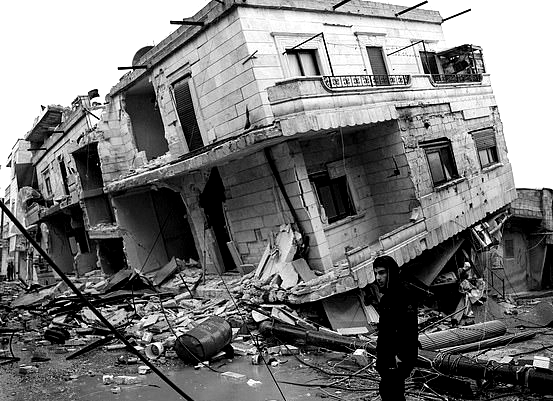 DEVASTATING EARTHQUAKE! THOUSANDS DEAD, THOUSANDS MORE INJURED AND MISSING; THE EARTHQUAKE HIT SO HARD THAT SOME PEOPLE IN TURKEY AND SYRIA KNELT AND PRAYED, FEARING IT WAS JUDGMENT DAY OR ARMAGEDDON, AS BUILDINGS COLLAPSED AROUND THEM, BRINGING DEVASTATING DESTRUCTION. Daniel Whyte III, President of Gospel Light Society International, says if you are in a position to go and help, then pray and go and help; if you are not in a position to go and help, then pray. Another option is donating money to Samaritan's Purse or some other trustworthy organization because they will need help for years. Jesus Christ said: "And great earthquakes shall be in divers places, and famines, and pestilences; and fearful sights and great signs shall there be from heaven." –Luke 21:11. Pray for the salvation of souls. Jesus Christ said the most important words ever spoken in the history of the world to mankind: "For God so loved the world, that he gave his only begotten Son, that whosoever believeth in him should not perish, but have everlasting life."
Syria is already in the middle of a civil war and government response is limited
Government appeal for help from the international community – except Israel 
At least 810 people were killed in Syria in the 7.8 magnitude earthquake that tore through the country and Turkey, killing a total of 2,300 today.
Citizens, who have spent the last 11 years embroiled in a brutal civil war responsible for the deaths of up to 610,000 people, spoke of how they 'knelt and prayed fearing it was judgement day' as buildings started to fall before dawn.
'We saw dozens of families in shock and fear. I haven't had that feeling all through the years of the war,' said Anas Habbash, a 37-year-old Aleppo native who escaped with his son and pregnant wife this morning.
'This was much more difficult than shells and bullets.'
At least 16 Syrian cities reported damage and deaths from the earthquake.
Angela Kearney, UNICEF Representative in Syria: 'Many people, including children are displaced and remain outside in streets and open areas.
'The government of Syria closed schools and universities for today and some are being used as shelters.
'The psychological impact on some people we met is grave.'
Source: Daily Mail Online, James Reynolds
To read more, click here: https://www.dailymail.co.uk/news/article-11718751/Syrians-prayed-7-8-magnitude-earthquake-hit-causing-destruction-worse-civil-war.html
AFTERSHOCKS LIKE ARMAGEDDON AS Death toll climbs to 3,452 following the devastating earthquake
As the death toll rises and rescue workers continue to search for survivors, thousands more seek shelter after their homes were destroyed or damaged too badly to be safe. Here are some of the images we've seen as darkness falls across the region.
Two search and rescue units from the United States will be sent to Turkey to assist with the aftermath of the earthquake, US Ambassador to Turkey Jeff Flake told CNN on Monday.
"There will be two teams from the US. One from Fairfax County and another from Los Angeles — what they call these heavy units, each with I think 70 personnel with search dogs as well as paramedics," Flake said. "That's what we are told is needed."
Flake said that Turkey is going to need help with destroyed structures, saying that the last he knew was that 28 buildings were either down or partially damaged.
Secretary of State Antony Blinken also spoke with his counterpart on Monday, the State Department said.
"Secretary Blinken and Foreign Minister [Mevlüt] Çavuşoğlu discussed ways the United States and our partners could best assist. Secretary Blinken confirmed our initial assistance response was already underway and pledged to do all that we can in coordination with Türkiye to assist the victims of the earthquake in both Türkiye and Syria," State Department Spokesperson Ned Price said.
In terms of getting support into Syria, Flake noted there are a number of humanitarian and church groups the US has worked in the country. He said it makes it "doubly difficult" that there is no functioning government in Syria.
Flake suggested that Americans direct donations through the Red Cross, non-profits and church groups if they want to help.
Source: CNN, By Tara Subramaniam, Rhea Mogul, Adam Renton, Aditi Sangal, Leinz Vales, Elise Hammond and Maureen Chowdhury
To read more, click here: https://www.cnn.com/middleeast/live-news/turkey-earthquake-latest-020623/index.html