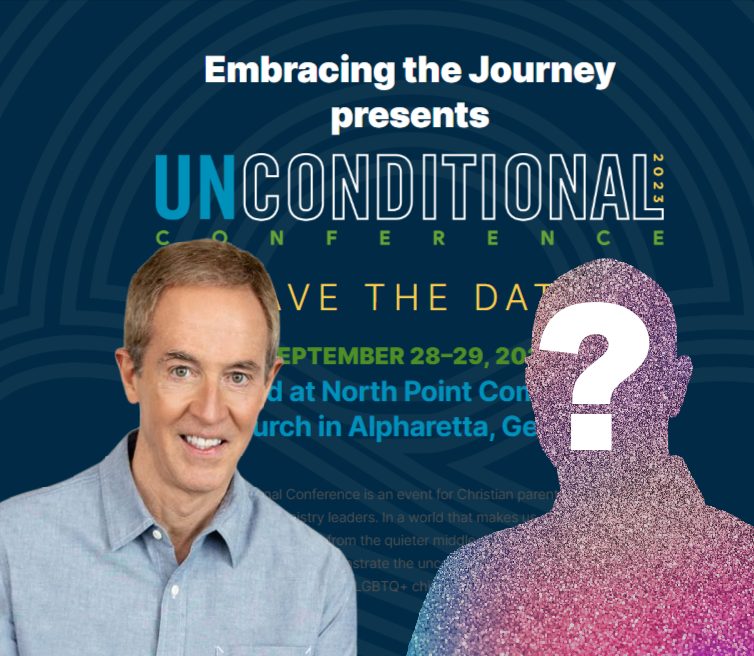 ANDY STANLEY and the NORTH POINT COMMUNITY "SYNAGOGUE OF SATAN" ARE HOSTING THE EMBRACING THE HOMOSEXUAL JOURNEY UNCONDITIONAL CONFERENCE FOR PARENTS OF HOMOSEXUAL CHILDREN WITH THE FOUNDER OF ONE OF THE WORLD'S LARGEST HOMOSEXUAL SO-CALLED "CHRISTIAN" ADVOCACY ORGANIZATIONS FOR THE LGBTQQIPF2SAA+ LEGIONS OF DEMONS (which means the following: LESBIAN-GAY-BI-SEXUAL-TRANSGENDER-QUEER-QUESTIONING-INTERSEX-PANSEXUAL-FURRIES-TWO-SPIRIT-ASEXUAL-ALLY+), AND OTHER HOMOSEXUAL-AFFIRMING SPEAKERS. ACCORDING TO THE ANNOUNCEMENT, THE UNCONDITIONAL CONFERENCE WILL ADD MORE SPEAKERS, SIMILAR TO HOW ANDY STANLEY WAS ADDED AT THE LAST MINUTE TO CONWAY EDWARDS' CLIMB CONFERENCE AT THE ONE COMMUNITY "SYNAGOGUE OF SATAN" IN MCKINNEY/PLANO, TEXAS. WILL CONWAY EDWARDS AND JADA EDWARDS BE ADDED AS SPEAKERS AT THIS CONFERENCE, AS ANDY STANLEY WAS ADDED TO THEIR RECENT CLIMB CONFERENCE AT THE LAST MINUTE IN JANUARY 2023?
Below is what Daniel Whyte III, President of Gospel Light Society International, wrote about this issue yesterday, with one addition:
HERE WE GO, AND THE DEVIL IS A LIE: ANDY STANLEY WILL BE HOSTING THE "UNCONDITIONAL CONFERENCE" FOR CHRISTIAN PARENTS OF HOMOSEXUAL-IDENTIFIED CHILDREN AT THE NORTH POINT COMMUNITY "SYNAGOGUE OF SATAN" INSTEAD OF HOSTING THE "UNCONDITIONAL LOVE CONFERENCE" FOR CHRISTIAN PARENTS ON HOW TO KEEP THEIR CHILDREN FROM BECOMING HOMOSEXUAL-IDENTIFIED CHILDREN. Daniel Whyte III, President of Gospel Light Society International, says, NEWSFLASH! It is not the role of the church of the Lord Jesus Christ to accommodate sin of any kind in the lives of people who claim to be born-again Christians. The church's role and purpose are to obey the Great Commandment, the Great Commission, and to preach the whole counsel of God, which is against all sin, and not to accommodate sinners who refuse to repent of their sins. Jesus Christ said, "If you love me, keep my commandments." 
Whyte has said the same thing regarding the so-called "Divorce Care Ministry," which is not a ministry, and that happens to be in many evangelical churches today. Why can't the church form a ministry called "Marriage Care" and focus on keeping people married? In many churches, the "Divorce Care Ministry" is a glorified dating hook-up place for horny, disobedient, divorced people or people getting a divorce who were not having sex with their spouses for selfish and foolish reasons. Sadly, often pastors and especially pastors' wives play cupid putting divorced people together with divorced people, which is another abomination that has helped open the door for the homosexual nuclear bomb of allowing homosexuals as members of the church to be promoted in the church by people like Andy Stanley and others. The reason divorce and remarriage without biblical grounds have opened the door for homosexuality in the church is that homosexuals are not stupid. They know the Bible, too, and they know divorced and remarried people without biblical grounds are not to be church members because they are LIVING IN ADULTERY. That is why they insist on becoming members of the church, and weak pastors like Andy Stanley, Conway Edwards, and so-called homosexual-affirming pastors allow it, and also because often the pastor and his wife are divorced and remarried themselves. (By the way, if you have a pastor and wife who are divorced and remarried, particularly if their biblical grounds are questionable, like any other church minister who has been compromised by sin, their judgment and decision-making about the evils of others are decreased because they feel guilty about their sin.) The church is not to adopt the world's view that homosexuality is a sin and abomination that people cannot get saved from, repent of, and cannot say no to. Thousands of Christian men are tempted to have sex with women who are not their wives, but God's grace has taught them to say no to committing the sins of fornication and adultery, and they say no hundreds of times a year. 
Whyte personally does not understand what a man sees in another man, but Whyte says if that is your temptation, as a born-again Christian, be you, child or adult, you can say no and with God's help and grace not commit that sin, just like all other Christians have to do. Jesus Christ said, "If you love me, keep my commandments." No, you are not born that way. This so-called conference hosted by Andy Stanley is saying to the world and is a dog whistle to other homosexual-affirming pastors and pastors' wives that having meetings like this is okay. And it is not okay. 
The church of the Lord Jesus Christ cannot follow nor accept the world's belief that people cannot be delivered from the sin of homosexuality by the grace of God. Andy Stanley is running a synagogue of Satan. Whyte says, for the first time recently, it was impressed upon his heart that, not only in the liberal churches but in the so-called Evangelical, Protestant, Bible, and Baptist churches, because there are so many WOKE homosexual-affirming pastors and pastors' wives, that formally conservative-leaning churches have a HOMOSEXUAL DOWN-LOW PROBLEM. In other words, for these pastors to be this invested and all in, to make practicing homosexuals comfortable and to let them become full-fledged members of the church, these pastors and pastors' wives must be of the same demonic spirit to feel comfortable around this filthy abomination.
Andy Stanley and Northpoint Community Church are hosting an event for parents of LGBTQ+ children. Four of the five speakers are LGBTQ-affirming, including one speaker who is the founder of the world's largest LGBTQ Christian advocacy organization that is dedicated to advancing the acceptance and celebration of homosexuality in the church.
In recent weeks Protestia has shown that not only is Stanley gay-affirming, but rather several ministry heads are. We also unearthed that when parents come to them with concerns and counseling regarding their struggling LGBTQ+ children, North Point recommends an affirming ministry for the parents, and affirming ministries and counselors for the children.
Source: Protestia
To read more, click here: https://protestia.com/2023/02/01/north-point-church-hosting-conference-with-founder-of-worlds-largest-lgbtq-christian-advocacy-org-other-affirming-speakers/