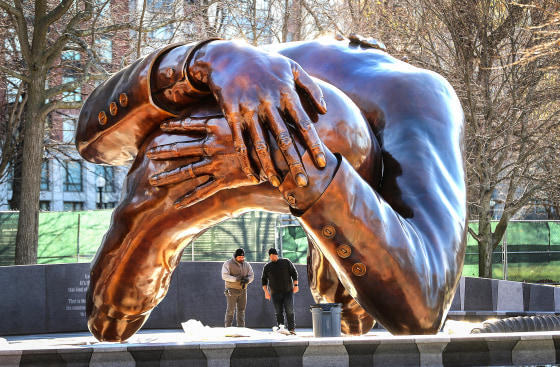 BOSTON UNVEILS GHASTLY NEW SCULPTURE CALLED "THE EMBRACE" BY HANK WILLIS THOMAS, HONORING DR. MARTIN LUTHER KING JR. AND HIS WIFE CORETTA SCOTT-KING. Daniel Whyte III, President of Gospel Light Society International, says, he tries to respect an artist's vision of what he is trying to do, but in recent years, maybe because of the demonic spirit of WOKEISM, some artists' vision is way off. Whyte did not like the first painting of President Barack Obama sitting in some bushes on a straight back chair in the air. And he did not like Michelle Obama's first painting, which he believes a child could have done. Whyte believes former President Obama and First Lady Michelle Obama lied saying they liked it. Thank God for posterity sake, those paintings are not in the White House. Thank God the president of the United States (the first black president, at that) is not sitting in the bushes in the White House. This sculpture is dreadful, to say the least. Whyte can't tell if he is looking at Dr. Martin Luther King Jr. and his wife embracing or whether or not he is looking at a strange sex act. Whyte lovingly and respectfully asks: Did the King children have anything to say about this? He doubts very seriously if Dr. Bernice King and Dexter King were on board with this bizarre sculpture. One thing Whyte guarantees, whoever goes to this unveiling from the family, they are going to see their parents like they have never seen them before. It is Whyte's hope that someone will remove this insanity and place it wherever President Obama and Michelle Obama's first paintings are placed and get somebody to just make a sculpture out of the beautiful picture of Dr. Martin Luther King Jr. and his wife Coretta Scott-King were embracing and smiling, for God made Dr. Martin Luther King Jr. and his beautiful wife, man and woman, "EMBRACING." Hank Willis Thomas made them into a creature. Let's not forget, Dr. Martin Luther King Jr. was a black suit, white shirt, black tie wearing Baptist preacher. If he came back today to see this monument, he would be flummoxed and would probably rear back and say, "I have another dream." By the way, Black Lives Matter, since you are into tearing down statues — here you go.
"The Embrace," a massive bronze piece by Hank Willis Thomas, depicts a historic moment after Martin Luther King Jr. received the Nobel Peace Prize in 1964.
Just a few years ago, the conceptual artist Hank Willis Thomas had no idea he would be instrumental in commemorating the lives of Martin Luther King Jr. and Coretta Scott King. But when his application was selected out of 125 artists and architects to design a new monument in Boston dedicated to the civil rights icons, he was shocked.
"When I submitted the proposal, I didn't even think that we really had a chance," Thomas, 46, told NBC News. "By the time it was approved, I guess I've just been on autopilot like, OK — how do I just not get in the way of history? It really has been my mission over the past several years."
Aiming to both inspire visitors and honor the Kings' legacy, Thomas' work will be revealed Friday at Boston Common, America's oldest city park, in downtown Boston. The bronze structure, which is 20 feet long and 26 feet wide and titled "The Embrace," depicts the arms, shoulders and hands of the Kings hugging after Martin received the Nobel Peace Prize in 1964, the moment immortalized in a famous photo.
Those scheduled to attend the ceremony include the Kings' son, Martin Luther King III — also a civil rights activist — and his 14-year-old daughter, Yolanda Renee King, who gave a speech on racial equality at the Lincoln Memorial in 2020.
Five years in the making, the monument represents the love, heart and spirit of the couple, Thomas said, while also highlighting the power of an iconic moment.
"In that picture, you can see the weight of him on her shoulders as they embrace," he said. "And I realized that this was really a metaphor for his legacy — that she carried his legacy on her shoulders for several decades after he was assassinated."
King dedicated his life to the civil rights movement, fighting for racial equality and economic justice. After his assassination in 1968, Coretta continued his legacy by promoting peace and equality along with advocating for marginalized communities, including LGBTQ people, women, children and the poor. She even led more than 40,000 people as part of the Memphis Sanitation Workers Strike, in a protest for better living wages shortly after her husband's death. And despite being King's wife, Coretta's gender, Thomas said, marginalized her role in the civil rights movement.
"I believe that the way in which she performed her role opened doors for people all over the world of every gender," Thomas said. "And I feel like we're living in that, in kind of, the ripple effects, of her creativity, of her diligence, of her strength, her courage and her daringness today."
Origin of a larger-than-life sculpture
Thomas' work has appeared in over a dozen exhibitions, and aside from "The Embrace" he has 13 other public sculptures and artistic pieces. Among them is the "Unity" sculpture in downtown Brooklyn, which portrays an arm of an athlete pointing toward the sky, and "Raise Up" in Montgomery, Alabama, reflecting South African miners with lifted arms and undergoing a humiliating physical examination. Thomas said that this particular project is special because the Kings are "two of the most iconic figures of the 20th century, and that in the 21st century, I'm able to be a part of continuing their story and honor them," he said. "That's pretty, pretty awesome."