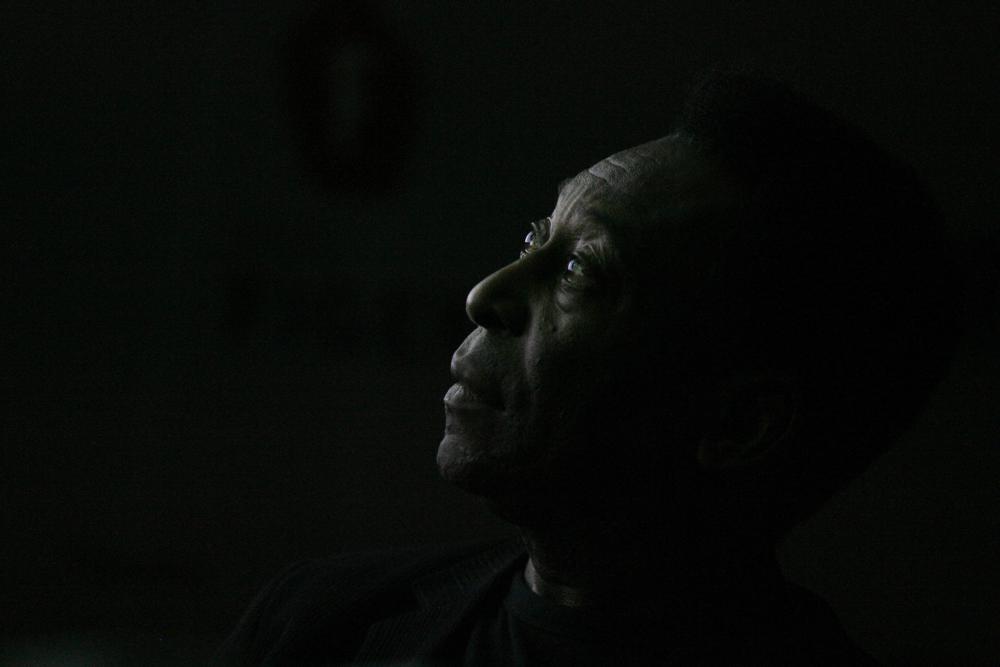 PELE WAS A RELIGIOUS MAN IN THE CATHOLIC CHURCH. GOD BLESSED HIM WITH A GREAT LIFE. PELE SAID: "ALL MY LIFE I THANK GOD." PELE WAS ALSO WISE TO GIVE GOD THANKS FOR HIS AMAZING TALENT; HOWEVER, JUST BECAUSE PEOPLE ARE RELIGIOUS AND MEMBERS OF THE CHURCH, IT DOES NOT MEAN THEY ARE TRUE BELIEVERS IN THE LORD JESUS CHRIST. Daniel Whyte III President of Gospel Light Society International says all that matters now for Pele and for you is whether or not he was "born-again" saved through believing in the Lord Jesus Christ. For Jesus Christ said the most loving, the most magnificent, and the most important words in the history of the world to Pele and to all mankind: "FOR GOD SO LOVED THE WORLD, THAT HE GAVE HIS ONLY BEGOTTEN SON, THAT WHOSOEVER BELIEVETH IN HIM SHOULD NOT PERISH, BUT HAVE EVERLASTING LIFE." All that matters now, is not his three World Cups, not his endorsements and money, and not his fame — all that matters now is whether or not he truly believed in the Lord Jesus Christ as his Savior before he died. And all that is going to matter when you die is whether or not you are "born-again" saved. So get your eternal life insurance policy squared away right now, which is free and already paid for and signed in the precious blood of the Lord Jesus Christ. Here is how you can get saved from the power of your sins in this life and from the punishment of your sins in hell: 
First, accept the fact that you are a sinner, and that you have broken God's law. The Bible says in Romans 3:23: "For all have sinned and come short of the glory of God."
Second, accept the fact that there is a penalty for sin. The Bible states in Romans 6:23: "For the wages of sin is death…"
Third, accept the fact that you are on the road to hell. Jesus Christ said in Mark 9:43-48: "And if thy hand offend thee, cut it off: it is better for thee to enter into life maimed, than having two hands to go into hell, into the fire that never shall be quenched: Where their worm dieth not, and the fire is not quenched. And if thy foot offend thee, cut it off: it is better for thee to enter halt into life, than having two feet to be cast into hell, into the fire that never shall be quenched: Where their worm dieth not, and the fire is not quenched. And if thine eye offend thee, pluck it out: it is better for thee to enter into the kingdom of God with one eye, than having two eyes to be cast into hell fire: Where their worm dieth not, and the fire is not quenched." Also, the Bible states in Revelation 21:8: "But the fearful, and unbelieving, and the abominable, and murderers, and whoremongers and sorcerers, and idolaters, and all liars, shall have their part in the lake which burneth with fire and brimstone: which is the second death."
Now that is bad news, but here's the good news. Jesus Christ said in John 3:16: "For God so loved the world, that he gave his only begotten Son, that whosoever believeth in him should not perish, but have everlasting life." Just believe in your heart that Jesus Christ died for your sins, was buried, and rose from the dead by the power of God for you so that you can live eternally with Him. Pray and ask Him to come into your heart today, and He will.
Romans 10:9 & 13 says, "That if thou shalt confess with thy mouth the Lord Jesus, and shalt believe in thine heart that God hath raised him from the dead, thou shalt be saved… For whosoever shall call upon the name of the Lord shall be saved."
If you believe that Jesus Christ died on the Cross for your sins, was buried, and rose from the dead, and you want to trust Him for your Salvation today, please pray with me this simple prayer: Holy Father God, I realize that I am a sinner and that I have done some bad things in my life. I am sorry for my sins, and today I choose to turn from my sins. For Jesus Christ sake, please forgive me of my sins. I believe with all of my heart that Jesus Christ died for me, was buried, and rose again. I trust Jesus Christ as my Savior and I choose to follow Him as Lord from this day forward. Lord Jesus, please come into my heart and save my soul and change my life today. Amen.
If you believed in your heart that Jesus Christ died on the Cross, was buried, and rose again, allow me to say, congratulations on doing the most important thing in life and that is accepting Jesus Christ as your Lord and Saviour! For more information to help you grow in your newfound faith in Christ, go to Gospel Light Society.com and read "What To Do After You Enter Through the Door". Jesus Christ said in John 10:9, "I am the door: by me if any man enter in, he shall be saved, and shall go in and out, and find pasture."
God loves you. We love you. And may God bless you.
The crowd is gathering outside Eyestorm, a tiny gallery off Regent Street. Camera crews, snappers, local workers and passersby. "Who are they waiting for?" people ask as they stroll past. "Pele!" whispers the crowd. "Pele? Really? Pele?" So the crowd thickens. It's 32 years since Pele retired from international football, but everybody still wants to shake hands with the world's greatest.
Eventually the car draws up to a muffled roar. Pele steps out. It's the first time I've had a lump in my throat before an interview. He is 62, and has barely changed over the decades. As a kid he looked eerily mature. Now he looks eerily young. The hair is still a natural dense black, he is tidy and trim and surprisingly small. His feet, clad in smart leather shoes, look tiny. Eamonn, the photographer, says how come big Bobby Moore couldn't get to grips with Pele.
But he couldn't. Nobody could. The records are repeated again and again – more than 1,200 goals scored in professional football, 90-odd hat-tricks, three World-Cup winner medals. Perhaps he's even better remembered for the goals he almost scored in the 1970 World Cup finals: the audacious shot from within his own half; the dummy he played against the goalkeeper, sending the ball one way and running the other; the header into the bottom corner that resulted in Gordon Banks pulling off what is often regarded as the greatest save ever. He had everything as a player – pace, poise, strength, balance, and the most incredible vision. But he was more than a player. Somehow, he seemed to embody innocence, goodness and, for so many years, incorruptibility.
He is being herded into the gallery to open an exhibition of Pele photographs. Ralph Gibson shows Pele with his head pressed against a ball which in turn is pressed against a wall; William Klein has montaged seven Peles into one group shot; British artist Marc Quinn has him with a silver ball balanced on his head. In the most interesting picture, by Tierney Gearon, Pele is casually eating breakfast and stroking a dog while a semi-naked pregnant woman (Gearon herself) talks into the phone. But, on the whole, this is business masquerading as art. The photographs are commercial images that will doubtless appear in myriad marketing campaigns. Prints are priced from £500 to £10,000 a pop.
Here at Eyestorm the old football world and the new one merge uneasily. Pele is all warmth and charm, while his business partners, who own the image rights, are cold and calculated.
Pele is shepherded from one camera crew to another. He looks lost but gives as much time as he is allowed. We are kept waiting till the end, having been promised the only "proper" interview. Anisa, who is doing work experience at the Guardian, is with us. She has cerebral palsy and gets around, at a crazy pace, using a frame with wheels. Pele notices her taking a photo as he is marched to yet another interview. He stops, asks for Anisa's camera, calls someone over and asks if she could take a photo of the two of them together.
Source: the Guardian, Simon Hattenstone
To read more, click here: https://www.theguardian.com/football/2003/jun/30/sport.comment