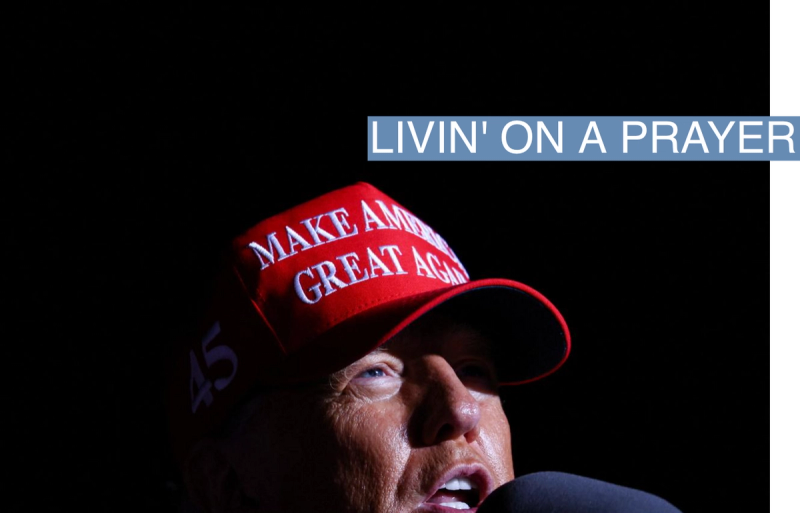 LEADING EVANGELICALS ARE FINALLY TURNING AWAY FROM DONALD TRUMP. Daniel Whyte III, president of Gospel Light Society International, wrote the following on November 14, 2022 to leading evangelicals: DANIEL WHYTE III TELLS THE FOLLOWING PASTORS WHO SUPPORT TRUMP: ROBERT JEFFRESS, DARRELL SCOTT, FRANKLIN GRAHAM, VAN MOODY, ANTHONY GEORGE, GREG LAURIE, JON PONDER, JACK GRAHAM, BEN CARSON, SEAN FEUCHT, CHARLIE KIRK, and others, if you want to do the work of a PROPHET tell former President Trump that you love him and you appreciate the good that he has done, but WE ARE TELLING YOU not to run in 2024 for your own good, for the good of your family, and for the good of the country. What you did on January 6th and what you caused to happen on January 6th disqualifies you from being the president of the United States or of any other country. If you decide to run, we want you to know that we will not be behind you and we will not encourage our evangelical followers to support you. However, we will be praying for you. Now Pastors, this needs to be done publicly either verbally, in writing or both, and each one of you need to resign from politics completely and never get involved in it again, and going forward, focus your attention on getting the church healed and revived and getting the church back to praying, reading the Bible, obeying the Bible, witnessing for the Lord, and preparing the church for the rapture. If you truly want to be a patriot, in light of your calling, those things will be the best things you can do for this country and for the world.
Call it a crisis of faith. Despite appointing the conservative judges who ultimately overturned Roe v. Wade — and fervently courting the religious right during his presidency — prominent evangelicals are beginning to shy away from supporting former President Donald Trump's third bid for office.
A major factor is the same issue driving leaders in other parts of the conservative coalition away from his campaign: They're not sure he can win.
"Evangelicals, conservatives and freedom-loving Americans … the common question is: Who can win in 2024?" Bob Vander Plaats, president and CEO of the Family Leader, told Semafor. "And I believe that's Trump's highest hurdle."
Vander Plaats, who co-chaired Ted Cruz's campaign in 2016, said he'd had many conversations with conservatives who "really like the former president" but want to move forward with "a vision for the future versus a complaint or critique about the past."
Some Evangelical leaders are also tiring of the former president's obsession with trying to somehow overturn the previous election and his ever-growing list of personal scandals and inflammatory statements.
Tony Perkins, the president of the Family Research Council who prayed with Trump in office and defended him at critical moments, suggested Trump remains too focused on the 2020 election and that evangelicals "don't want a lot of drama" this time around. He said the former president needed to earn their vote by speaking about issues that resonated with them instead — he pointed to Trump's frequent references to a "war on Christmas" in 2016 as an example.
Vander Plaats and Perkins aren't the only ones with doubts about Trump 2024. American Renewal Project leader David Lane trashed the former president just last week in his bi-weekly letter to evangelical Christian pastors, according to Religion News.
Source: SEMAFOR.com, Shelby Talcott
To read more, click here: https://www.semafor.com/article/12/05/2022/trump-evangelicals-trouble