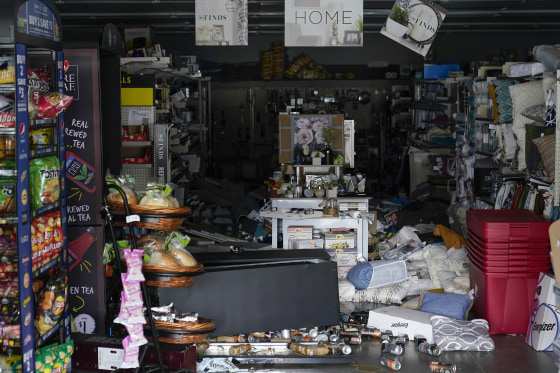 AT LEAST 2 DEAD AS 6.4 MAGNITUDE EARTHQUAKE SHAKES NORTHERN CALIFORNIA; AT LEAST 12 PEOPLE INJURED — NO WATER, NO POWER, DAMAGED BUILDINGS; ANOTHER POWERFUL EARTHQUAKE MAY HIT NEXT WEEK.
Daniel Whyte III president of Gospel Light Society International, as he has been saying for over twelve years now, God is mercifully and lovingly and slowly destroying and dismantling America piece-by-piece. Just in case you are not paying attention: 2 major hurricanes hit Florida and the East Coast recently; dozens of tornadoes brutalized the South from Texas to Louisiana; now a major earthquake in California, which is apparently not done; and here comes another major "snowmageddon" winter storm that is going to shut down travel and threaten lives during Christmas week; the number one cause of death for children, today, is murder; not to mention the triple-demic: the coronavirus plague, the flu, and RSV. God is at least trying to get your attention, so it would be wise for you to listen and take heed. Christians and church folk need to repent of their sins. And if you are not a born-again Christian, it would be wise for you to believe in the Lord Jesus Christ before it is too late. Jesus Christ said, "For God so loved the world, that he gave his only begotten Son, that whosoever believeth in him should not perish, but have everlasting life."
*The victims died "as a result of medical emergencies occurring during and/or just following the earthquake," Humboldt County Office of Emergency Services said in a statement.
A 6.4-magnitude earthquake rocked Northern California early Tuesday, killing at least two people and leaving thousands in the dark as officials warned that another major jolt could still be on its way.
The quake hit at a depth of 10 miles just after 2:30 a.m. PT near Eureka in Humboldt County, the U.S. Geological Survey said.
It struck around 7.4 miles west-southwest of Ferndale, the agency said.
At least 12 people were injured and two people "have died as a result of medical emergencies occurring during and/or just following the earthquake," according to a statement from the Humboldt County Office of Emergency Services.
As many as 80 aftershocks followed, with the most powerful being a 4.6-magnitude jolt that rocked the city of Rio Dell, according to Mark Ghilarducci, director of California's Office of Emergency Services.
"We live in earthquake country and this another example of the fact that earthquakes can happen at anytime without  notice," Ghilarducci told reporters at the office's headquarters in Mather.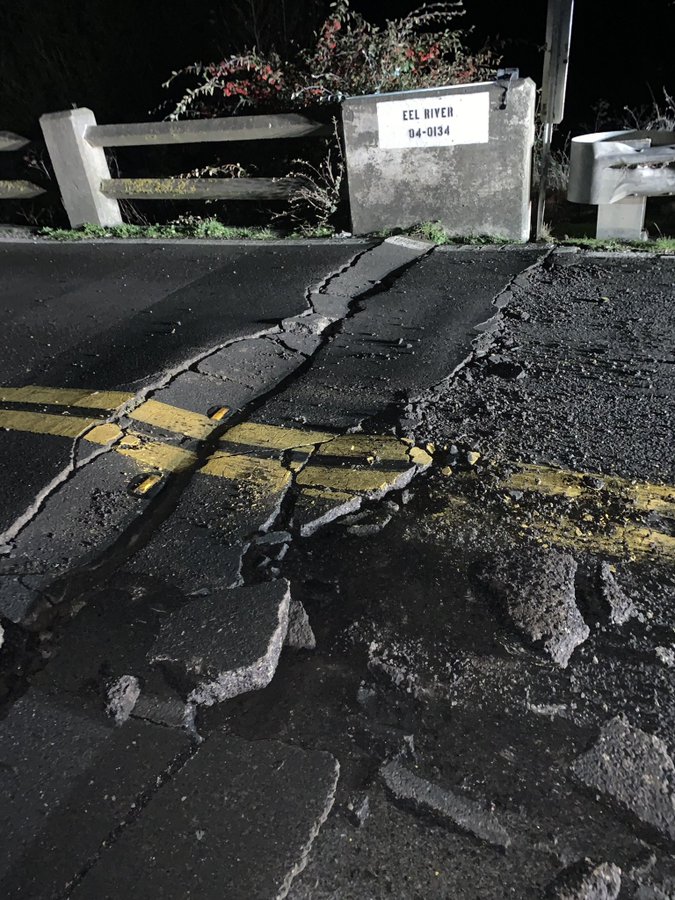 "And so it's really important that we, as Californians, have a plan, have a family plan, have some supplies in case we lose power."
State officials urged Humboldt County residents to be prepared for another quake.
There's a 13% chance of another powerful jolt, of a 5.0-magnitude or stronger, striking in the next week, according to Cynthia Pridmore, a senior engineering geologist with the California Geological Survey.
She told Humboldt County residents to gather food, water, flashlights and other supplies.
"People do need to be prepared, especially if they're in weakened structures to be mindful of where they're staying," she said.
More than 68,000 homes and businesses throughout Humboldt County were still without power by 12:54 p.m. PT, Pacific Gas and Electric reported.
The city of Eureka set up a charging station for residents without power to plug in their phones, computers and medical equipment while police urged shopkeepers to keep an eye on their storefront as there "have already been several reports of burglaries to businesses."