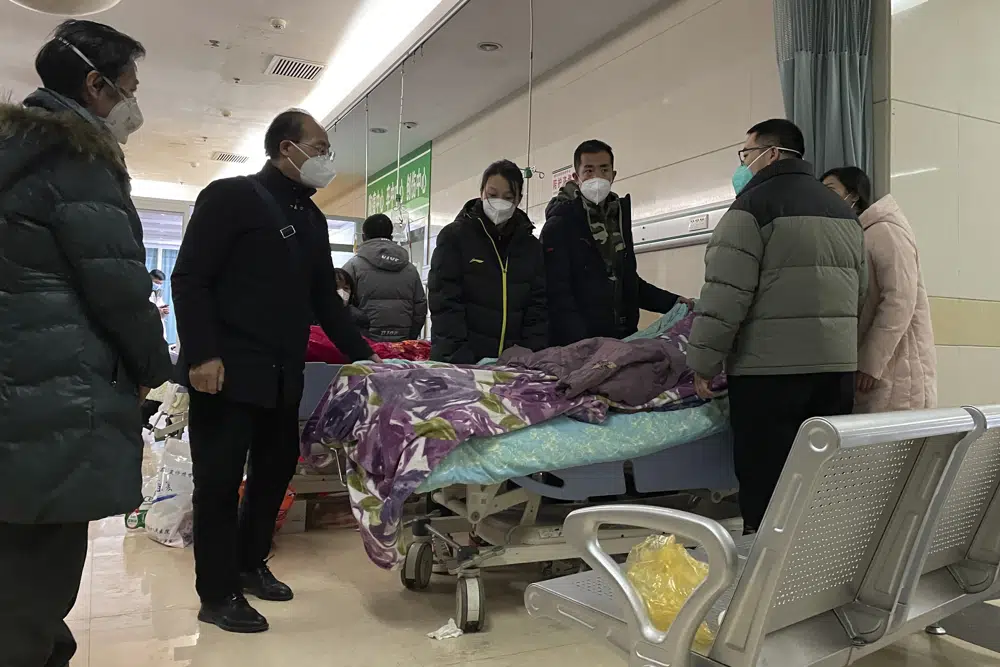 ACCORDING TO THE TIMES OF ISRAEL, 250 MILLION PEOPLE IN CHINA WERE INFECTED WITH THE CORONAVIRUS PLAGUE IN THE FIRST 20 DAYS OF DECEMBER; NOW ACCORDING TO CHINA, 37 MILLION PEOPLE ARE INFECTED WITH THE CORONAVIRUS PLAGUE EACH DAY; THIS SPELLS BIG TROUBLE NOT ONLY FOR CHINA BUT FOR THE WORLD; ONE OFFICIAL SAID THE WORLD IS GOING BACK TO SQUARE ONE REGARDING THE CORONAVIRUS PLAGUE — On top of that, China is intentionally not counting coronavirus deaths according to the World Health Organization counting system. Contrary to how many people think President Xi Jinping is an evil dictator, he actually tried to keep this from happening using the ZERO-COVID policy to great harm to the economy.
Daniel Whyte III president of Gospel Light Society International, who predicted this plague for over 10 years before it hit, through preaching and writing because of the gross sins of the now Judas-Laodicean church of today, including colluding with the government to endorse and sanction the abomination of homosexuality and so-called homosexual marriage, which is a centerpiece of WOKEISM: THE BLOB OF BEELZEBUB — which he changed the name of WOKEISM to DECEPTIONISM, says, the reason why this coronavirus plague is a plague of "long-continuance" is because pastors and churches refuse to repent of their gross sins, even to this day.
Minutes from top health body meeting show scale of hit so far

Virus unleashed in China after three years of keeping it out
Packed ICUs, crowded crematoriums: COVID roils Chinese towns
BAZHOU, China (AP) — Yao Ruyan paced frantically outside the fever clinic of a county hospital in China's industrial Hebei province, 70 kilometers (43 miles) southwest of Beijing. Her mother-in-law had COVID-19 and needed urgent medical care, but all hospitals nearby were full.
"They say there's no beds here," she barked into her phone.
As China grapples with its first-ever national COVID-19 wave, emergency wards in small cities and towns southwest of Beijing are overwhelmed. Intensive care units are turning away ambulances, relatives of sick people are searching for open beds, and patients are slumped on benches in hospital corridors and lying on floors for a lack of beds.
Yao's elderly mother-in-law had fallen ill a week ago with the coronavirus. They went first to a local hospital, where lung scans showed signs of pneumonia. But the hospital couldn't handle serious COVID-19 cases, Yao was told. She was told to go to larger hospitals in adjacent counties.
At Baoding No. 2 Hospital in Zhuozhou on Wednesday, patients thronged the hallway of the emergency ward. The sick were breathing with the help of respirators. One woman wailed after doctors told her that a loved one had died.
The ICU was so crowded, ambulances were turned away. A medical worker shouted at relatives wheeling in a patient from an arriving ambulance.
"There's no oxygen or electricity in this corridor!" the worker exclaimed. "If you can't even give him oxygen, how can you save him?"
"If you don't want any delays, turn around and get out quickly!" she said.
The relatives left, hoisting the patient back into the ambulance. It took off, lights flashing.
In two days of driving in the region, AP journalists passed around thirty ambulances. On one highway toward Beijing, two ambulances followed each other, lights flashing, as a third passed by heading in the opposite direction. Dispatchers are overwhelmed, with Beijing city officials reporting a sixfold surge in emergency calls earlier this month.
Some ambulances are heading to funeral homes. At the Zhuozhou crematorium, furnaces are burning overtime as workers struggle to cope with a spike in deaths in the past week, according to one employee. A funeral shop worker estimated it is burning 20 to 30 bodies a day, up from three to four before COVID-19 measures were loosened.
"There's been so many people dying," said Zhao Yongsheng, a worker at a funeral goods shop near a local hospital. "They work day and night, but they can't burn them all."
At a crematorium in Gaobeidian, about 20 kilometers (12 miles) south of Zhuozhou, the body of one 82-year-old woman was brought from Beijing, a two-hour drive, because funeral homes in China's capital were packed, according to the woman's grandson, Liang.
"They said we'd have to wait for 10 days," Liang said, giving only his surname because of the sensitivity of the situation.
Source: the Associated Press, Dake Kang
Report: 250 million Chinese infected with COVID in first 20 days of December
Leaked information from top health body suggest enormous gap between internal estimates and official data, as Beijing struggles with outbreak
Some 250 million people in China may have been infected with COVID-19 in the first 20 days of December, according to leaked figures from Beijing's senior health officials reported by US media.
According to the information published by Bloomberg and the Financial Times, 37 million people were estimated to have caught the virus on Tuesday alone, in contrast to official data counting 3,049 cases on that day, and 62,592 symptomatic infections during the first 20 days of this month.
Citing two sources involved in the matter, the Financial Times reported that Sun Yang, a deputy director of the Chinese Center for Disease Control and Prevention, presented the shocking figures to a meeting of China's National Health Commission (NHC) on Wednesday.
It was unclear how the NHC arrived at its approximation since Beijing is no longer counting asymptomatic infections.
China this month has rapidly dismantled key pillars of its zero-COVID strategy, doing away with snap lockdowns, lengthy quarantines, and travel curbs in a jarring reversal of its hallmark containment strategy.
Source: the times of Israel, TOI Staff and AFP
To read more, click here: https://www.timesofisrael.com/report-250-million-chinese-infected-within-weeks-of-ending-zero-covid-policy/