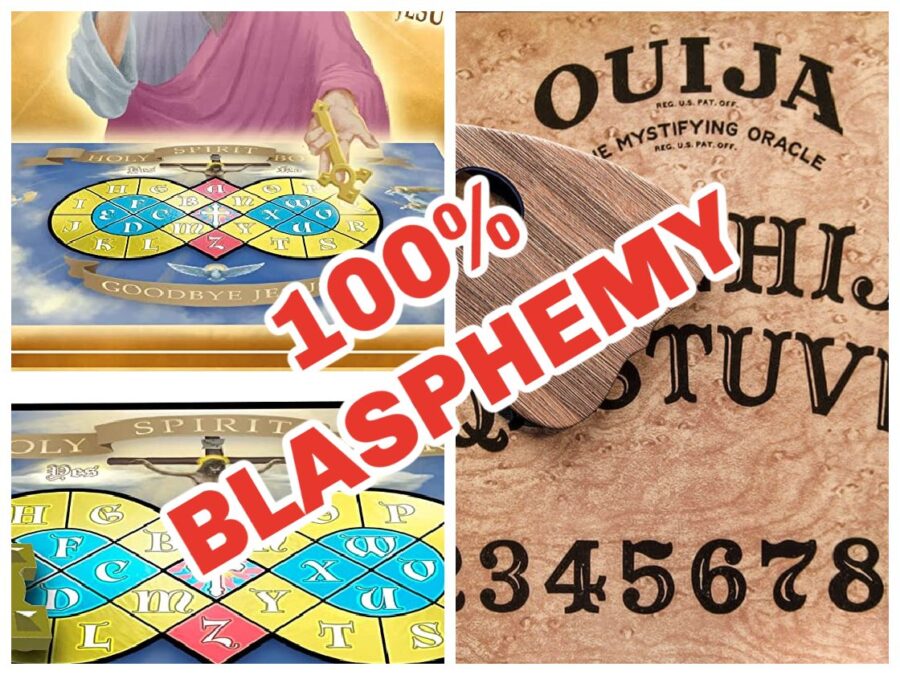 THE DEVIL IS A LIE! AND THIS IS GROSS BLASPHEMY! There is no such thing as a Ouija Board for Christians sold on Amazon.com that will allow believers to "Talk Directly to Jesus." THE TRUTH IS, IF YOU ARE USING A "OUIJA BOARD," YOU ARE TALKING TO THE DEVIL AND THE DEMONS OF HELL, WHETHER IT SAYS IT IS "CHRISTIAN" OR NOT. It is quite simple for believers to communicate with God and Jesus Christ. You just open your mouth in faith and pray to God in the name of the Lord Jesus Christ. FOR JESUS CHRIST SAID, "ASK, AND YE SHALL RECEIVE; SEEK, AND YE SHALL FIND; KNOCK, AND IT SHALL BE OPEN UNTO YOU"
A video promoting a "Christian" version of a popular occult board game called "The Holy Spirit Board" has begun circulating online, pointing viewers to an actual product available for purchase on Amazon.
In the video, a man dressed as Jesus uses explicit language and sexual innuendo to introduce a spirit board described as designed to talk to the Holy Spirit directly.
The "Holy Spirit Board" uses a planchette, typically a heart-shaped piece of wood or plastic used on Ouiji Boards to spell out messages during a séance. Only, the "Christian" themed board uses a planchette in the shape of a golden "magic cross."
The board of letters displays artwork of the crucifixion, angels, and a dove.
Holy Spirit Games, the entity behind the board, recently released another video encouraging Christians to purchase the board so that they can hear messages from God.
Source: ChurchLeaders, Jesse T. Jackson
To read more, click here: https://churchleaders.com/news/438454-ouija-board-for-christians-the-holy-spirit-board-sold-on-amazon-advertises-as-christian-religious-talking-board.html
"Christian" Ouija Board Lets Believers "Talk Directly to Jesus"