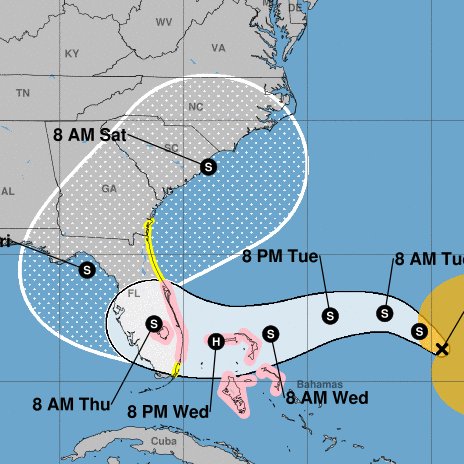 ANOTHER HURRICANE NICOLE STALKS FLORIDA. Daniel Whyte III, President of G.L.S. International, says, people, say what you please, but as I have said for over twelve years now, God is mercifully, lovingly, and slow-rollingly dismantling and destroying America piece-by-piece because of the implosion of the church with her many sins and Judas pastors, and her colluding with the government to condone and sanction the country-destroying sin and abomination of homosexuality and homosexual marriage, which is a double abomination that even Sodom and Gomorrah did not practice.
Subtropical Storm Nicole is now expected to become a hurricane over the Bahamas before hitting Florida's east coast on Wednesday, well enough after polls close to avoid disrupting voting on Election Day, forecasters said.
"We won't really start to see any significant impacts from Nicole until really Tuesday night to Wednesday, so really it shouldn't have a huge impact on voting operations tomorrow," hurricane specialist Phillippe Papin told The Associated Press.
"Unfortunately this is going to be a very large storm, with a very large wind field on the north side. This is going to cause quite substantial surf, potentially dangerous storm surge somewhere along the Florida east coast, and heavy rainfall and probably significant winds over a large area of the eastern Florida peninsula coast," Papin added.
Hurricane watches are in effect for the northwestern Bahamas and Florida's Atlantic Coast from Hallandale Beach, north of Miami, to just north of Daytona Beach, as well as inland to Lake Okeechobee, the Miami-based National Hurricane Center said in its latest advisory.
A Storm Surge Watch has been issued from Hallandale Beach to halfway up Georgia's coast.
The hurricane center predicted a particularly wobbly forward movement for Nicole as it approaches Florida and then crosses into the northwest Gulf of Mexico. At 10 a.m. Monday, it had top winds of 45 mph (75 kmh) and was centered about 495 miles (795 kilometers) east of the northwestern Bahamas, the advisory said.
"Do not focus on the exact track of Nicole since it is expected to be a large storm with hazards extending well to the north of the center, and outside of the cone, and affect much of the Florida peninsula and portions of the southeast U.S.," the advisory said.
Large parts of Florida are still reeling from destructive Hurricane Ian, which slammed into the southwestern portion of the state in Sept. 28 as a strong Category 4 hurricane and dumped massive amounts of rain, causing flooding across central Florida.
In central Florida and along Florida's central Atlantic coast, nervous county managers warned residents that the tropical storm could bring more flooding and beach erosion only weeks after Hurricane Ian inundated the region with unprecedented levels of water.
Source: the Associated Press, FRIEDA FRISARO and JULIE WALKER
To read more, click here: https://apnews.com/article/hurricanes-storms-weather-atlantic-ocean-bahamas-9a8579c15cb00e1f74d98608ad8979b6