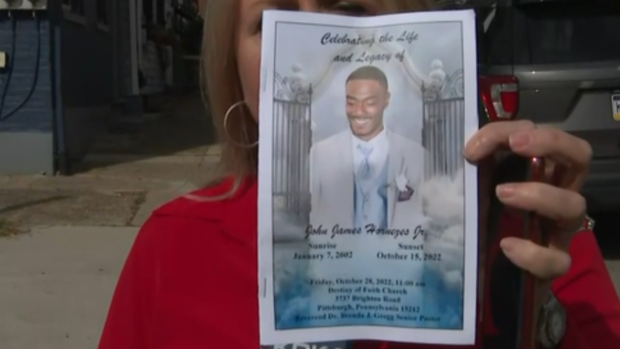 THERE'S A DEVIL LOOSE: 5 PEOPLE WERE SHOT at a  FUNERAL SERVICE at the DESTINY of FAITH CHURCH in PITTSBURGH; the FUNERAL WAS for JOHN JAMES HORNEZES JR. WHO WAS SHOT TWO WEEKS EARLIER 
PITTSBURGH (KDKA) — Six people were injured in a shooting outside of a funeral at a church on Pittsburgh's North Side for the victim of a recent homicide, police said.
Five people were wounded in the shooting, and the sixth victim was injured as people ran from the scene. Two "people of interest" related to the shooting were detained Friday night, Pittsburgh Public Safety said.
"I'm sorry we're here to report another tragic incident," Acting Pittsburgh Police Chief Thomas Stangrecki said at a briefing near the scene on Friday afternoon.
Law enforcement swarmed the North Side's Brighton Heights area of Brighton Road, McClure Avenue, Termon Avenue and Benton Avenue after reports of gunfire shortly after noon on Friday, emergency officials said.
ShotSpotter picked up five rounds going off at 12:04 p.m., police said. Just after, it alerted another 15 rounds going off in that area.
The Destiny of Faith Church sits at the corner of Brighton and Benton. The gunfire went off outside of the building, police said. KDKA's Jennifer Borrasso spoke with a witness who provided KDKA with a flyer from the funeral service.
The flyer shows the service was for 20-year-old John Hornezes Jr., one of the victims of the Oct. 15 shooting on Cedar Avenue, also on the North Side. Two women, who police said were innocent bystanders, were also killed in that shooting.
Police said they are still investigating the motive of Friday's shooting, but police did say they believe it was a "targeted shooting."
Source: CBS News, Jennifer Borrasso
To read more, click here: