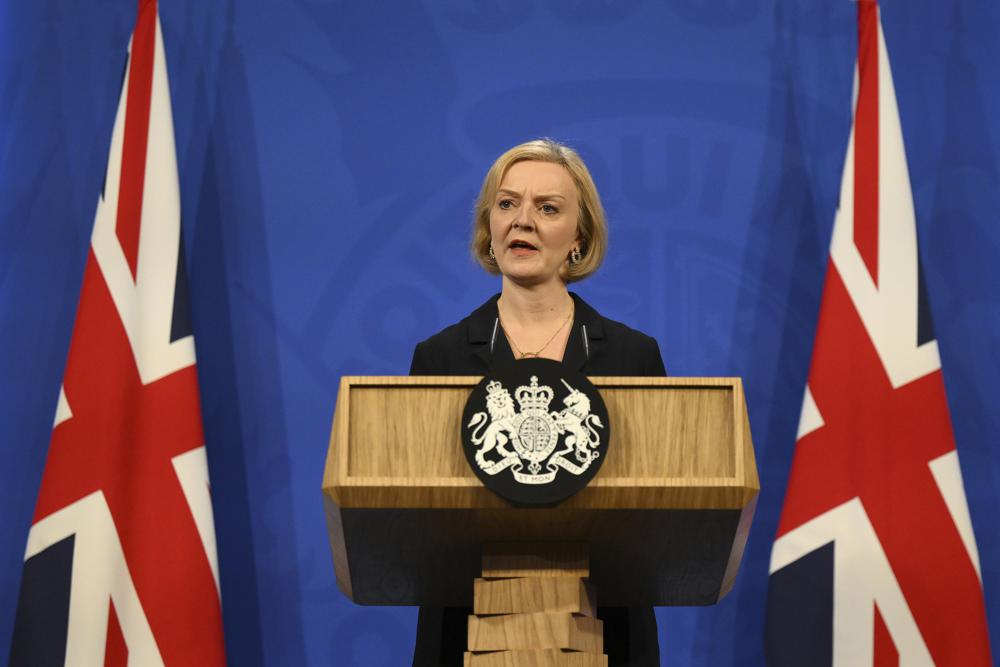 British Prime MINISTER LIZ TRUSS FIRES HER FRIEND AND NEIGHBOR TREASURY CHIEF KWASI KWARTENG Replacing Him With Former Cabinet Minister Jeremy Hunt and Drops Tax Cuts Following Weeks of Turmoil in the Financial Markets and in Her First Few Days as Prime Minister.
Daniel Whyte III, President of Gospel Light Society International, advised Queen Elizabeth II before she died to push for keeping Boris Johnson as prime minister, even though he was a hypocrite in not obeying his own orders regarding masking up and not gathering during the coronavirus plague-pandemic. He said in that article, at this point in history, we do not have the time to be making these changes, especially with a man who is threatening to use nuclear weapons, not only on Ukraine, but also on Great Britain. We need a man who has Churchillian charismatic authority, and Boris Johnson is that man.
Whyte Says, This is a colossal disaster and Mrs. Liz Truss should resign immediately. The press conference was totally uninspiring. She is not ready for this office. She is morally compromised because of her adultery with a fellow government official whom she was supposed to be showing the ropes, but he ended up showing her the ropes. (When the heat is on, these serious character flaws come to mind, and sad to say, especially when you are a woman. No, it is not fair, but it is a reality.) This is not her time. We need a Churchillian prime minister, which we had in Boris Johnson.
Truss does not exude one ounce of confidence. And when the first four questions from the media after your speech are basically asking, why would you fire your chancellor when you formed the plan with him and you get to stay? you are in big trouble. Again, Daniel Whyte III, president of Gospel Light Society International, calls for the immediate resignation of the prime minister of Great Britain.
Embattled British Prime Minister Liz Truss sacked her Treasury chief and reversed course on sweeping tax cuts Friday as she tried to hang on to her job after weeks of turmoil on financial markets.
At a hastily arranged news conference, Truss said she was acting to "reassure the markets of our fiscal discipline" by keeping a planned increase in corporation tax that she previously said she would cut. Truss also fired Kwasi Kwarteng as Treasury chief, replacing him with former Cabinet minister Jeremy Hunt.
Truss is trying to restore order after three weeks of turmoil sparked by the government's tax-cutting "mini budget." The Sept. 23 statement sent the pound plunging to record lows against the dollar and led the Bank of England to step in to prevent a wider economic crisis.
But it may not prove so simple. Truss brushed off a question about whether she should resign, saying, "I am absolutely determined to see through what I have promised."
But her brief, downbeat news conference is unlikely to have reassured her party that she is in control.
The pound fell by around 1% after Truss' statement to $1.119.
Hunt is a government veteran who has served as former foreign secretary and health secretary. He ran unsuccessfully to lead the Conservative Party in 2019, but is widely respected and may offer stability to Truss as she seeks to shore up her base.
Source: the Associated Press, DANICA KIRKA and JILL LAWLESS
To read more, click here: https://apnews.com/article/business-london-financial-markets-liz-truss-b64e94dc4b89d330f48dc43e63cddca8?utm_source=homepage&utm_medium=TopNews&utm_campaign=position_02