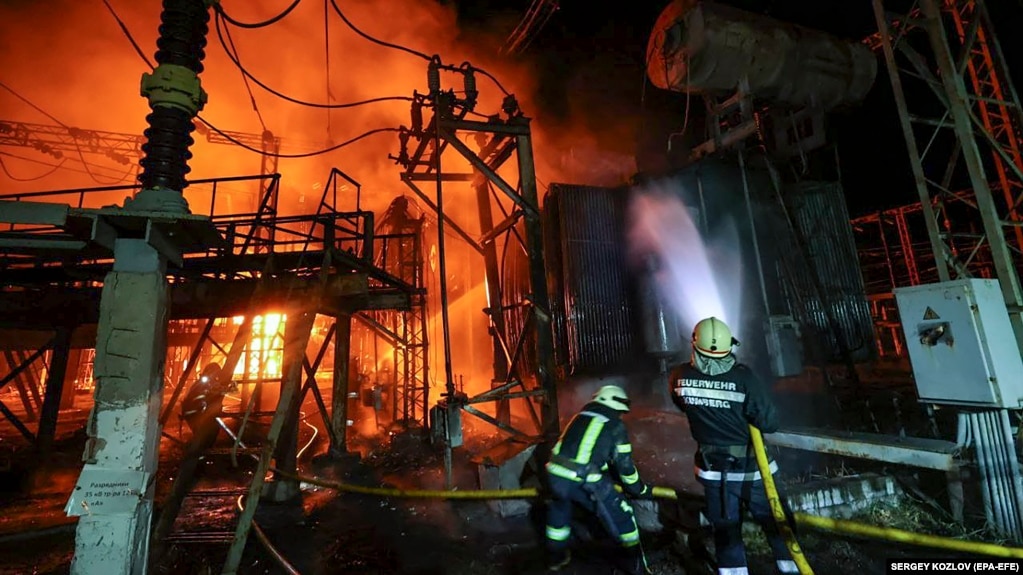 BREAKING WORLD WAR III NEWS: RUSSIA HAS BOMBED UKRAINE BACK TO THE 19th CENTURY WITH OVER 1 MILLION HOUSEHOLDS WITHOUT ELECTRICITY. Daniel Whyte III, President of G.L.S. International, says, Because the Ukrainian People Are a Very Proud People and Don't Have Quit in Them, Turkey or Some Other Country Needs to Intervene and Call For an Immediate Ceasefire For the Good of the People. If This Was a Boxing Match, the Referee Would Have Stopped the Fight Before the Opponent Lands a Knockout Punch, Which, in This Case, it Could be a Dam Being Blown up or a Nuclear Bomb
Ukrainian officials said "vile" Russian missile strikes on civilian energy sites have caused power outages nationwide, leaving more than a million households without electricity, while Russian authorities ordered residents to leave Kherson "immediately" ahead of an expected effort by Kyiv's forces to retake the crucial southern city.
Ukrainian President Volodymyr Zelenskiy 
said on Telegram 
on October 22 that Russia carried out a "massive attack" on Ukraine overnight and that "the aggressor continues to terrorize our country."
"At night, the enemy launched a massive attack: 36 rockets, most of which were shot down…These are vile strikes on critical objects. Typical tactics of terrorists," he wrote. "The world can and must stop this terror."
Kyrylo Tymoshenko, deputy head of Zelenskiy's office, said Ukrainian air defense forces had shot down 18 of the missiles.
Kyiv Mayor Vitali Klitschko said a number of missiles had been shot down on the approach to the capital.
"Several rockets flying toward Kyiv were shot down in the region by air defense forces. Thanks to our defenders!" Klitschko said.
There was no immediate word on deaths related to the missile attacks, but officials said several people had been injured.
It was not possible to verify the reports on either side.
In the face of continued Russian strikes, Foreign Minister Dmitro Kuleba again urged Ukraine's Western allies to speed up the delivery of modern air defense systems.
"We intercepted some, others hit the targets. Air defense saves lives. In [Western] capitals, there should not be a single minute of delay in the decision regarding air defense systems for Ukraine," Kuleba said.
Local officials said power stations were hit in the regions of Odesa, Kirovohrad, and Lutsk, while other regions reported problems with electricity.
Source: RFERL
To read more, click here: https://www.rferl.org/a/ukraine-kherson-recapturing-territory-dam-evacuation/32095755.html