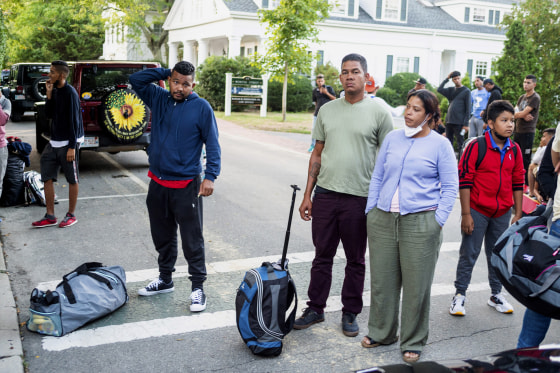 Migrants who were flown from Texas to Martha's Vineyard, Massachusetts, under a new program by Florida Gov. Ron DeSantis sued DeSantis, a Republican, and other state officials Tuesday, alleging they were victims of fraud for political purposes.
Alianza Americas, a Chicago-based network of migrant-led organizations, and three migrants who landed in Massachusetts last week on flights chartered by Florida accused DeSantis and his co-defendants of executing "a premeditated, fraudulent, and illegal scheme … for the sole purpose of advancing their own personal, financial and political interests."
In the lawsuit, which seeks class-action status in Massachusetts federal court, the plaintiffs allege that the "ruse" — which DeSantis claimed credit for as part of his effort to highlight illegal immigration — violated constitutional protections under the Fourth and Fourteenth Amendments and several federal statutes.
In addition to seeking damages, they are also asking the court to block DeSantis and others named in the lawsuit from "inducing immigrants to travel across state lines by fraud and misrepresentation."
The suit further argues that the money DeSantis used was unauthorized because it "originated from the federal Coronavirus State Fiscal Recovery Fund and was therefore subject to its use restrictions."
Click here to read more.
SOURCE: NBC News, Zoë Richards