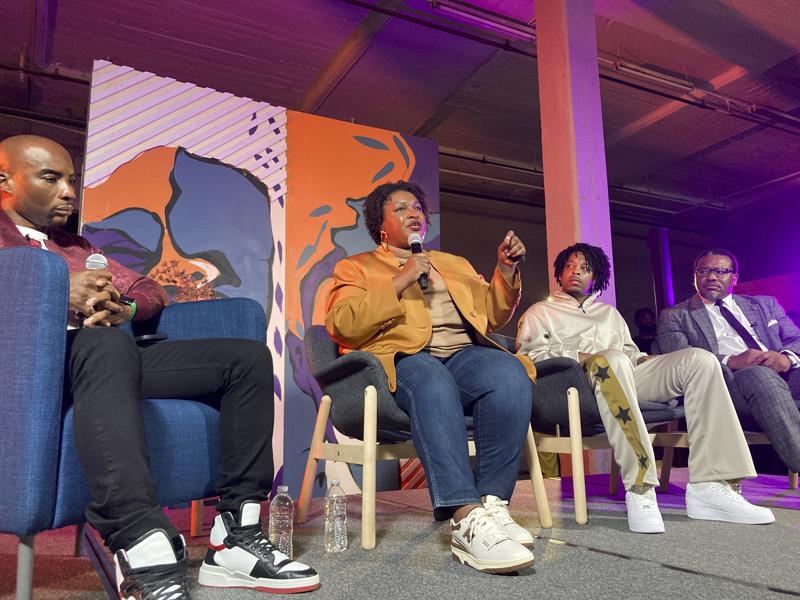 STACEY ABRAMS Seeks the Support of BLACK MEN to Become America's First Black Female Governor by Holding a Series of Events Targeting Black Men Along With Charlamagne and Others. Daniel Whyte III Says, She is Not Going to Win Many Black Men Over if She is Going to Push the Homosexual LGBTQ+ Agenda. Whyte Also Tells Charlamagne Again to Stop Using the Name of "GOD" in Vain in His Name Lest Very Bad Things Begin to Happen in His Life. God is Very Merciful and Patient, But as Someone Said Many Years Ago, "The wheels of God grind slo' but they grind sho.'"
Democrat Stacey Abrams was on stage for an hour with radio and television host Charlamagne tha God and rapper 21 Savage when she faced a question from a skeptical audience member.
"A lot of politicians speak about their plan and what they plan to do, but I also notice that I never hear a clear turnaround of when their plan will go into effect," said Soheem Perry, who lives in suburban Atlanta. "If it doesn't happen within the time that's been promised, how should we feel about our vote?"
Perry captured the alienation some Black Americans feel about the political process. Democrats court their votes every election year yet sometimes struggle to deliver on certain promises. But in her bid to become America's first Black woman governor, Abrams needs support even from disillusioned voters.
The concern is especially acute when it comes to Black men, who some analysts suggest have trickled recently to Republicans. A large majority of Black men have still cast votes for Democrats in recent elections, meaning the bigger fear in a tight race is that they won't vote at all.
Abrams acknowledges the possibility. She built her national profile by insisting Democrats can compete in Georgia, a longtime Republican stronghold, if they attract marginal or disaffected voters, including Black men.
"If Black men turn out in the numbers and support me at the levels they're capable of, I can win this election, because we know Black men sometimes punch below their weight class," Abrams said at the event. "They've got reasons to be distrustful, and they've got reasons to be disconnected. And it is not only disingenuous, it would be bad practice, for me to not do the work to show that I understand."
To maximize Black male support, Abrams has held a series of events targeting them. A recent gathering in an un-air-conditioned warehouse featured free food and T-shirts.
Source: the Associated Press, JEFF AMY and BILL BARROW
To read more, click here: https://apnews.com/article/2022-midterm-elections-ketanji-brown-jackson-race-and-ethnicity-stacey-abrams-atlanta-05d55e51bd26019aee9070ebb5ddd918?utm_source=homepage&utm_medium=TopNews&utm_campaign=position_07