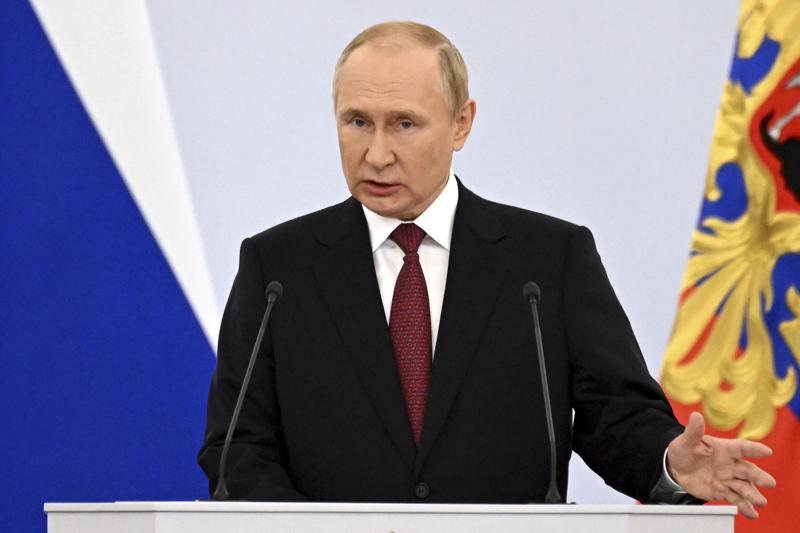 RUSSIAN PRESIDENT VLADIMIR PUTIN Annexes Nearly 20 PERCENT of Ukraine Defying America and the West
Russian President Vladimir Putin signed treaties Friday to annex parts of Ukraine in defiance of international law, saying Moscow would protect the newly incorporated regions by "all available means."
He also urged Ukraine to sit down for peace talks but immediately insisted he won't discuss handing them back, opening a new escalatory phase of his seven-month invasion of the country.
Kyiv and the West have rejected his land-grab in Ukraine. The European Union's 27 member states said they will never recognize the illegal referendums that Russia organized "as a pretext for this further violation of Ukraine's independence, sovereignty and territorial integrity."
In a Kremlin ceremony at the ornate St. George's Hall to herald the annexation of the occupied parts of Ukraine, Putin accused the West of fueling the hostilities as part of what he said is a plan to turn Russia into a "colony" and a "crowds of slaves." The hardening of his position, in the conflict that that has killed and wounded tens of thousands of people, further cranked up tensions, already at levels unseen since the Cold War.
Source: the Associated Press, Jon Gambrell and Hanna Arhirova
To read more, click here: https://apnews.com/article/russia-ukraine-moscow-referendums-dad270d8dccf8873ba7fe7758c387933?utm_source=homepage&utm_medium=TopNews&utm_campaign=position_01