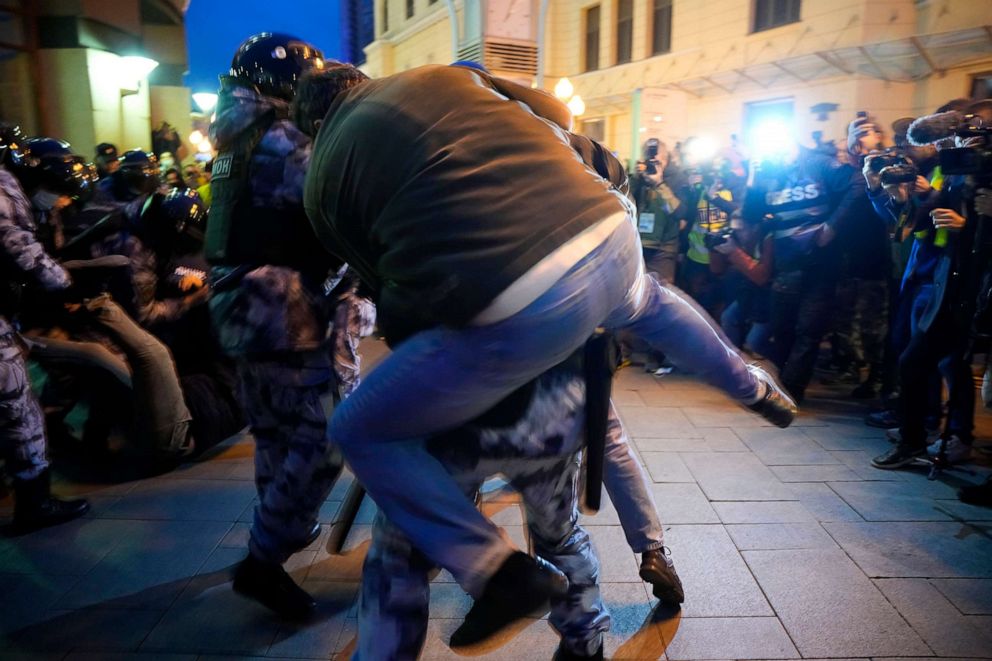 More than 1,400 people were detained at antiwar protests that have erupted across Russia after President Vladimir Putin ordered a partial mobilization of reservists to fight in Ukraine, according to the independent Russian human rights monitoring group OVD-Info.
At least 1,408 people have been detained at mobilization protests in nearly 40 cities on Wednesday, OVD-Info said in its latest update. Most were reported at protests in St. Petersburg and Moscow.
The protests followed a televised address Wednesday morning during which Putin announced the start of the first mobilization in Russia since World War II. The measure is expected to draft more than 300,000 Russian citizens with military experience, according to Russian Defense Minister Sergei Shoigu.
Protesters could be seen holding "stop war" signs. One man shown being taken into custody in Novosibirsk had shouted, "I don't want to die for Putin or for you," according to Russian independent media outlet Mediazona.
Russia has criminalized protests against the war, and demonstrations held following its invasion have been met with a heavy police response.
SOURCE: The Associated Press