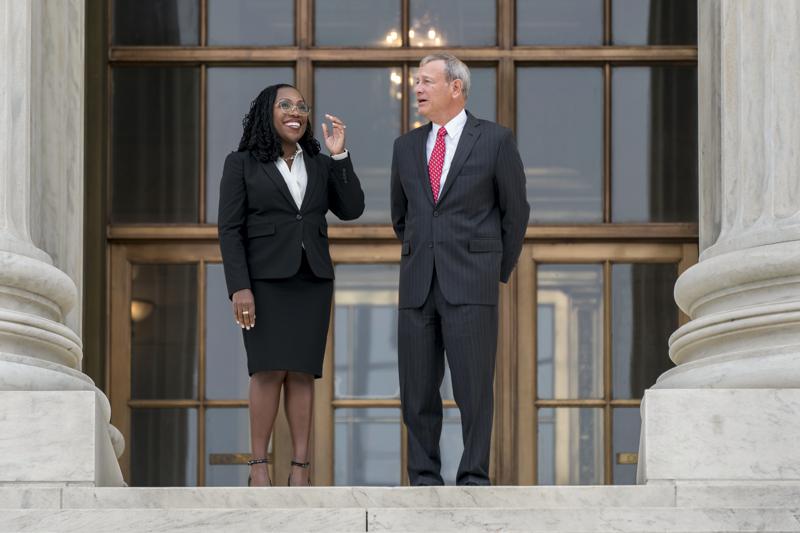 Justice Ketanji Brown Jackson Makes First Appearance on Supreme Court Bench Following Brief Ceremony and Walks Down Supreme Court Steps in Heels Quite Gingerly
Justice Ketanji Brown Jackson made her first appearance on the Supreme Court bench in a brief courtroom ceremony Friday, three days before the start of the high court's new term.
President Joe Biden, Vice President Kamala Harris and their spouses attended the invitation-only ceremonial investiture for Jackson, the first Black woman on the Supreme Court.
Chief Justice John Roberts wished the 52-year-old Jackson a "long and happy career in our common calling," the traditional welcome for a new justice.
She took her place at the far end of the bench to Roberts' left, just next to Justice Brett Kavanaugh. The justices are seated by seniority.
During the ceremony Jackson also followed the custom of every other new justice since 1972 and sat in a chair that once belonged to John Marshall, who served as chief justice for 34 years in the early 1800s.
Marshall also was a slaveholder, perhaps adding a special poignancy to Jackson taking her place in his onetime possession. She is only the third Black justice in the court's history, along with her new colleague Justice Clarence Thomas and the late Justice Thurgood Marshall.