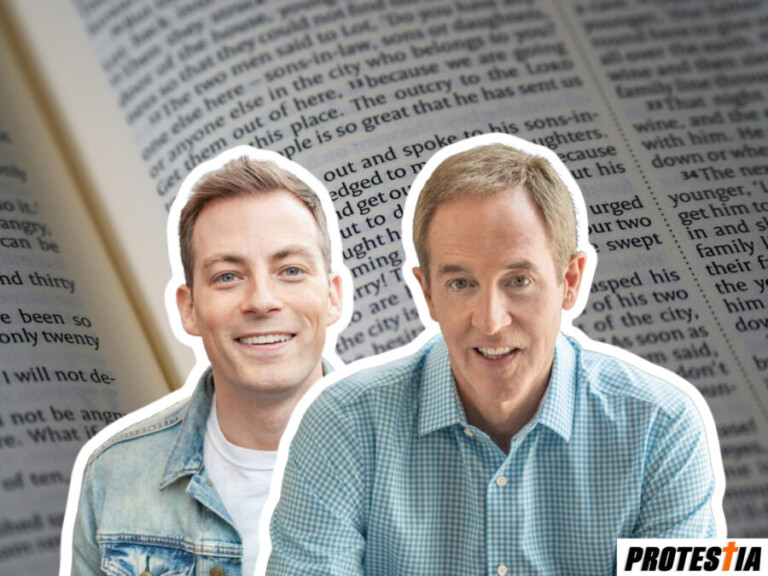 IS THIS ANOTHER MAJOR PASTORAL PLAGIARISM SCANDAL? A Year After Former Southern Baptist Convention President Ed Litton Resigned After Being Involved With a Gross Plagiarism Scandal Using Andy Stanley's Demonic Sermon Designed to Weaken the Southern Baptist's Resistance Against the Abomination of Homosexuality and Homosexual Marriage and to Become a So-Called "INCLUSIVE" Church Convention For Homosexuals, Word-for-Word, to the Ridiculous Point of Repeating Andy Stanley's and J. D. Greear's INTRODUCTORY REMARKS, Which is Unprecedented in the History of Preaching, Is There Another MegaChurch Plagiarism Scandal Brewing? The Vivacious Sheila Wray Gregoire of the Bare Marriage Podcast Thinks so, and She is Laying Out the Case That the Popular and Energetic Pastor Josh Howerton, Pastor of the Multi-campus Lakepointe Church in the Dallas, Texas, Area is Also Guilty of Plagiarism. — Daniel Whyte III Says What Josh Howerton is Being Accused of Does Not Even Come Close to What Ed Litton Did and Should Not be Mentioned in the Same Paragraph. Ed Litton Was a Puppet For Andy Stanley and Was Doing Something Sinister to Corrupt the Southern Baptist Convention by Trying to Make it an "INCLUSIVE" Church Denomination by Accepting the Abomination of Homosexuality and Homosexual Marriage in the Church. Josh Howerton is Called by God to Preach and Not Just a VOLUNTEER Like Andy Stanley is by His Own Admission and, Therefore, is a Far Superior Preacher Who Preaches Better Than Andy Stanley Could Ever Preach, and Therefore, Does Not Have to Steal Andy Stanley's Words, or Anybody Else's Words.
2. The Statement That is in Question, I, Daniel Whyte III, Have Never Read a Book Written by Andy Stanley in My Life and I Wouldn't Spend a Penny to Buy a Book Written by Andy Stanley, Nor Would I Read a Book Written by Andy Stanley Because he is a Heretic and a False Prophet/Pastor. Neither Have I Followed Andy Stanley in Any Way or Listened to Any of His Sermons on a Regular Basis. I Have Only Listened to the Heretical Sermons to Make Sure I Was Getting the Context of What he Was Saying so That my Condemnation of His Demonic Heresy Against God's Word Would be Accurate. Other Than That, I Have Never Listened to Any of His Sermons and I Will Never Listen to Any of His Sermons Because a Little Excrement on a Beautiful Sandwich Ruins the Whole Sandwich. I Have Never Followed Him on Social Media and I Will Never do so to Save my Life. And I Would Advise Others, Including Pastors, to Not Follow Andy Stanley Via Social Media. I Said All That to Say This: The Statement in Question is a Statement I Believe God Has Given to Preachers in General Because I Have Made That Statement For Years Even Before Andy Stanley Made That Statement According to Gregoire in His Book In 2016. It is a Statement That Other Pastors and Preachers Have Made For Years Because it Makes Spiritual Sense and it Makes Commonsense. I Have Even Told People, Who Have Asked me to Pray For Them Regarding a Spouse That I Will Pray For You But I Will Pray For You to be the Spouse That Your Spouse Needs. The Truth of the Matter is, the Outcomes of the Preaching of the Word of God Will Oftentimes be the Same and the Holy Spirit of God Has Given and Will give God's Truly Called Preachers the Same Idea, But Not Word-for-Word Because it Makes Spiritual Sense and it Makes Commonsense. And to Answer Josh Howerton's Open Question, Which is an Important One:
"How do you clarify in a sermon that a statement / idea didn't come from you when you got it from someone you don't want to attribute by name because it would come off as an endorsement  and you don't want to point your people in their direction?"
Here's the Answer, Josh: The Truth of the Matter is There Are Sometimes People You Want to Quote But You do Not Want to Associate Your Name With Their's and You Do Not Want Your People to Think it is Okay to Read Them or Follow Them. Do As I Have Done in the Past and Say, 'I am Going to Quote Someone Today, But I am not Going to Say Their Name For This Reason or That Because Even Some Ungodly and Unsaved People Have Made Some Great Quotes Throughout History.' The Point is, You Need to Let People Know the Thought or Idea is Not Yours, Whether You Say Their Name or Not. And we as God-called Preachers Must Not Interrupt the Powerful Flow of Preaching When God, While we Are Preaching, Downloads a Thought That is Original From Him Because it Makes Spiritual Sense and Commonsense, Whether we Heard it Somewhere or not, Because the Bible is Original and the Holy Spirit Gives us Original Thoughts in the Powerful Flow of Preaching. Just Make Sure You Did Not Intentionally Write Down Something in Your Sermon That You Got From Someone Else Because There Are Some Dishonest Preachers Who Are Not God-called Who Will do That Because of the New School Theology That Teaches Everything You Say Must be Original When in Reality Powerful Quotes Properly Attributed to Godly Servants of the Lord Adds to Your Sermon; it Does Not Take Away.
3. If Josh Howerton is Guilty of a Crime and or Sin, it is the Crime and or Sin of FOLLOWING OTHER PEOPLE, Which I Have Told Pastors For Years Now, Not to do Unless he is Your Pastor Who Ordained You and That is Not For You to Preach His Sermons, But For Your Guidance, Advice, and Counsel. Do Not Follow Other Pastors Because it is Nothing But a Cesspool of Foolishness, That Leads Nowhere and Has Caused the Church to Land in a Ditch Because the Blind is Following the Blind. Tragically, Many Pastors Who Are Gregarious by Nature Tend to Follow Each Other, Which Turns Out to be Nothing But a Cesspool of Foolishness That Has Made the Church of Non-Effect!
The Last Thing on Earth we Need is Pastors Following Pastors. If You Are a God-Called Pastor, the Reason You do Not Need to Follow Others is Because as a God-called Man, You Need to Get Your Orders and Your Messages From God and the Word of God, and Not Other Men. It is Okay For Hundreds of Other People to Follow You, But You Should Not be Following Anybody But God, Jesus Christ, and The Holy Spirit.
That Means a God-Called Pastor Should Not Read the Books of Contemporary Pastors and a God-Called Pastor Should Never Follow Another Pastor Via Social Media. If Anybody Should Lean on the "Everlasting Arms" Only, it is the God-Called Preacher. In Addition to That, Most Pastors do Not Know Where They Are Going, Including So-Called Big-Name Pastors. In Fact, Some Pastors Are Being Led by the Devil and Not God. Case in Point: Andy Stanley. And Most Churches, No Matter How Big They Are, Are Not Moving Forward. Most Are Stagnant or FALLING AWAY Backwards Because of the Cesspool of Following One Another.
A year after former SBC President Ed Litton resigned after being embroiled in a plagiarism scandal, bringing to the forefront of the evangelical mind the question of the morality of stealing sermons, new accusations are being lobbed against Pastor Josh Howerton of the multicampus Lakepointe Church in Dallas Texas.
Shelia Wray Gregoire of the Bare Marriage podcast has accused of Howerton of lifting material from Andy Stanley, Steven Furtick, Mark Driscoll and Rick Warren without attribution, which can be seen examples from the 4:20-12:30 mark.
They hosts elaborated more on the Stanley case, offering this tweet and then the video to show that Howerton was aware that he was monkeying about with murky things. (Ironically, in his defense provided below would go on to quote trinity-denier TD Jakes).
Howerton has responded to the allegations, offering in part these points:
1. "Permission & Understanding. Because they have a heart to help, almost every pastor tells other pastors to use anything from his sermons that'll help them. "If my bullet fits in your gun, shoot it!": I've heard Adrian Rodgers, JD Greear, Craig Groeschel, Chris Hodges, Bob Russell, Rick Warren, etc all say this. . . ."
Source: Protestia
To read more, click here: https://protestia.com/2022/09/10/stealing-andy-stanley-is-there-another-megachurch-plagiarism-scandal-brewing/