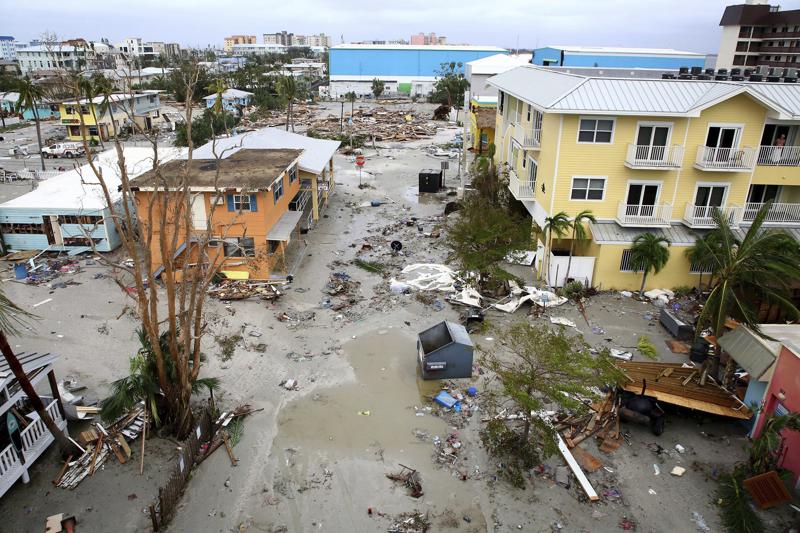 Hurricane IAN, THE HORRIBLE, Threatens the Carolinas After Destroying Florida
A revived Hurricane Ian set its sights on South Carolina's coast Friday and the historic city of Charleston, with forecasters predicting a storm surge and floods after the megastorm caused catastrophic damage in Florida and left people trapped in their homes.
With all of South Carolina's coast under a hurricane warning, a steady stream of vehicles left Charleston on Thursday, many likely heeding officials' warnings to seek higher ground. Storefronts were sandbagged to ward off high water levels in an area prone to inundation.
On Friday morning in Charleston, powerful wind gusts bent tree branches and sent sprays of steadily falling rain sideways. Streets in the 350-year-old city were largely empty, an ordinarily packed morning commute silenced by the advancing storm.
With winds holding at 85 mph (140 kph), the National Hurricane Center's update at 8 a.m. Friday placed Ian about 105 miles (175 km) southeast of Charleston and forecast a "life-threatening storm surge" and hurricane conditions along the Carolina coastal area later Friday.
The hurricane warning stretched from the Savannah River to Cape Fear, with flooding likely across the Carolinas and southwestern Virginia, the center said. The forecast predicted a storm surge of up to 7 feet (2.1 meters) into coastal areas of the Carolinas, and rainfall of up to 8 inches (20 centimeters).
In Florida, rescue crews piloted boats and waded through riverine streets Thursday to save thousands of Floridians trapped amid flooded homes and buildings shattered by Hurricane Ian.
Florida Gov. Ron DeSantis said at least 700 rescues, mostly by air, were conducted on Thursday involving the U.S. Coast Guard, the National Guard and urban search-and-rescue teams.
Ian had come ashore Wednesday on Florida's Gulf Coast as a monstrous Category 4 hurricane, one of the strongest storms ever to hit the U.S. It flooded homes on both the state's coasts, cut off the only road access to a barrier island, destroyed a historic waterfront pier and knocked out electricity to 2.6 million Florida homes and businesses — nearly a quarter of utility customers. Some 2.1 million of those customers remained in the dark days afterward.
Climate change added at least 10% more rain to Hurricane Ian, according to a study prepared immediately after the storm, said its co-author, Lawrence Berkeley National Lab climate scientist Michael Wehner.
At least six people were confirmed dead in Florida, including two who died Thursday afternoon when their car hydroplaned and overturned in a water-filled ditch in north Florida's Putnam County, while three other people were reported killed in Cuba after the hurricane struck there on Tuesday.
In the Fort Myers area, the hurricane ripped homes from their slabs and deposited them among shredded wreckage. Businesses near the beach were completely razed, leaving twisted debris. Broken docks floated at odd angles beside damaged boats. Fires smoldered on lots where houses once stood.
Source: the Associated Press,