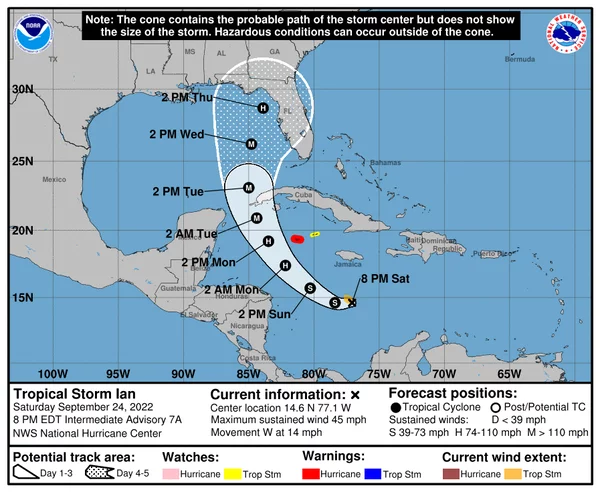 Officials in the Caribbean and Florida are warning residents to prepare for the arrival of Tropical Storm Ian, an intensifying storm that's expected to grow into a hurricane over the weekend, with Florida's governor declaring a state of emergency for the entire state on Saturday.
The weather system currently churning south of Jamaica was declared a tropical storm Friday night and is projected to hit populated areas with heavy rains and high winds starting Sunday.
A hurricane warning is in effect for Grand Cayman and a tropical storm watch is in effect for Little Cayman and Cayman Brac in the Cayman Islands, according to the National Hurricane Center.
A number of hurricane shelters were open on the Cayman Islands, and Premier Wayne Panton told residents to expect heavy rainfall, flooding and potential power outages.
"I ask that you remain calm. Preparation and caution are key to remaining safe," Panton said in a statement. "Please conclude your preparations as quickly as possible and plan to be safely sheltered by Sunday afternoon."
Click here to read more.
SOURCE: NPR, Joe Hernandez