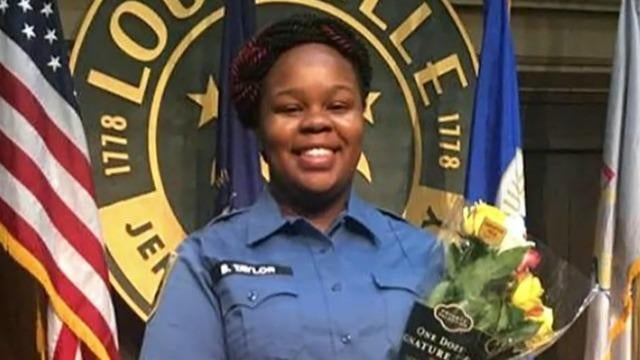 The Justice Department on Thursday filed federal charges against four current and former Louisville police officers connected to the 2020 death of Breonna Taylor, who was shot and killed by police in a raid on her apartment while she was sleeping.
The charges against defendants Joshua Jaynes, Kyle Meany, Kelly Goodlett and Brett Hankison include various civil rights violations, conspiracy, use of force offenses and obstruction. Attorney General Merrick Garland said the civil rights charges against three of the officers stem from alleged falsification of the affidavit used to obtain the search warrant that authorized the early morning raid on Taylor's apartment.
"The federal charges announced today allege that members of the place-based investigations unit falsified the affidavit used to obtain the search warrant of Ms. Taylor's home, that this act violated federal civil rights laws and that those violations resulted in Ms. Taylor's death," Garland said at the Justice Department.
Taylor, a 26-year-old EMT, was shot on March 13, 2020, when officers from the Louisville Metro Police Department (LMPD) stormed into her apartment where she was asleep with her boyfriend, Kenneth Walker. Walker thought the officers were intruders and fired his handgun at them as they were entering, striking one in the leg. The officers fired 22 shots into the apartment in response, one of which struck Taylor in the chest, killing her.
The LMPD fired Hankinson and Jaynes in the months after the Taylor's death, and the department said Thursday that the police chief had begun "termination procedures" for Meany and Goodlett, who are still on the force.
Click here to read more.
SOURCE: CBS News, Stefan Becket and Robert Legare