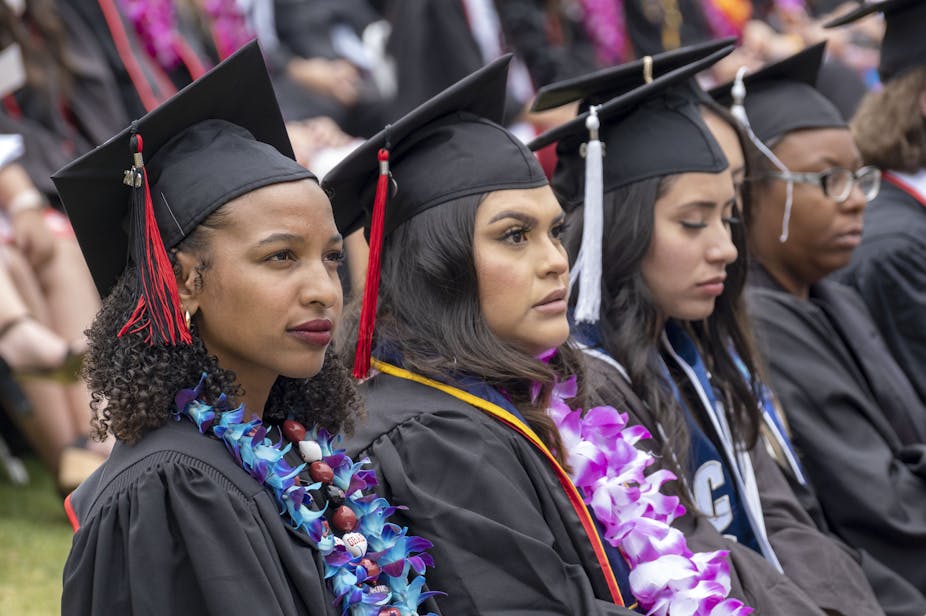 The big idea
Performance-based funding – a policy in which states fund public colleges based on certain student outcomes, such as how many students graduate – hasn't benefited all students equally in Tennessee and Ohio. That's according to a study in which we analyze U.S. Department of Education data on public colleges and universities in these states between 2004-2015.
We compared institutions in Ohio and Tennessee to institutions in states that did not have performance-based funding policies during the same time frame. In some cases, Black, Hispanic, Native American and Alaska Native students did in fact earn more certificates as well as associate and bachelor's degrees. However, the gap between them and white and Asian students grew even wider for bachelor's degrees in Ohio and for certificates in Tennessee.
Performance-based funding is different from other college finance models. Historically, public colleges have been often funded based on how many students they enroll, not how many they graduate.
Tennessee and Ohio are two ideal states to examine the effects of performance-based funding. Both have implemented the system for many years and tie nearly all state funding to performance. They also award additional funds for credentials awarded to students from groups that historically have been underrepresented in college, such as adult students and low-income students, who are more likely to come from racial or ethnic minority groups. In Ohio, additional funds are also explicitly provided for credentials awarded to students from racial and ethnic minority groups. However, by 2015 – five and six years after the performance-based funding that we studied began in Tennessee and Ohio, respectively – we found that racial gaps in credential attainment either stayed the same or got worse in both states.
The gaps we studied are between white and Asian students in comparison to their Black, Hispanic, Native American and Alaska Native counterparts in both states.
Click here to read more.
SOURCE: The Conversation, Monnica Chan, Preeya Pandya Mbekeani, and Zachary Mabel