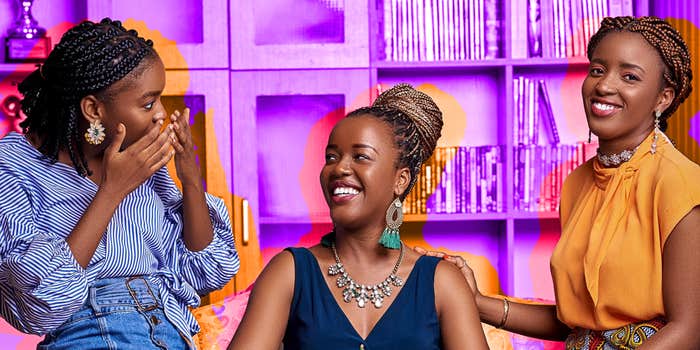 Four years ago, three West African sisters created one of the continent's most popular webseries—without the help of a big studio.
Jemima, Jesimiel, and Jeiel Damina, three Nigerian sisters, founded their film production company, Neptune3 Studios, in an effort to broaden the entertainment industry's depiction of what it means to be a young Nigerian. Their work largely captures the realities of this audience. Their episodes follow their challenges with academics, managing adolescent relationships, and keeping up with family.
"Looking at the Nigerian film industry, it was kinda hard to relate to what was on TV then because it wasn't really relatable for young people," Jemima says. She began creating films at a young age, using her camcorder to record videos with her sisters.
They have since amassed 1 million subscribers and over 120 million views on YouTube. With their unique skills and abilities, the trio now each contribute in different ways to the growth of their company. Jemima is the director and producer, Jesimiel is the screenwriter, and Jeiel is the lead actor. The sisters share an undeniable bond and have always done everything together.
"Even though we've learned in school, we pretty much still learn from one another at this point. If we need a critic, we're always going to one another. It's an interesting dynamic right now because we're very much involved in one another's roles," Jesimiel tells Passionfruit.
Jemima, the eldest, has bachelor's and master's degrees in filmmaking and entertainment business, respectively. Jesimiel, the middle sister, also holds a bachelor's and master's in scriptwriting and screenwriting, respectively. Jeiel, the youngest, is following in her sisters' footsteps and is currently studying creative writing. All three siblings studied at Full Sail University in Florida.
When Jemima and Jesimiel finished their studies and returned home, they were unable to find decent jobs. Growing up in the small city of Uyo, far away from the film and entertainment hub in Lagos, it was difficult to have a break into the industry.
Click here to read more.
SOURCE: The Daily Dot, Edisana Stephen