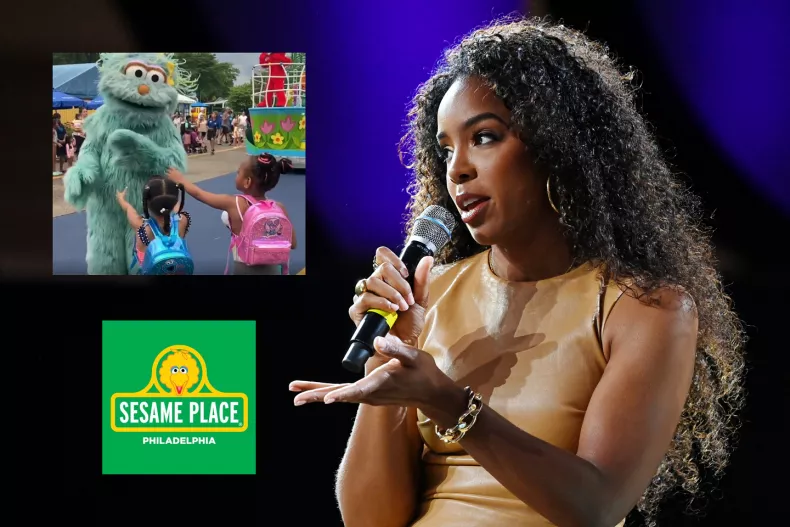 Kelly Rowland has voiced her anger at a Sesame Street parade where two Black children were seemingly ignored by one of the characters.
The incident took place at the Sesame Place theme park in Philadelphia, and the video of the incident posted to Instagram has gone viral. Destiny's Child singer Rowland reposted the video to her Instagram stories and voiced her frustration on behalf of those involved.
Sesame Place released a statement stating that the performer in the costume did not "intentionally ignore the girls and is devastated by the misunderstanding," suggesting that it's hard to see guests at a lower level when in costume.
"Ok so, had that been me, that whole parade would have been in flames," Rowland said to her followers on Instagram on Sunday. "Like, are you serious? You're not going to speak to my child?" And did you see that baby's face at the end? The little one with the pink on? She deserves an explanation. Hello."
View this post on Instagram
Rowland spoke to the camera, informing her 13.4 million followers what had happened. She wrote on her stories, "TF! This just made me So mad!"
The original video was posted on Sunday July 17 by the Instagram user @__jodiii__ who appears to be the young girl's mom. The video showed two young girls with outstretched arms, waiting for the Sesame Street character Rosita who was approaching as part of a parade. After high-fiving other people along the parade route, the character waves her hand at the two girls and walks away.
"I'm going to keep posting this, because this had me hot," the Instagram user wrote. The video has almost 300,000 views and has been widely shared across the internet. Detailing the incident, she continued, "We were on our way out of Sesame Place and the kids wanted to stop to see the characters. THIS DISGUSTING person blatantly told our kids NO then proceeded to hug the little white girl next to us!"
Click here to read more.
SOURCE: Newsweek, Jamie Burton