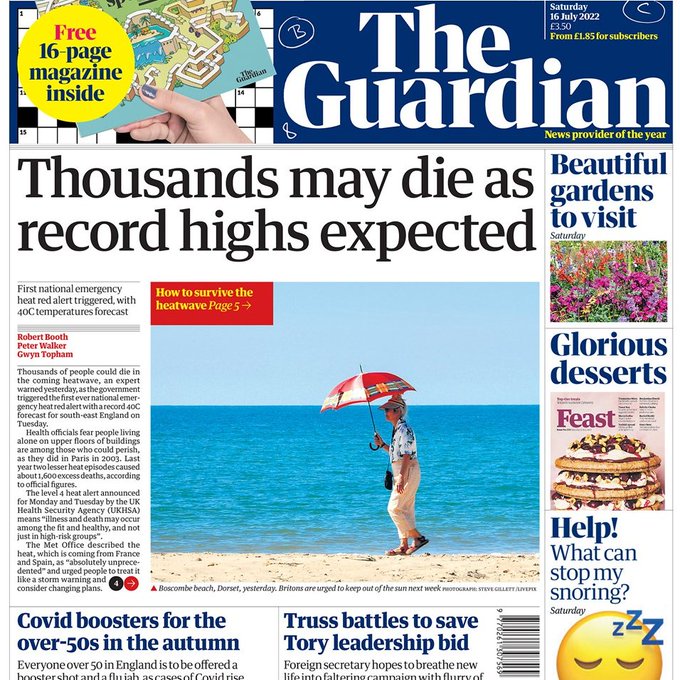 Wildfires are scorching parts of France and Portugal and temperatures in the U.K. could top 104 degrees for the first time on record as extreme heat takes over much of Europe.
Britain's national weather agency, known as the U.K. Met Office, issued its first-ever red extreme heat warning Friday. The warnings, in place for Monday and Tuesday, cover much of southern England, where temperatures could reach 40 degrees Celsius – or about 104 degrees.
"Nobody alive has seen a temperature of 40 degrees Celsius in the U.K." weather.com senior meteorologist Jonathan Erdman pointed out. "That would be a hot day this time of year in Dallas or Houston, much less London."
In fact, a temperature that high has never even been forecast in Britain, according to the Met Office. The current record high temperature for the U.K. is 38.7 degrees Celsius – about 102 degrees Fahrenheit – set on July 25, 2019, at Cambridge Botanical Garden, about 50 miles north of London.
Travel around London may be snarled on Monday and Tuesday by the heat. Passengers of the London Underground are being told to avoid the popular transit system unless absolutely necessary.
"If customers do need to travel, they should check before they travel as we are expecting there to be some impact to Tube and rail services as a result of temporary speed restrictions we will need to introduce to keep everyone safe," Andy Lord, chief operating officer of Transport for London, which runs the capital's transportation system, told the Associated Press.
_____
Source: Drudgereport/weather channel, Jan Wesner Childs and Tim Harris
To read more copy link: https://weather.com/news/news/2022-07-15-europe-heat-wave-warnings-fires-britain-france