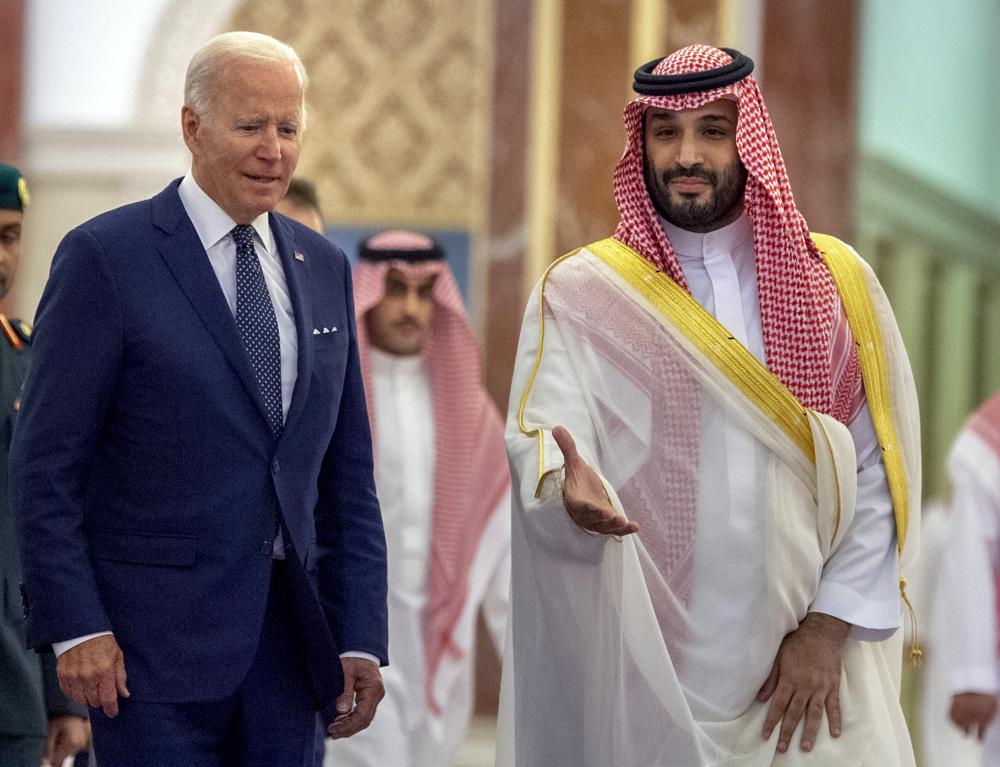 The Latest on U.S. President Joe Biden's trip to the Mideast:
JEDDAH, Saudi Arabia — President Joe Biden said Friday that gas prices across the U.S. "have been coming down every single day to the best of my knowledge" but cautioned that his visit to Saudi Arabia may not have an immediate impact on what Americans are paying at the pump.
The Biden administration has said that record high rates of U.S. inflation aren't yet reflecting falling gas prices, which have been dropping in many parts of the country since mid-June. Asked about whether his trip to the Middle East would further accelerate those declines, Biden responded: "I suspect you won't see that for another couple of weeks."
Speaking to reporters, the president was also asked about Democratic West Virginia Sen. Joe Manchin's opposition to a White House backed energy plan that Biden says can lower costs while also combating climate change.
Manchin's refusing to support the plan could mean it won't pass the Senate. Biden said, "I didn't negotiate with Joe Manchin," but added of his climate change goals, "I'm not going away."
Biden vowed to use "every power I have as president" to move the U.S. toward greener energy.
___
SOME UPDATES:
JEDDAH, Saudi Arabia — President Joe Biden is announcing that peacekeepers will depart the Red Sea island of Tiran by the end of the year, in the latest sign that Saudi Arabia and Israel are inching toward normalization.
The island, controlled by Egypt before being ceded to Saudi Arabia in 2017, has hosted American troops as part of the Multinational Force and Observers since 1981 after Israel and Egypt reached a peace accord.
The decision to withdraw the peacekeeping force and allow the island's redevelopment for tourism required approval from Israel, which has grown closer with erstwhile enemy Saudi Arabia in recent years over shared concerns over Iran's nuclear program and malign regional activities.
The announcement comes as Biden makes his first visit to the Middle East as president and hours after Saudi Arabia lifted its overflight restrictions on flights to or from Israel using its airspace.
Biden says Saudi Arabia is also pledging to work to "extend and strengthen" the U.N.-mediated truce in Yemen, which has put a years-long civil war that caused one of the globe's worst humanitarian crises on pause. The kingdom will also provide over $1 billion in new development assistance to Yemen.
Other developments from Biden's trip to Saudi Arabia include commitments to cooperate on cybersecurity, clean energy, space exploration and public health.
The U.S leader is not securing any new oil production commitments from Saudi Arabia during his trip — a key priority with the prices high over Russia's invasion of Ukraine — but the White House says it anticipates "further steps" from the kingdom over the coming weeks that "will help stabilize markets considerably."
___
JEDDAH, Saudi Arabia — The publisher and CEO of the Washington Post says it was "shameful" that President Joe Biden fist-bumped Saudi Crown Prince Mohammed bin Salman on Friday.
Fred Ryan says in a statement that the informal greeting with the de facto leader of Saudi Arabia "Was worse than a handshake."
U.S. intelligence agencies have said they believe the crown prince, known familiarly by his initials, MBS, gave the order that resulted in the brutal killing and dismemberment of dissident journalist Jamal Khashoggi, who was a columnist for the paper.
Ryan added that the fist bump "projected a level of intimacy and comfort that delivers to MBS the unwarranted redemption he has been desperately seeking."
Biden, as a presidential candidate, had promised to make the kingdom a "pariah" in response to the killing, but he moved to rebuild ties as global energy prices soared in the wake of Russia's invasion of Ukraine.
___
JEDDAH, Saudi Arabia — President Joe Biden plans to deliver remarks Friday evening in Jeddah, Saudi Arabia, after spending three hours at a royal palace meeting with King Salman, Crown Prince Mohammed bin Salman and other Saudi officials.
The White House didn't immediately preview Biden's speech.
The speech will be Biden's first public statements since arriving in Saudi Arabia from Israel earlier on Friday. They come after the kingdom lifted its restrictions on overflights into or from Israel in a sign the two countries are inching toward normalizing relations.
The three-hour meeting underscored the crucial effort underway to repair one of the world's most important diplomatic relationships. Earlier, Biden greeted Prince Mohammed, the man he had once shunned for human rights abuses, with a fist bump. It was Biden's first meeting with the Saudi crown prince.
Biden vowed as a Democratic presidential candidate to make Saudi Arabia a "pariah" for its human rights record, particularly the murder of the writer Jamal Khashoggi. But now he is seeking to reaffirm Washington's longstanding partnership with Riyadh as he confronts challenges caused by rising energy prices and Iran's nuclear program.
___
JEDDAH, Saudi ARabia — President Joe Biden's fist bump with Crown Prince Mohammed bin Salman was drawing criticism even before his meeting with the de facto ruler of Saudi Arabia concluded on Friday.
U.S. intelligence agencies said the the crown prince, known as MBS, ordered the 2018 killing of journalist and critic Jamal Khashoggi.
Hatice Cengiz, Khashoggi's fiancée, tweeted a screen shot imagining what he would have said in response to the meeting, reading "the blood of MBS's next victim is on your hands."
WASHINGTON — The United States does not expect any announcements on a boost to Saudi Arabian oil production as President Joe Biden visits the kingdom.
National Security Adviser Jake Sullivan told reporters aboard Air Force One during the flight to Saudi Arabia on Friday not to "expect a particular announcement here bilaterally."
Sullivan said that's consistent with the administration's expectations for the trip. "We believe any further action taken to ensure that there is sufficient energy to protect the health of the global economy will be done in the context of OPEC+," he added.
U.S. officials have said they are hopeful that the energy producing cartel will agree to boost production in the coming weeks.
The OPEC+ agreement, led by Saudi Arabia and Russia, to curb oil production was agreed upon during the height of the COVID-19 pandemic and lockdowns in 2020. It is set to expire next month, though quotas could remain in place through the end of the year.
Prices of Brent crude have hovered around $100 a barrel. Although Saudi Arabia is producing around 10.5 million barrels per day currently, the kingdom and the United Arab Emirates are seen as two countries with spare capacity that can pump more to help bring down prices. It's unclear though how quickly the kingdom could ramp up production.
___
Source: Associated Press