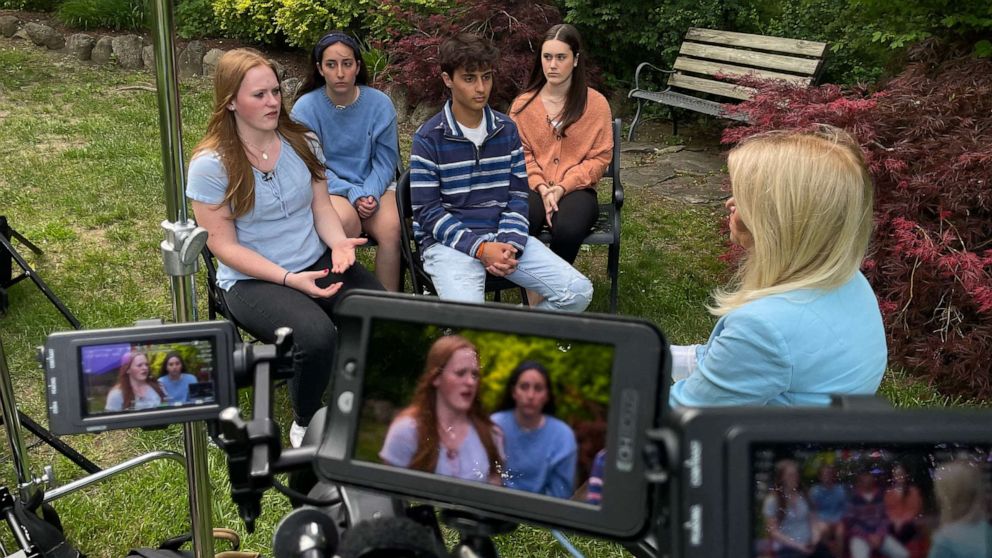 When Nicole, who was just a girl when she survived the Sandy Hook Elementary School shooting a decade ago, first heard about the shooting at Robb Elementary School in Uvalde, Texas, she broke down in tears.
"I couldn't handle it," she said. "You hear about other shootings and it breaks you. But the fact that it was the exact same thing completely re-triggered me and my anxiety."
Nicole was in the second grade when a gunman shot and killed 26 people at her school in Newtown, Connecticut, in December 2012. She and three other student survivors, as well as a school employee there that day, detailed their experience and the effects that day still has on them in an interview that aired Sunday with "This Week" co-anchor and Chief Global Affairs Correspondent Martha Raddatz.
Out of respect for their privacy, ABC News is not using the survivors' last names.
"I was just thinking about all the families that are in their houses right now, telling their children that their siblings and that their friends and their classmates are gone," Maggie, another student, told Raddatz. "It just really broke me to know that after 10 years of everyone giving us their thoughts and prayers, after 10 years of everyone saying, 'Enough is enough,' and, 'Never again after Sandy Hook' — it happened again."
Maggie was in third grade at the time of the shooting. She will graduate from Newtown High School next week. The other three survivors — Andrew, Jackie and Nicole — are now juniors at Newtown High. All of them are speaking publicly for the first time.
"I was in my second-grade classroom. I remember looking at my teacher's face, and her shock. We knew it wasn't a drill," Jackie recalled. "When we ran to our cubbies to hide, I remember thinking, you know, I should hide to the back of the classroom, to the other side, so that I don't get shot. And that should never run through a 7-, 8-year-old kid's head. It shouldn't run through anybody's head."
Click here to read more.
SOURCE: ABC News, Meghan Mistry and Martha Raddatz