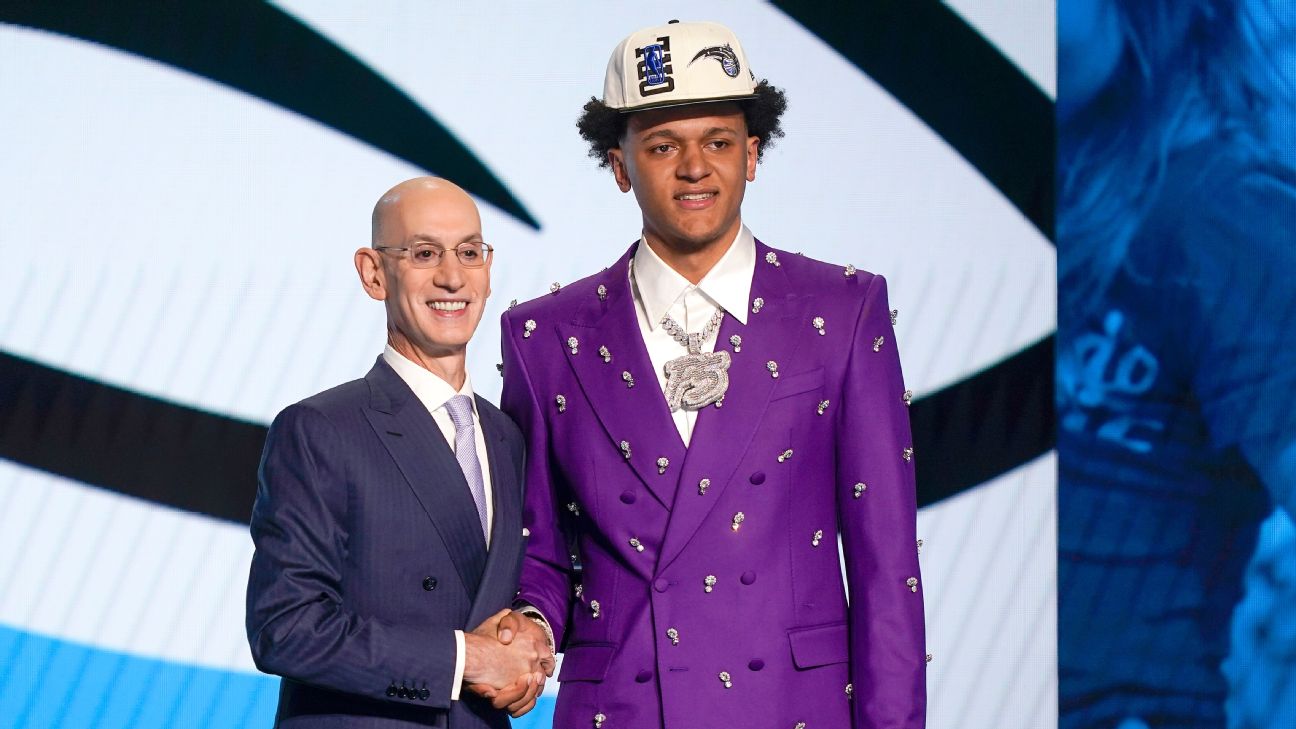 After months of speculation, Duke's Paolo Banchero was a surprise selection by the Orlando Magic with the top overall pick in the 2022 NBA draft on Thursday night at Barclays Center.
The Oklahoma City Thunder began a busy first round by taking Gonzaga center Chet Holmgren with the second pick, then acquired 11th pick Ousmane Dieng of France in a trade with the New York Knicks and took Santa Clara's Jalen Williams at No. 12.
Auburn forward Jabari Smith Jr. went No. 3 overall to the Houston Rockets.
In the weeks leading up to the draft, Smith had been widely expected to land the top selection. But the Magic turned things upside down by taking Banchero, who sported a bright purple suit with sequins, along with even brighter shoes, as he took to the stage and shook hands with NBA commissioner Adam Silver.
"I had a feeling, from the information I was being told, that it was just kind of up in the air," Banchero told ESPN of going first. "Orlando wasn't really sure yet, and just to be ready for whatever.
"I didn't find out, though, that I was actually getting picked until about 20 seconds before the commissioner got on the stage. I didn't even have time to really think about it or anything. It just kind of happened. I can't believe it, but I'm ready. I'm ready."
Banchero, a 6-foot-10 forward from Duke, averaged 17.2 points, 7.8 rebounds and 3.2 assists per game across 39 games for the Blue Devils, who reached the Final Four before losing to their forever rivals in North Carolina. Banchero, who might be the most NBA-ready prospect in this draft, will now be looked to as the anchor of Orlando's nascent rebuild, which includes guards Jalen Suggs and Cole Anthony, forwards Franz Wagner and Jonathan Isaac and center Wendell Carter Jr.
Click here to read more.
SOURCE: ESPN, Tim Bontemps